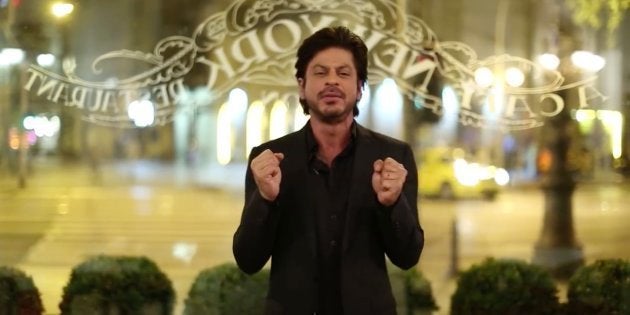 Shah Rukh Khan won the 'Global Icon of The Year 2016' award at the recently held Filmfare Glamour and Style Awards in Mumbai.
Khan could not be present at the ceremony but he made his presence felt via a video acceptance speech in which he thanked his fans and the audience for their love and support.
Currently shooting in chilly Budapest with co-actor Anushka Sharma for Imtiaz Ali's upcoming flick The Ring, Khan delivered the acceptance speech in his own inimitable and witty andaaz.
He's seen shivering with cold in the video.
Deploying his signature self-deprecating humour, SRK reminds his viewers how nobody around him, including his dog, thinks he is an icon. "I don't think I am an icon because my dog at home doesn't think I am an icon," he admits. "My friends don't think I am an icon, my family doesn't think I am an icon. At best they think is I am someone who arrives at appointments always late. All I did was my thing, just work hard and a little bit of acting I know."
Conquering the world, one day at a time, amirite?
Watch the entire video here: