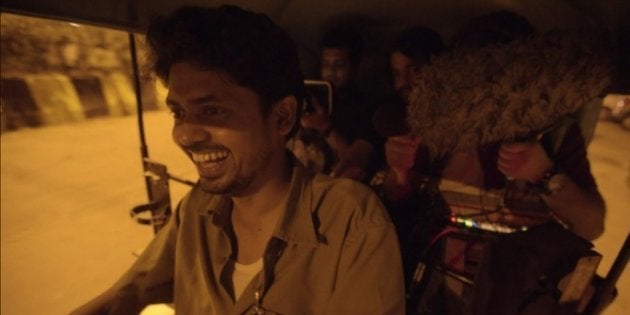 In an auto-rickshaw careening down a thoroughfare in Mumbai the driver chats away merrily with his passengers, a film crew. At one point, a Toyota Innova stops in the middle of the road, forcing the rickshaw to come to a grinding halt. A tall man gets out of the car, berates the rickshaw-driver for driving dangerously, and slaps him hard. As the car drives away, the shocked rickshaw-driver re-starts his engine, spending a few moments in silence before opining, "He must have gotten a beating from his wife and is just taking it out on me." Although calm on the surface, one can hear a note in his voice that indicates murderous fury.
This is a scene from Rohit Mittal's Autohead, a mockumentary about a deranged auto rickshaw driver named Narayan that effectively blurs the line between hyper-realism (viewers are likely to reference the crimes of real-life Chennai serial killer Auto Shankar) and fiction. The man who stepped out of the car was actually the film's line producer, who improvised the slap during the shot, taken sans permission. Theatre actor Deepak Sampat, who plays the protagonist, went with the flow. It's still part of a fictional scenario, but one that's realistic enough for people who travel in Mumbai — or any major Indian city, really — to recognise as an incident they could've witnessed on their daily commute.
The 29-year-old director's feature film debut, which makes its India premiere competing at the 18 Mumbai Film Festival beginning October 20 (this Friday), is an arresting portrait of psycho-sexual desires, class barriers, and good old-fashioned road rage gone awry. A team of filmmakers (featuring the film's actual crew) profiles a wiry auto-rickshaw driver, who lives in a decrepit chawl and harbours twisted romantic feelings for a sharp-tongued, street-smart sex worker (Ronjini Chakraborty), whom he ferries around to prospective clients. As the film progresses, the protagonist's increasingly unhinged behaviour creates a moral dilemma for the film crew, who grapple with the idea of turning him in but are also intrigued—even excited—by the idea of being able to capture his downward spiral on film, because it's "the truth".
"The idea behind having the filmmakers as characters in the film was to make a statement about social realism cinema," says Mittal. "You know the stereotype —filmmakers who focus on poverty and romanticise everything. I wanted to satirise it."
Sharply written and impeccably acted (Sampat is spine-chillingly good; Chakraborty is a delightful scene-stealer), Autohead bears similarities with many world cinema classics, and deliberately so — it wears its Man Bites Dog, Nightcrawler, and Taxi Driver influences on its sleeve. However, what Mittal achieves is something truly unique: a love-letter to genre films in the garb of what might be considered 'arthouse'. To its credit, however, Autohead doesn't just use long takes and a background-score-free soundtrack to up its artistic cred. For instance, a crucial scene is presented as a single-take long shot with barely audible dialogue, wherein the viewer really has to pay close attention to figure out what's happening. A lesser film would endeavour to merely employ this device to pay tribute to, say, an obscure European film; here, there's a logical reason as to why the scene exists that way.
Mittal says he chose the mockumentary format because "it allows you to push the boundaries of realism". It also allowed the 12-member crew (15 or 16 if you count actors) to shoot guerrilla on the streets of suburban Mumbai without too many hassles (and if people looked directly at the camera, it added to the illusion). Many of the passengers who get into Narayan's rickshaw were actual passengers whose footage was only used after their rides ended and consent obtained. "Because Deepak was actually driving an auto-rickshaw around and looked the part so much, people would actually come up to him and start chatting with him or ask him for a bhaada," says Mittal.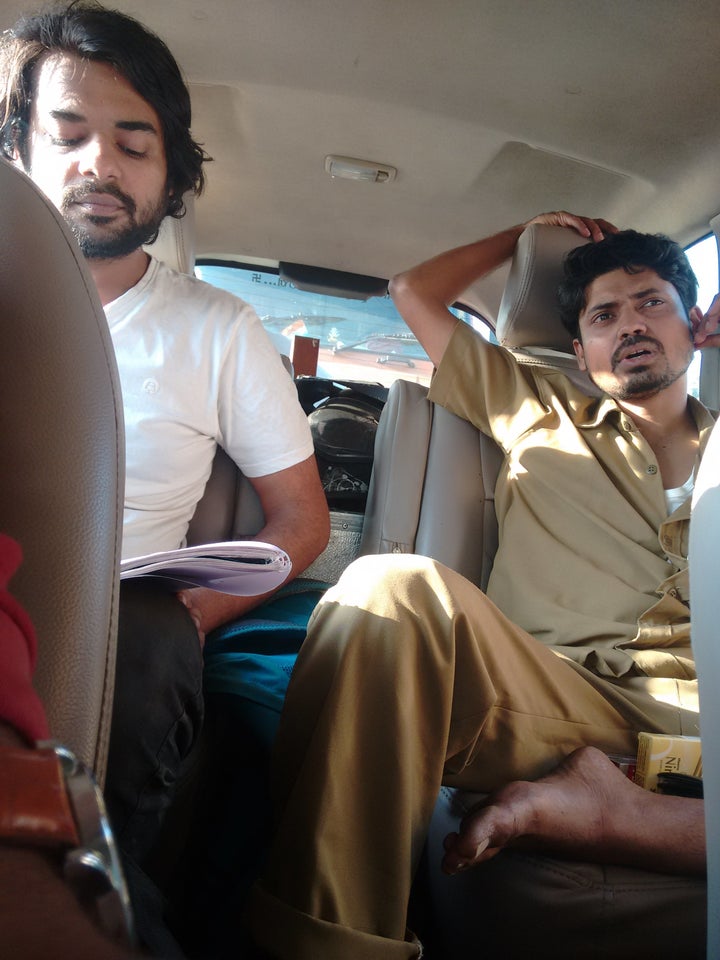 A Versova boy, Mittal studied to be a lawyer from Fergusson College in Pune, where he spent five years. "In law school, all I did was watch films and make films," he says. He returned to Mumbai and worked half-heartedly in a law firm, making short films on weekends and watching as much as he could. Finally, a year later, he decided to quit his job and headed to the Los Angeles campus of New York Film Academy, where he studied direction for two years. By this time, he'd made 25 short films, a majority of which still remain incomplete for lack of funds to finish post-production.
While the course taught him the formal aspects of filmmaking, what really lit a spark in Mittal was an internship he took up for eight months afterwards at New Horizons Pictures, the film production company run by B-movie master Roger Corman (who famously launched the careers of directors like Martin Scorsese, Ron Howard, and Francis Ford Coppola). The producer of cult films like The Little Shop Of Horrors (1960), Grand Theft Auto (1977), and Galaxy Of Terror (1980) had a major influence on his idea of storytelling. "I watched a lot of his movies while working there and got super influenced by them," he says. "The kind of boldness he shows in the edit, with crazy narrative jumps — the kind of stuff Kanti Shah does here. Most people think of it as B-movie filmmaking but I honestly think it's groundbreaking."
He elaborates: "There's a rebellious quality about them that I really like. They're expositional, violent, vulgar... it's all on the face. There's no pretension. They aren't trying to be anything else."
Autohead is still doing the rounds of the festival circuit, having played at prestigious genre film festivals like the BiFan Film Festival in South Korea (where Sampat won the Best Actor award) and the 49 Sitges International Film Festival in Spain. Mittal is angling for a theatrical release in India as soon as possible.
'Autohead' is playing in competition under the India Gold section at the 18 Mumbai Film Festival. For show timings, head to their Facebook page.