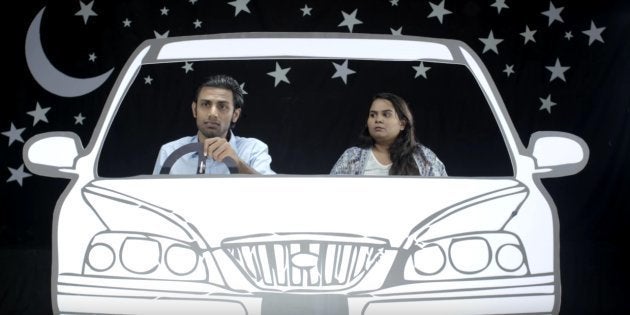 Biswa Kalyan Rath, stand-up comedian and a YouTuber who is famous for his observational comedy and Pretentious Movie Reviews where he reviews Bollywood flicks alongside fellow comic Kanan Gill, has dropped a new video on his YouTube channel that will take you ahead in time.
The video, titled Time Travel Cabs, is the result of some intelligent and unorthodox writing by Biswa Kalyan Rath, Sourav Ghosh, Vaibhav Sethia. Needless to say, it is not for the masses.
Biswa, playing a cab driver in the video, drops some serious science puns one after another. If you pay attention, it's like a crash course in Theory of Relativity in under three minutes. The sketch features guest appearances by fellow comedians/YouTubers Utsav Chakraborty and Sumukhi Suresh.
Passenger: "Bhaiyya trip startkar dijiye."
Biswa (driver): "Past meinjarahehain. End pehlehoga."
Passenger: "Bhaiyya jaate time itna time nahi laga tha. Aap lamba raasta le rahe ho."
Biswa: "Arrey madam lamba rasta nahi le rahe hain. Universe expand ho gaya hai."
Passenger: "Aap yehfull timekarte ho?"
Biswa: "Nahi..Din meinsirf do saal."
Biswa: "Bhaiyya hum Big Bang se pehle nahi jaayenge.."
Passenger: "It doesn't matter.."
"Joke sahi tha. Par masses ke liye nahi tha."
Watch the entire sketch here to make up for every Physics lecture you've ever bunked: