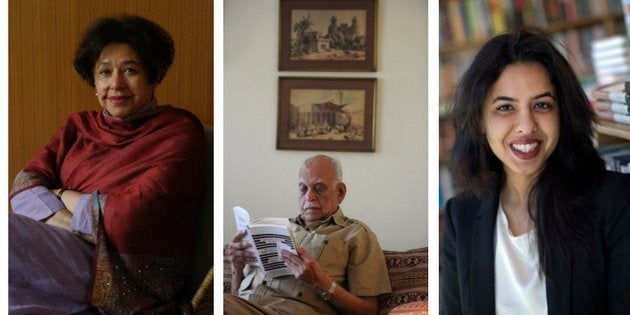 Since the attack on the Indian army headquarters in Uri by terrorists from Pakistan, followed by India's "surgical strikes" along the Line of Control (LoC), artistes from across the border have become anathema to many in this country.
The Cinema Owners Exhibitors Association of India (COEAI) has decided to not screen movies with actors from Pakistan in four states — Maharashtra, Karnataka, Gujarat and Goa — causing a major controversy in Bollywood and beyond.
The move, ostensibly meant to be an expression of patriotism, is misdirected and achieves nothing other than depriving millions a chance to enjoy several forthcoming movies. Using art to score political points defeats the higher purpose that drives any aesthetic endeavour — be it acting, painting, singing, dancing, writing or any other.
While watching a movie or a play, or looking at a painting, it is absurd to be mindful of the nationality of the artistes involved in their making. This statement applies as much to the world of writing, especially to English writing from the subcontinent, in which writers of Pakistani origin have shown exceptional talent over the last many years.
It is difficult, if not impossible, to imagine, for instance, the history of literary fiction in English coming out of India and its neighbouring countries without paying close attention to Pakistan. From Mohammed Hanif to Moni Mohsin, Fatima Bhutto to Ali Sethi, Nadeem Aslam to Mohsin Hamid, the list of writers based in Pakistan, or of Pakistani origin, is diverse and distinguished. But these five that follow deserve a special mention, simply because their understated charm and power to delight are not celebrated often enough — or as much as they should be.
The Crow Eaters, Bapsi Sidhwa
One of the funniest novels by a Pakistani writer, The Crow Eaters was Sidhwa's first published book. Set in the early years of the 20th century, it tells the story of Freddy Junglewalla, who moves his family — his pregnant wife, baby daughter and irritable mother-in-law — from their ancestral home, somewhere in the hinterland of Pakistan, to the glittering cosmopolis of Lahore.
In the city, he embarks on a successful venture, but as Freddy's fortunes grow, so does his bickering with his mother-in-law, the domineering Jerbanoo. Written in faux-elegant British English, every sentence of this large-hearted novel is laced with wit. An endearing portrait of the Parsees in Pakistan, this is a gripping read from the beginning till the end.
The Wandering Falcon, Jamil Ahmad
A quiet but haunting debut, this collection of stories by a Pakistani civil servant who spent several years in Baluchistan was much acclaimed for its delicate realism. The characters — poor peasants, tribal lords — are drawn vividly from life and are usually the stuff of news reports coming out this region. Ahmad brought these figures to life with poetic brushstrokes and in his unfailingly controlled prose.
Written over a period of time, the stories were retrieved from his drawer and published in this volume when Ahmad was in his 70s. The collection was nominated for the Man Asian Literary Prize, one of Asia's most prestigious literary awards, in 2011.
Karachi, You're Killing Me!, Saba Imtiaz
Imagine Bridget Jones's Diary set in Karachi, with all the raucous desi humour of Moni Mohsin's Diary of a Social Butterly, and you get Saba Imtiaz's first novel. Told by Ayesha, a journalist like Imtiaz, it is a roller-coaster ride through contemporary Pakistan, capturing it's dangerous political milieu, absurd social mores, the persistence of inequality in everyday life and, most of all, a single woman's hilarious struggle to find love, and her feet, in a society that is predominantly patriarchal and hierarchical.
In Other Rooms, Other Wonders, Daniyal Mueenuddin
One of the best collections of stories in the last decade, this volume has been compared to the writings of Turgenev, Joyce and Chekov. Moving between the posh drawing rooms of Pakistan's cities to the rustic backwaters, Mueenuddin's linked stories describe the lives of a feudal landowner, his staff and extended family.
Harking back to a nostalgic past now lost to the landowning classes fallen on hard times, these stories reveal the unspoken human costs of this transition. A critically ill politician decides to explore ways of keeping his legacy alive, an electrician has a violent encounter to protect his most valuable possession, while a maidservant seeking to get ahead through sex finds herself in love. Each story in the collection is a gem and yields its subtle beauty on every reading.
Between Clay and Dust, Musharraf Ali Farooqi
Between Clay and Dust is set in an unnamed town in post-partition Pakistan. Not signalling the locale clearly was part of the narrative strategy.
"I didn't want to portray the boundaries of any particular nation-state, either Pakistan or India," Farooqi told The New York Times after the book was published. "This is not a novel about a country; this is a novel about a culture which is shared between countries."
Exploring the lives of a pahalwan and a courtesan, both relics of a culture that has vanished with the Partition, the novel is a chronicle of an era that deserves to be memorialised, more acutely in these times of divisiveness than ever.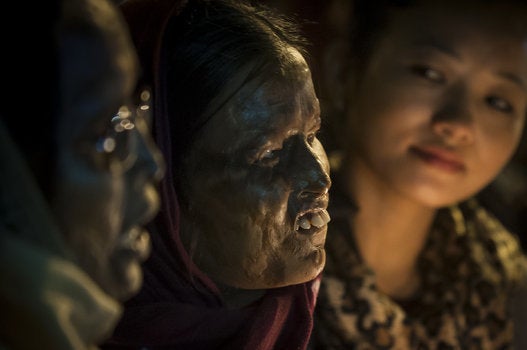 Pakistani Beauty Salon Helps Acid Attack Victims Pursue A New Life