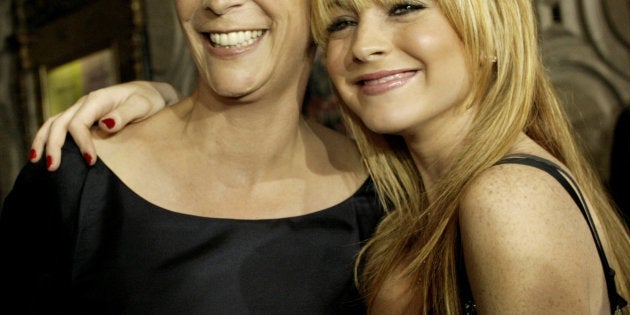 Jamie Lee Curtis wasn't going to let Donald Trump's sickening comments about Lindsay Lohan go unnoticed.
The actress called out the Republican presidential nominee for his gross, recently resurfaced comments about her "Freaky Friday" co-star, which he said during a 2004 interview with Howard Stern. In the clip, a 58-year-old Trump brings up the 18-year-old actress, who was at the height of her "Mean Girls" fame, and references her recent family troubles.
When Stern asked the real estate mogul about "sex with this troubled teen," Trump responded in the worst way.
"She's probably deeply troubled and therefore great in bed," the GOP candidate said. "How come the deeply troubled women, you know, deeply, deeply troubled, they're always the best in bed?"
Curtis fired back at Trump in a Tweet on Friday, telling him, "How dare you. She needed help," alongside a photo of her with Lohan.
The "Scream Queens" actress' Twitter feed is filled with supportive messages for Hillary Clinton and tweets taking down Trump's absurd, hateful rhetoric:
In a recent interview with Tavis Smiley on his PBS show, Curtis explained why voters shouldn't support Trump on Nov. 8.
"I hope that they will just realize that that would be a terrible, terrible vote to make for women, minorities, people of color, people of different religions, and nationalities," the actress said. "This man has done nothing but ridicule, denigrate and insult people."
Editor's note: Donald Trump regularly incites political violence and is a serial liar, rampant xenophobe, racist, misogynist and birther who has repeatedly pledged to ban all Muslims — 1.6 billion members of an entire religion — from entering the U.S.