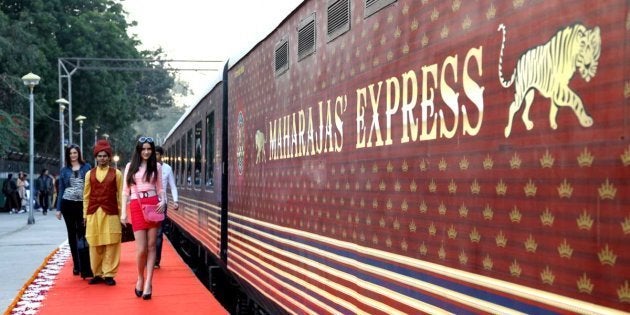 If you think destination weddings are too run-of-the-mill, there's a new trend-setting alternative at hand. Indian Railways has recently opened its luxury train Maharajas' Express for bookings for weddings, Bollywood shoots and pretty much any kind of event.
Started in 2010, the Maharajas' Express is a 23-coach train that has 43 cabins. It can accommodate upto 88 people. It runs on five routes between October and April, with a choice of four and eight-day tours in north, central and west India, travelling through heritage sites such as Agra, Jaipur, Bikaner, Jodhpur, Udaipur, Ajanta, Varanasi and Lucknow.
The announcement is the Indian Railways Catering and Tourism Corporation's latest bid to attract wealthy tourist and hike its revenues. "This was introduced to give an advantage to discerning passengers," IRCTC public relations manager Sandip Dutta said. "The package can be customised and the routes can be changed. It all depends on how much you are willing to shell out." He also told HuffPost India that while IRCTC hasn't received any inquiries for the service yet, it is open to customising the route, cost and facilities for each booking individually instead of offering packages. The organisation of the event may be outsourced as well.
However, all this luxury won't come cheap. Tickets for the train's existing tours cost anywhere from $3,850 (Rs 2,57,000) to $23,700 (Rs. 15,81,535), but the renting it for weddings is expected to be considerably higher. According to The Times of India, booking the entire train for 88 passengers for the eight-day Heritage of India tour from Mumbai to Delhi would cost a whopping Rs 5.5 crore.
Here's an inside tour of the train.