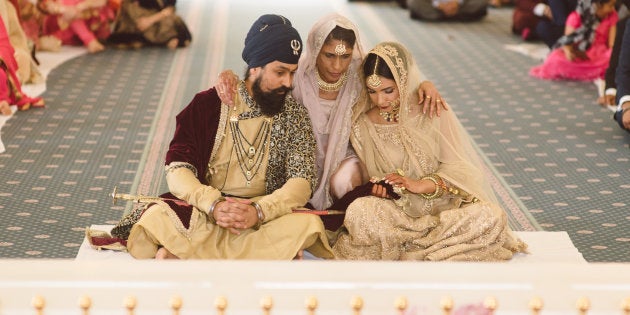 London resident Hernoor Grewal and her four sisters were raised by their Punjabi Sikh mother, after their father left the family years ago. When Grewal was married earlier this year, she chose to have her mother, sister and other female relatives conduct numerous wedding rituals, which are customarily performed by male relatives.
Recently, a photograph of Grewal's mother performing a wedding custom normally reserved for the bride's father, went viral on Facebook. In the accompanying story that was shared on the Facebook page Pink Ladoo, Grewal spoke of her mother's struggles as a single parent and why she felt the need to move beyond outdated patriarchal customs.
This wasn't the first time that her mother had performed these rituals -- she had also done them for Grewal's elder sister's wedding in 2013. However, Grewal said that she and her twin sister Sukhman decided to share their story publicly this time in order to empower other children raised in single-parent families and make a point about gender equality.
"Since the South Asian Community is heavily patriarchal, we wanted to highlight the particular emphasis on empowering women in our community to live life on their own terms, free from the pressure to conform to the expectations the South Asian community place on us women," Grewal told HuffPost India. "We have grown up seeing the women in our community place too much importance on the age-old Indian notion, 'But what will people say?'"
The photograph above shows Grewal's mother conducting the palla ceremony, in which the groom's ceremonial sash is placed into the bride's hand. "We have attended many weddings in our time where in the father's absence, it is only ever another male member of the family who partakes in the palla ceremony," Grewal said. "That's why our mother performing this role is significant, because, despite it being 2016, it's still not the norm to see a woman perform the palla ceremony in a Sikh wedding, and indeed in the wider South Asian community."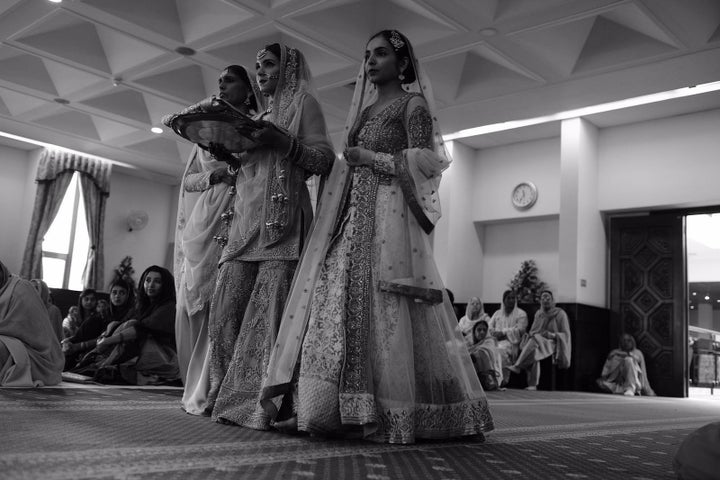 Other women, including Grewal's sister and cousins, were also an important part of the wedding ceremonies. While traditionally, the bride is escorted to the Darbar where the wedding takes place by her father and male relatives, Grewal chose to have only her mother and twin sister Sukhman walk with her.
The milni, a ceremony where the bride's and groom's families meet for the first time, was led by her mother, eldest sister and husband's only sister. "This cultural tradition is heavily patriarchal, with only the key men from both the bride's and groom's family meeting and exchanging garlands with one another," Grewal said.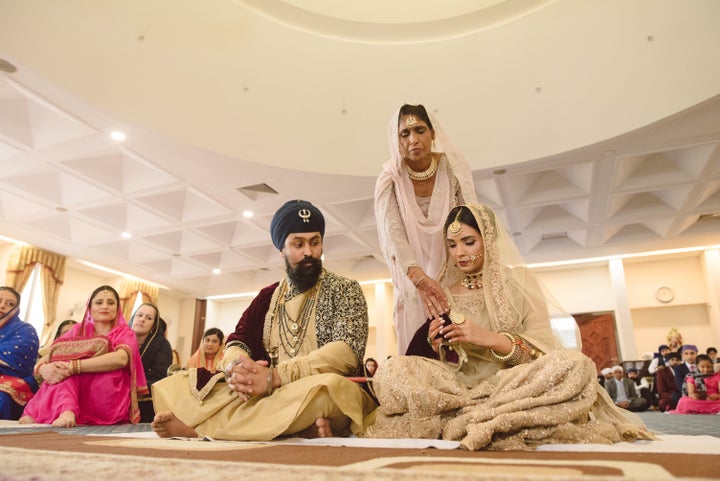 "There is no room for discrimination between the genders in the Sikh faith," Grewal said, "yet we still allow this patriarchal culture to take precedence in what is primarily a spiritual wedding ceremony at its core."