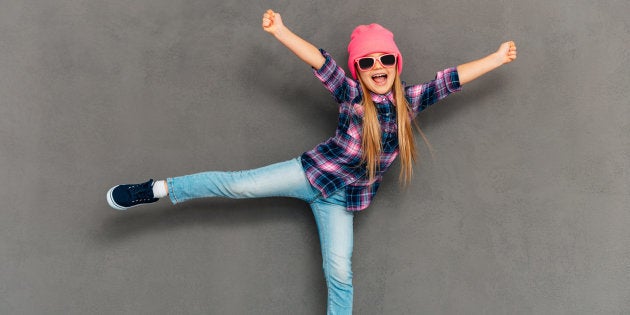 UPDATE: This post has been updated with a statement from Pepe Jeans. The image has also been removed to protect the identity of the child featured in the advertisement.
A ridiculous new advertisement for Pepe Jeans serves as a stark reminder that social conditioning starts early in women, often enforced through imagery that try to define gender roles based on patriarchy.
The latest ad in a leading daily is a juxtaposition of two images of a little girl. The first image shows her standing with a football, dressed in a sleeveless, loose tee, shorts and floaters with a devil-may-care grin that can light up an entire city. The second image is of the same smiling girl, but this time, sitting with her legs crossed, her hair neatly tied, and wearing a denim dress with red pumps.
Let's take a moment here to discuss what the two images are meant to represent.
Pepe used the first image as a 'before' placeholder to drive home the point that little girls who play football, have dishevelled hair and scruffy knees need to modelled into mini versions of The Stepford Wives. And who better than Pepe to help the carefree little hell-raisers who believe they can be anything they want to be, transition into the women the society wants them to be.
This is quite literally the brand's idea of how women should look like.
In a Facebook post, Payal Talreja, Creative Director of an online retail store, called out Pepe Jeans for its sexist ad. She mentions, "Why must a child be 'prettified' into someones idea of a girl?"
Kavindra Mishra, MD Pepe Jeans India mentioned that the intention was neither to offend anyone nor to propagate any form of gender stereotypes. In his statement Mishra says:
We collaborated with Hindustan Times for Great Indian Football Action to encourage kids to channelize their enthusiasm and passion towards football. As part of this initiative Pepe Jeans awarded the 'Player of the Day' with a fun shopping experience at the Pepe Jeans store and the kids were asked to pick their favourite outfit which best represents their style of dressing. This was then incorporated by Hindustan Times in a series of three articles depicting on field and off field look of three kids. The objective was to recognise and appreciate the players performance without any gender stereotyping.

We extended this association further by supporting underprivileged kids through the initiative 'Football for All'. Pepe Jeans believes in appreciating the talent of every child.