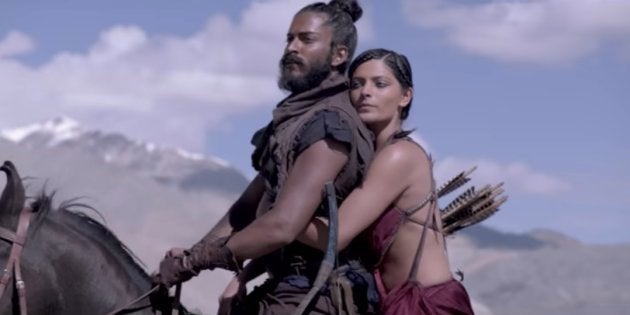 In musical terms, a crescendo is defined as "a gradual, steady increase in loudness or force". The word can be applied similarly as an adjective to describe other art forms, such as cinema.
I know it's terribly amateurish to begin a piece with dictionary definitions but it is my sincere belief that Rakeysh Omprakash Mehra, whose latest film Mirzya releases this week, would've done well to internalise them.
If I am entirely mistaken and he has done so, there is no evidence of it in the Rang De Basanti director's latest film, a gorgeous-looking, handsomely mounted misfire of epic proportions. Mirzya, based on the tragic Punjabi folk tale Mirza Sahiban, has no gradual, steady increases. It is, instead, a string of assorted sequences hung together on a loose clothesline of a narrative that uses melodrama to create false crescendos in nearly every scene. It is a larger-than-life-sized Jenga tower of empty emotions and embarrassingly mediocre acting. At the top of that tower is Daler Mehndi, singing 'Ooooo Mirzyaaaaaaa' in a glass-shattering octave every chance he gets. At the bottom of the tower is the viewer, wondering what the hell is going on and what it'll take to make it all stop.
Making their debuts with this unfortunate mess of a launch film are Harshvardhan Kapoor (the younger brother of Sonam Kapoor, whose 2007 debut Saawariya was a similarly bloated disaster — what terrible luck for both siblings!) and model-turned-actress Saiyami Kher (veteran Tanvi Azmi's niece). They play star-crossed lovers Mohnish and Suchitra in what is alluded to be present-day Rajasthan (also popularly known as 'Not Punjab'). I say 'alluded' because we see a cellphone being used in just one scene; however, the realities of life in 2016 are largely kept away from the contrived screenplay (penned by Gulzar, his first since 1999's Hu Tu Tu), which simply swats aside logic and obvious questions in its quest to be fairy-tale-ish. For instance, characters don't use ATMs, debit cards or the Internet, even though these could've told us a little more about them or explained (or simplified) certain plot details.
To add to the viewer's woes, Mehra employs the most laboured of storytelling devices to depict what is considered one of the most important and beloved tragic romances of Punjab. Mirzya has not one but three parallel narratives: one set in the real world; the second, a surreal, alternative-reality storyline that recreates the original Mirza-Sahiban love story in a manner that, for some reason, seems to be inspired by the filmmaking styles of Tarsem Singh (The Fall) and Zack Snyder (300); and the third, which involves intricately choreographed dance sequences performed by dancers in colourful costumes who connect the events of the present to those of the past.
All of this is bolstered by Shankar-Ehsaan-Loy's omnipresent background score that, while impressive by itself, continuously reuses the same musical cues over and over to the point of annoyance. The film also has no less than twelve songs which, while extremely well composed and arranged ('Hota Hai', 'Ek Nadi Thi', and 'Aave Re Hitchki' were the ones that stood out for me), do not augment the narrative as much as they should and often overstay their welcomes.
It's a pity, really, because in the technical departments, Mirzya is pretty accomplished. Polish cinematographer Pawel Dyllus, making his Bollywood debut, makes every frame of the film look utterly gorgeous, with certain sequences shot in Ladakh's Nubra Valley setting a new benchmark for Bollywood. There are plenty of impressively blocked scenes in which the camera moves around fluidly between characters and captures all the action in long takes. Sure, it can get annoyingly showy and lens-flare-y; yet, it is impossible to deny that Dyllus is the real star of the show here.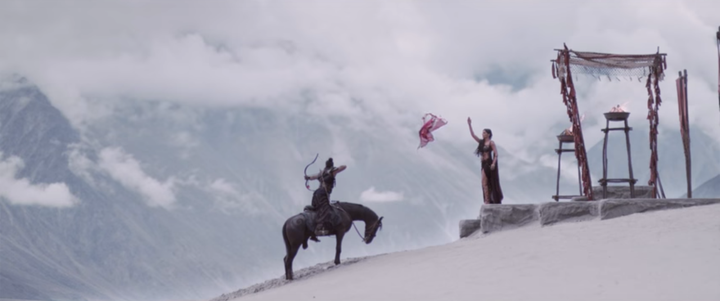 The same goes for many other departments: the sound mix by Justin Jose and Sarath Mohan, one of the best I've heard this year; the costumes by Niharika Bhasin Khan; the stunts; the visual effects (not flawless, but a panther attack in the film's latter half is surprisingly well executed). Mirzya, unlike so any Bollywood films, feels like a cohesive, controlled product with aesthetics firmly in place.
Where it suffers is in the basics: acting, screenplay, and believability. After a tragic incident in school, Mohnish and Suchitra are separated from each other. He spends his life in anonymity and resurfaces as Adil many years later, as the ward of a Muslim family of blacksmiths; she is packed off and sent 'abroad' (I don't think the film specifies where) and returns many years later as the fiancée of Karan (Anuj Choudhry), the business-minded, strait-laced prince of nearby Udaipur. Normally, revealing such details for most films would be considered scratching the surface; in Mirzya, the plot is so threadbare that this feels like a spoiler.
The characters are given very little depth, especially Suchitra. Her character doesn't seem to have any friends or ambitions. When she expresses an interest in learning horse-riding — the script's pretext to reunite her with Mohnish, who has been working as the royal family's stable boy who can also play some mean polo, by the way — she sounds as though she has descended from Mars. Mohnish gets the lion's share of the script's attention but he too feels more like an idea than an actual character.
All the visual razzmatazz and slow-motion action sequences in the world can't save this 129-minute film from feeling like an absolute slog.
Things really start heading south when Suchitra finally discovers that Adil is actually her childhood friend Mohnish — after weeks of lessons and spending quality time with him. Then, without bothering to ask obvious questions (like 'Hey, where the hell have you been all these years and why is your name Adil?') or pausing to truly consider the consequences, she is quick to embark upon a torrid affair with him. The film wants us to believe that their love was so pure and intense that nothing changed in all these years; that the transition from puppy love to adult love is seamless. But what's the point of giving the film a contemporary, modern-day setting if you aren't going to incorporate contemporary, modern-day conflicts?
A lot of things could've been smoothed over by good performances, but Mirzya fails on that count as well. Kapoor, playing a man of few words, brings a smouldering intensity that's interesting to watch (as does his hirsute look, which reminds one of his father's '80s avatar), but leaves much to be desired in the histrionics department. Kher, who looks fantastic on screen, appears to have mistaken acting for elocution. At many points, I felt like I was watching an elaborate college play in which the dramatics teacher has chosen his/her favourite students to play the leads, regardless of whether they were the best actors for the roles.
Amongst the supporting cast, Choudhury comes across as sincere and believable, even though his role is extremely one-dimensional, while Om Puri is wasted in a half-hearted sutradhar role who disappears for much of the film. Meanwhile, as Suchitra's police officer father, veteran British actor Art Malik is made to deliver the film's hammiest performance, the nadir being an embarrassing drunken scene that belongs in a '70s potboiler.
All the visual razzmatazz and slow-motion action sequences in the world can't save this 129-minute film from feeling like an absolute slog. At the press screening for the film held in Mumbai, viewers started walking out a good five minutes before the lights came on. It isn't hard to imagine paying audiences doing the same.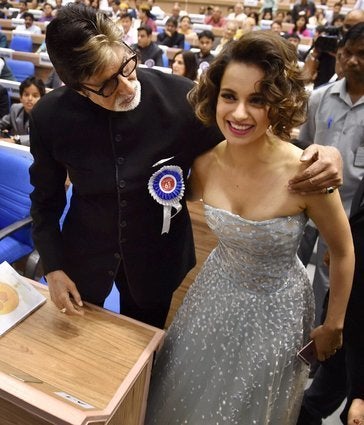 Bollywood Dominates 63rd National Awards Ceremony