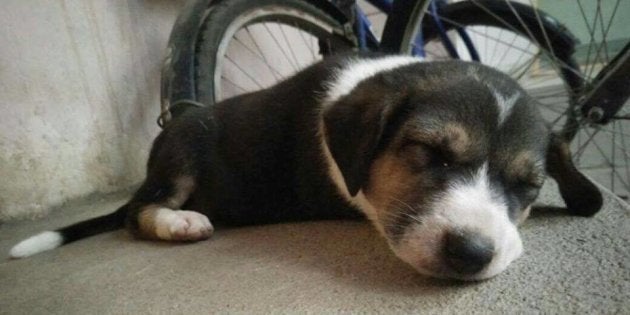 Tamara Lopez found her first pet at her college in Navi Mumbai, where she saw a small puppy who had been infected with fleas, ticks and ants. She brought her home, gave her a medicinal bath and pretty soon, the pup was up and running amok the house. Named Pepper after the colour of her ears, the dog has now been a part of Lopez's family for 11 years.
Since then, the Mumbai resident has adopted two more stray dogs. Her second pet, Lizzy was an abused stray pup who was thrown on the streets because she was a mixed rather than a pure Labrador. The third, Doofus had followed her parents home and sat outside the building until she was adopted.
Lopez's heartwarming story is a part of a new Facebook and Instagram project called "Mongrels of India". Amidst horrific stories of stray dogs being killed and attacked across India, the project hopes to change negative perceptions about mongrels. Inspired by Humans of New York, it was started by 25-year-old Arpita Rao in September with the aim of evoking compassion for the furry creatures.
"I hope it inspires other people to pick up one street dog and take them home or at least feed them," Rao says. "People think that dogs are aggressive, but that's just defending themselves. Not all of them mean to bite you."
Rao says she has been taking care of and feeding near her office in Hyderabad for a long time now. "Mongrels of India" started off as a Facebook page which showcased pictures of strays that Rao had taken during her many travels.
However, it now focusses on crowd-sourcing stories of Indians who had adopted stray dogs. Eventually, the Hyderabad resident hopes to create a database which will help animal lovers help and rescue strays. The page will also collaborate with rescue centres to help adoption efforts and find homes for stray dogs.
Some of the stories featured on 'Mongrels of India' try to dispel bias against mongrels and the preference given to pedigreed dogs. Delhi-based Puneeta Singh writes about how she ended up with her pet Mylo unexpectedly. Mylo was originally been adopted by her friend but was rejected by her family and the vet for being 'unsafe'. When Singh took the dog back to a rescue centre, she discovered he had been returned after adoption ten times. It was then that she decided to keep him.
It is through stories like these that 'Mongrels of India' hopes to bring about change. "They are all old dogs now and I can vouch for the fact that Indian breed dogs have little to no health problems, do not require specialised training and are much lower maintenance than any pure-bred dog," Lopez says about her three pets on Facebook. "They bring us nothing but love and joy."