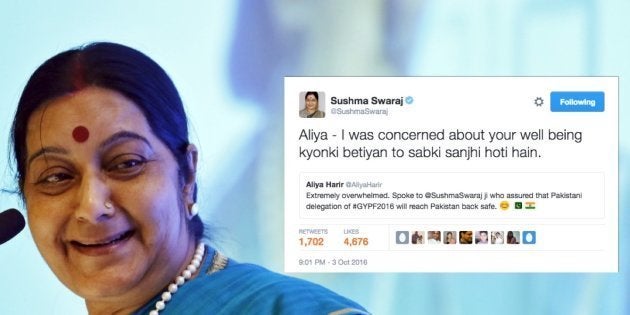 Amid the escalation of tensions between India and Pakistan, a friendly gesture by External Affairs Minister Sushma Swaraj is winning hearts both in India and Pakistan.
Part of Swaraj's popularity on social media is because of her promptness in handling distress calls. This time was no different.
On 27 September, a team of 20 students from Pakistan arrived in Chandigarh for the 11th Global Youth Peace Festival. But following the Indian army's surgical strikes across the LoC, their scheduled return on 4 October looked uncertain.
Worried about their safe return home, Aliya Harir, convenor, and leader of the Indo-Pak friendship initiative -- Aaghaz-E-Dosti -- reached out to Swaraj to help the girls return to their soil safely.
And Swaraj responded to her tweet as only she can.
Swaraj tweeted, "I was concerned about your well being kyonki betiyan to sabki sanjhi hoti hain." (I was concerned about your well-being because one's daughter is everyone's daughter.)
Today Harir tweeted that the delegation had safely reached back.
Aap ki beti kehlane ka sharf hasil hai, aur kya chaheyay. The delegation has reached back home safe&immensely happy. Thanks a million times. https://t.co/JHH8VUj91Q

— Aliya Harir (@AliyaHarir) October 4, 2016
Harir also tweeted about her Global Youth Icon Award which she received from Irom Sharmila.
Earlier last week while addressing the United Nations General Assembly, Swaraj said India has never set any condition for dialogues but has only tried to strengthen ties, "but in return has got Pathankot, Uri, Bahadur Ali".
Take a bow, Sushma Swaraj.