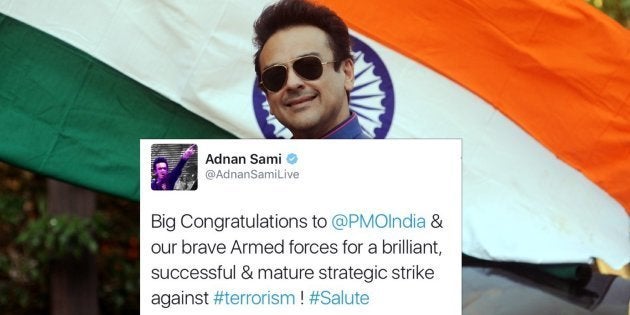 Four terrorists crossed the Line of Control and killed 18 Indian soldiers in a pre-dawn attack in Uri earlier this month. Tensions between India and Pakistan escalated.
India finally retaliated by carrying out surgical strikes on terror launchpads in Pakistan Occupied Kashmir on Wednesday night.
Adnan Sami, who became an Indian citizen in January 2015 congratulated Prime Minister Modi and Indian army for "brilliant, successful and mature strike against terrorism".
Sami took to Twitter and posted this:
His tweet, however, didn't go well with the neighbours and they started bashing the artist.
Someone please ask Adnan Sami if he would prefer being buried or burnt.

— Saniya (@Saniyazing) September 30, 2016
Adnan Sami is basically Altaf hussain who has lost some weight and got Indian Nationality as well.

— ع م ر! (@omeralvii) September 30, 2016
Adnan Sami leaving Pakistani nationality is just like selling Mercedes and buying a Mehran..

— Sir Saith Abdullah (@SaithAbdullah99) September 30, 2016
Adnan Sami, This is what happens when a person takes nationality of enemy country.every day he has to prove his loyalty. Keep proving

— atiqbaloch (@balochworrior) September 30, 2016
And Sami responded to all the hate he has been getting since yesterday.