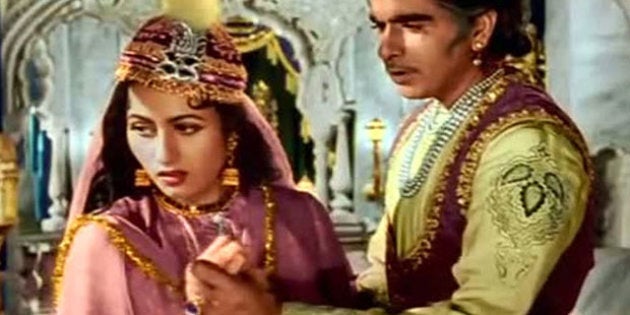 Before it was made into a film, 'Mughal-e-Azam' was a play written by Urdu playwright Imtiaz Ali Taj. And 94 years after it was written, 'Mughal-e-Azam' is set to come alive on stage once again.
The magnum opus will be directed by theatre director and filmmaker Feroz Abbas Khan. People in the know say that the production will be bigger and more opulent than any musical ever staged in India. The curtains will go up on the production on October 21 in Mumbai. After performances in New Delhi in November, the team will fly to the Gulf and the West.
Khan, who is known for plays like 'Tumhari Amrita' and films 'Gandhi, My Father', had been toying with the idea of presenting 'Mughal-e-Azam', in collaboration with the National Centre for the Performing Arts (NCPA).
That's when they approached Shapoorji Pallonji, the producer of the film 'Mughal-e-Azam' who also hold the rights to the play.
"Mughal-e-Azam needs that kind of scale and grandeur. This will be the costliest Hindi theatre production ever done,'' says Feroz Khan. However, he is not willing to reveal exactly how much the production may cost.
"When you speak about Mughal-e-Azam, you don't talk about costs and budgets,'' says a production controller involved with the musical.
Incidentally, Shapoorji Pallonji, who had an infrastructure firm named after him, has funded only two movies till date - 'Mughal-e-Azam' that released in 1960 and 'Ganga Jamuna' the following year.
But what's interesting is that Shapoorji Pallonji was not directly associated with 'Mughal-e-Azam'. Sterling Investments took the credit for Mughal-e-Azam as the production banner. Shapoorji Pallonji, who considered Dilip Kumar like a son, gave him the credit as producer for Ganga Jamuna. Mughal-e-Azam directed by K Asif was made for Rs 1.5 crores and Ganga Jamuna for Rs 20 lakh.
"After adjusting for inflation, in terms of gross collections in the history of Indian cinema, Mughal-e-Azam and Ganga Jamuna are the top two movies with Sholay at number 3,'' points out Deepesh Salgia, CEO of Shapoorji Pallonji Group.
The one-line brief for the 100-strong crew involved in the making of the play was to mount a production that lives up to the respect the name Mughal-e-Azam commands.
Work on the theatrical presentation has been underway since January. The technical crew, supposed to take care of set design and lighting, comprises people who have worked in the Broadway. Manish Malhotra will be designing the costumes for the two-hour twenty-minute long production. The play will include all the iconic songs from the film. Naturally, the actors who will star in the play will also have to be accomplished singers.
"The structure of the film itself, if you recall, was very theatrical,'' says Feroz Khan. "The language will be the mix of Hindi and Urdu like it was in the movie. We expect the huge Indian diaspora to flock to see the production overseas. For those who do not follow the language, we are working on a way to do simultaneous translation.''