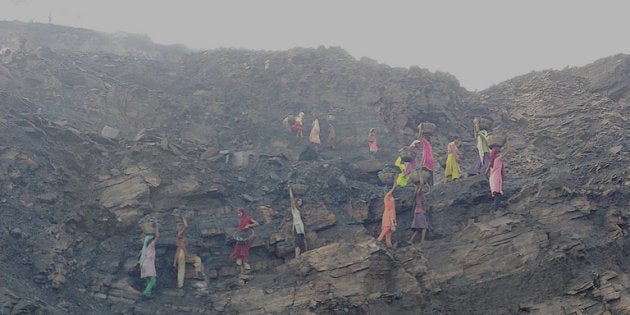 An Indian photographer is one of the three winners of the second annual Getty Images Instagram grant, which recognises photographers who document stories from underrepresented communities around the world using Instagram. Kolkata-based Ronny Sen has won a grant of US $10,000 for his project "The End" that looks at life in Jharkhand's Jharia coal mines. The other winners include Christian Rodriguez of Uruguay and Girma Berta of Ethiopia.
Jharia is home to India's only reserve of high-quality coal, but it is also infamous for its long-burning fires in the coal fields. It's been a hundred years since the first fire was reported in the region, back in 1916. Numerous attempts to extinguish and control the fires over the decades have been unsuccessful and rehabilitation of workers remains partial. The resulting emission of smoke and greenhouse gases is believed to constitute a severe environmental threat and health hazards.
The word 'apocalypse', understandably, pops up in captions accompanying Sen's pictures of Jharia on Instagram. The pictures, which focus on the lives of workers who are economically dependent on the coal industry, have a biting end-of-the-world feel about them.
"I had never seen people living with fire literally burning under their houses. It's like magic realism. It's [about the] simple daily life of people in one of the most extraordinary and unbelievable, almost inhabitable sort of setup," Sen told Huffington Post. "Who will believe this? You have to show photographs to make people believe this."
The photographer spent three months in Jharia in 2013-2014, taking a series of videos and photographs on an iPhone 5. The Instagram series documents Jharia's harsh landscape of open coal pits, smouldering fires and mines being blasted. He also documented how the lives of people who live there are affected by all this.
In one photograph, poor locals scavenge for coal illegally early in the morning, working dangerously close to fires and fissures that often lead to unreported accidents and deaths. In another, two small children sit intertwined on a coal mountain, waiting for their parents to return from the mines after picking coal. A third video shows CT scan report of a tuberculosis patient, revealing the health hazards of breathing coal dust over a long time.
"The story is not only specific and limited to India at all. It is just a coincidence that Jharia is here," Sen said. "It's an economic, environmental and deeply political problem which is predominantly visible across the world... I hope that this can initiate a dialogue and show people a small glimpse of a possible future that is coming towards us."