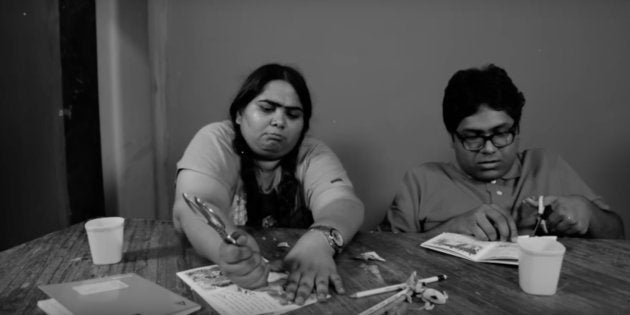 Stand-up comedian and improviser, Sumukhi Suresh was first noticed for playing the role of Sumukhi Chawla, the only sane NGO worker among all the clueless ones in the successful YouTube series -- Better Life Foundation.
Sumukhi is back again (yaaay!) with a new series on her own YouTube channel where she plays BehtiNaak, a 10-year-old girl who is brilliant, shrewd and very vicious when things don't go her way.
"I was a child whose nose used to keep leaking. I wrote Behti Naak almost as a response video to all my childhood experiences and irritations. Also, kids are not all happy and pink and purple. Kids are honest and brutal because they don't have filters," Sumukhi told HuffPost India. "I have made 3 more videos and will be releasing one a week at least."
The video, titled Behti Naak Aur Paanch Minute, starts off with Behti's mother calling her for dinner.
"Behti agle paanch minute mein tum khaana khaane chalogi!"
"Main paanch minute meinkahinnahi aa rahi"
Sh*t hits the fan when Shikhar, played by comedian Utsav Chakraborty, her best friend, asks her about the fight between her parents and how they are not happy together.
"Shayad teremaa-baapkebeechmeinpyaar abhi barkararnahiraha kya?"
Behti Naak proceeds to drop massive truth bombs about how her parents' relationship has turned toxic and they only live together because of societal pressures and co-dependency.
(PS: There's Kanan Gill too in this video, this time behind the cam and vocals)