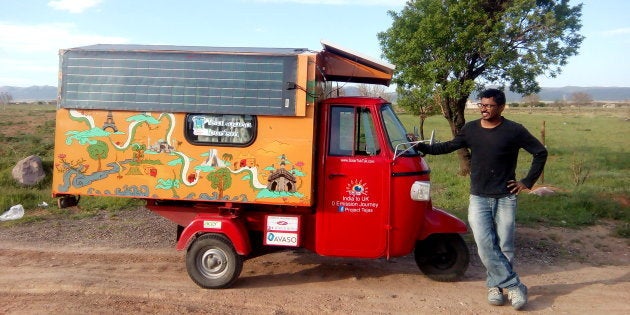 When Naveen Rabelli reached London today, he concluded a 14,200-km-long journey on his solar autorickshaw that began in Bengaluru, India seven months ago. To make this trip, Rabelli traversed 11 countries, 20 cities and 100 towns in Asia and Europe.
The 35-year-old began his adventure in February in a customised red three-wheeler christened Tejas, the Sanskrit word for radiance. His aim was to promote the use of renewable energy solutions for passenger vehicles in Asian and European countries. "The first thing I wanted to address was [the notion] that a solar-powered vehicle cannot run as efficiently as a fuel vehicle," Rabelli recalled.
Funnily enough, it was a traffic jam in Bengaluru that gave Rabelli the idea to convert a diesel autorickshaw or tuk-tuk to a zero emission vehicle that ran on renewable energy. He combined the project with his childhood dream of taking an overland drive from India to the UK. "I was driving in the traffic in Bengaluru, when I noticed a sea of polluting and noisy tuk-tuks," Rabelli said. "I decided that I didn't want to pollute the environment for my dream. So I decided to make a zero-emission tuk-tuk and drive all the way."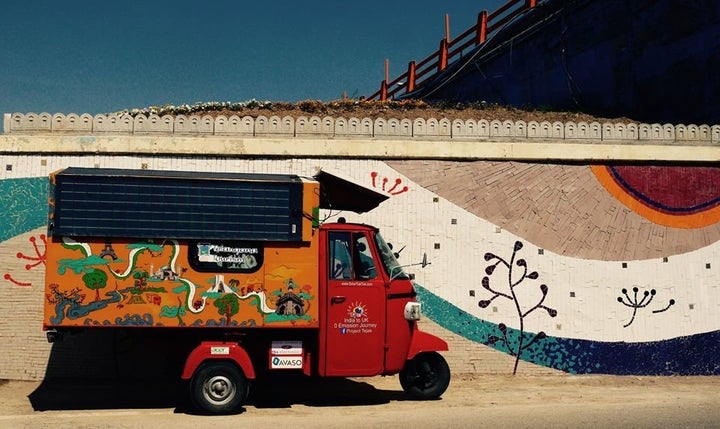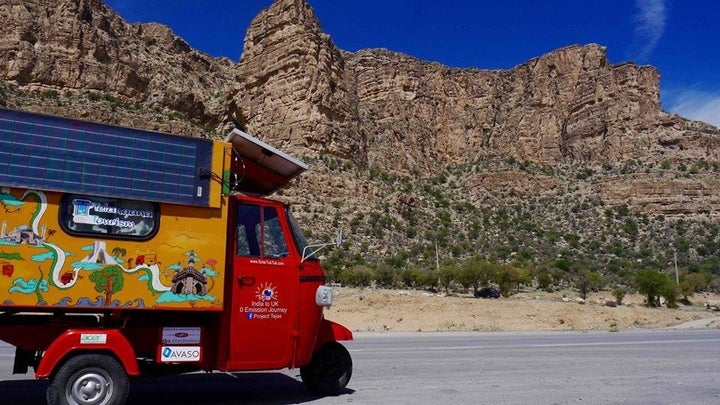 "I thought the tuk-tuk, which is a local icon, would be the best way to showcase an Indian solution to the world," Rabelli said. The project combined his love for travel and electric vehicles, which was ignited while working with the electric car maker Mahindra Reva in India. His wanderlust took him to Australia, but after working in the country for five years and becoming a citizen, he quit his job and returned to India to start working on Tejas.
The 35-year-old electronic engineer spent over three years on the project, building and getting sponsorship for Tejas. He purchased a Piaggio Ape three-wheeler diesel autorickshaw for $1,500 and spent another $11,500 modifying it into an electric and solar-powered vehicle. He spent his own savings in building the first two prototypes, but managed to get sponsorship for the third prototype and for the final journey.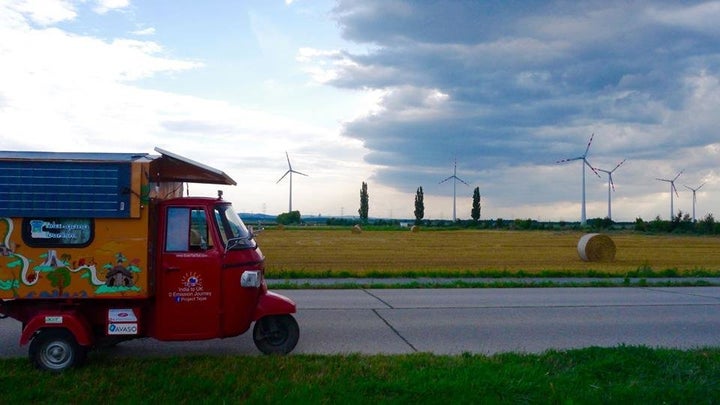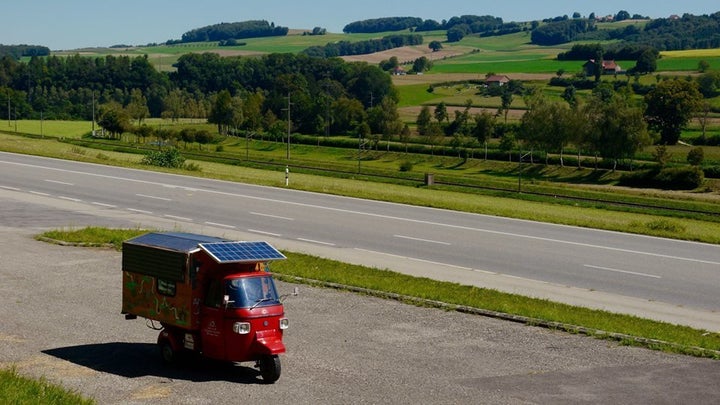 Rabelli installed solar panels on its roof and an onboard computer and display system to monitor its performance at every step. He also fitted a bed, solar cooker, a passenger seat and a cupboard inside to store food donated by supporters. The vehicle has a maximum speed of 45 km per hour, and can last for 80 km after every charge.
"Making the tuk-tuk was the biggest challenge," Rabelli said,"Whether it was building a team, organising funds, finding suppliers and fabricators, and doing the best within the budget."
After getting his solar vehicle ready, Rabelli finally hit the road in Bengaluru, driving to Mumbai to take a boat ride to UAE, before driving to Iran, Turkey, Greece, Bulgaria, Serbia, Austria, Germany, Switzerland and France, before crossing the English Channel to reach his final destination, London. He was accompanied by Austrian filmmaker Raoul Kopacka, who documented the trip.
"Every day had its own challenges," Rabeli said. "Imagine not knowing how a new town will be, how they will perceive me and how to talk to them."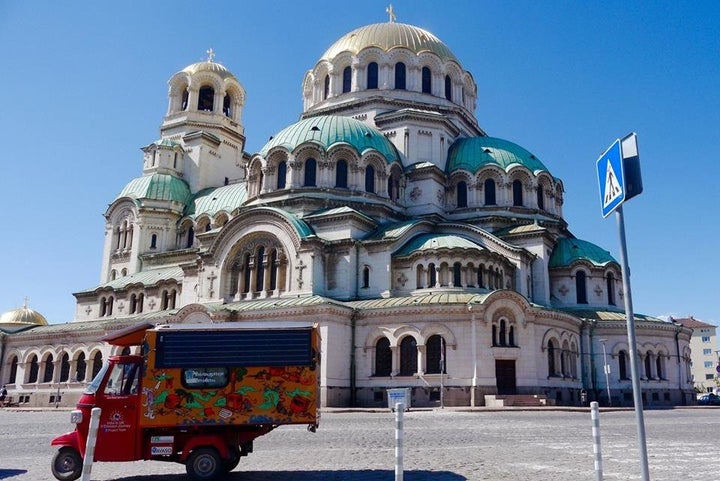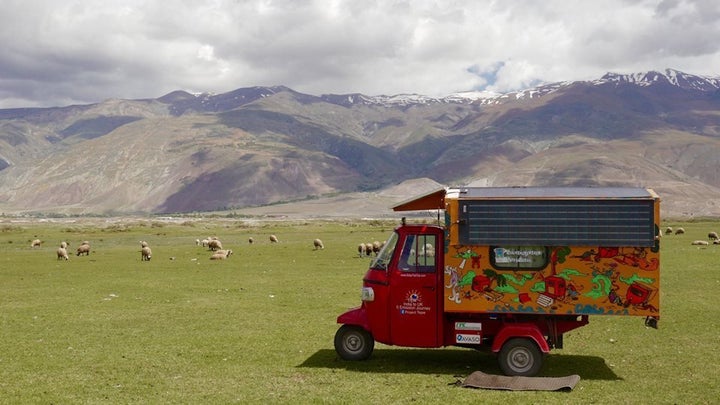 Rabelli allocated a budget of five euros per day for the journey, sleeping and eating in the tuk-tuk and showering in police stations, fuel stations, lakes, rivers, shops and even other people's houses. He stopped to work and earn money for food, and was also hosted and helped by people at other times.
The most memorable aspect of his journey was the hospitality in Iran. "It was nothing short of being treated like a god," Rabelli recalled. "I even smoked horse shit there, which was the local remedy for a sore throat. At first, I thought it was a prank, but then I saw other people smoking it too."
On the other hand, the most challenging part was dealing with the cold weather in Turkey, where he had to drive amidst hail and temperatures as low as minus two degree celsius. "The roads were like a roller coaster, very steep and at times I had to drive on roads at a slanted angle. At the end of it was a hill and on the other side, a cliff. It was a terrifying experience," Rabelli said.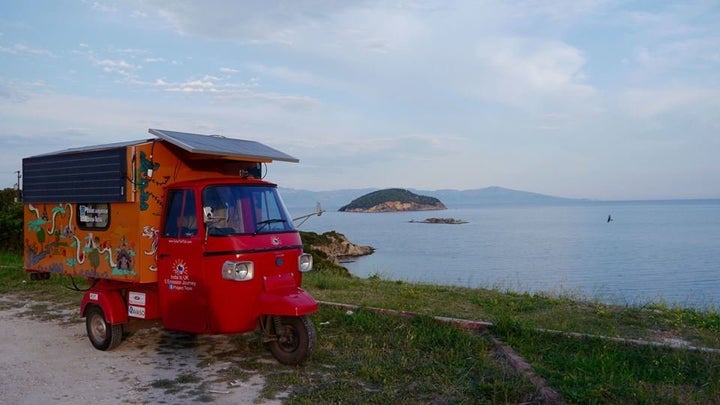 His smooth run ended in the last leg of the road trip when his passport and wallet were stolen when he had parked to use the toilet in France last week. This delayed his trip by five days, as he applied for an emergency passport to be able to continue his journey.
Since arriving in the UK, Rabelli has been busy showcasing Tejas at the Low Carbon Vehicle Exhibition but also getting some much-needed rest. "I plan to catch up on some sleep, consolidate on all my experiences and enjoy the moment with friends," he said.
For Rabelli, the journey ended up being much more than a thrilling epic road trip, transforming into a mission undertaken to spread awareness about the power and potential of clean energy. "It's really feasible," he explained. "A person like me in a garage can make it and live his dream of travelling from India to London, so maybe in the future we can really see it's quite possible."