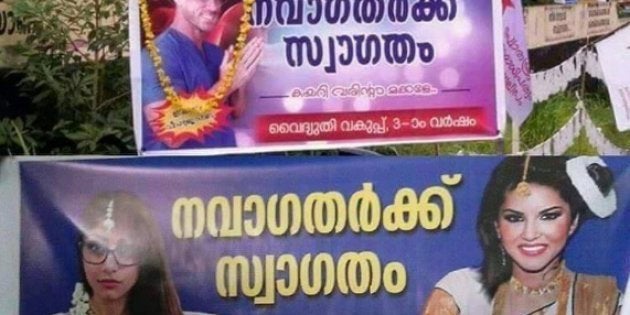 Kerala is known for many things -- temples, India's highest literacy rate, the backwaters, Kathakali, appams, this, that. To this fine list, we can now add, the best welcome sign for a freshers party.
Sree Narayana Polytechnic College in Kerala's Kollam district put up a banner to greet the new batch of students that featured photos of two women dressed in traditional finery, smiling and offering namaskarams with folded hands. A smaller banner featured a white man in a similarly welcoming gesture.
All of which was a nice and thoughtful way to greet the young students and make them feel at ease. Except for this little detail -- the two women happened to be the adult film star Mia Khalifa, and former adult film actress and current Bollywood celeb, Sunny Leone. The welcoming white man is none other than the adult film actor, Johnny Sins.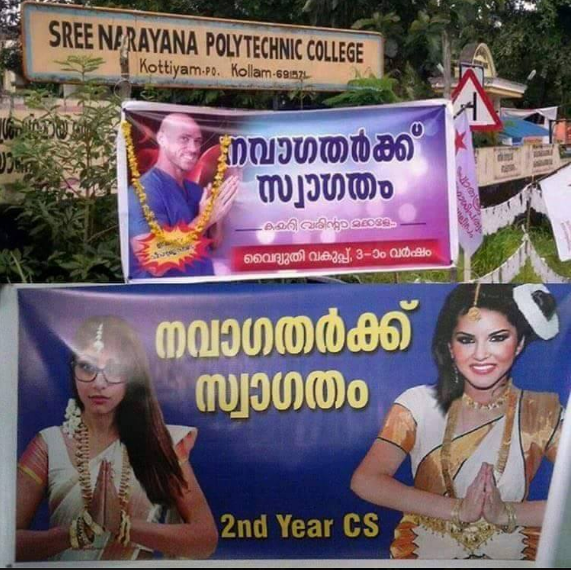 The banner reads "Welcome Freshers" in Malayalam.
Most Facebook users are just envious that they didn't get a freshers party like this. Meanwhile, the banners have inspired others.
Kudos to the photoshop genius who did this!