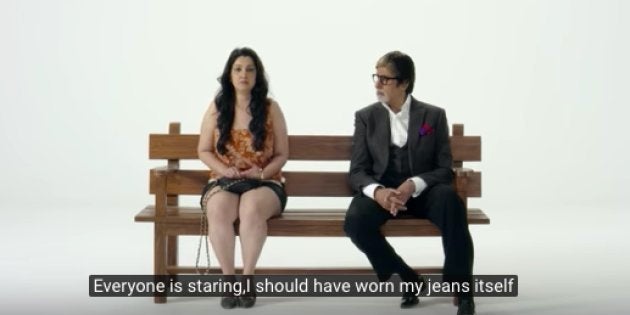 A couple of weeks back, Amitabh Bachchan wrote a letter to his granddaughters. He was also filmed writing it. Now he's Amitabh Bachchan and you don't expect him to write letters like us lesser mortals. Now after the initial wave of 'OMG, #heartwarming' ebbed, people noticed that the 'letter' was curiously written just in time for the release of 'Pink', a film starring Amitabh Bachchan and bearing all marks of Bollywood's idea of a 'women-centric' film.
So no one's really surprised to find Bachchan in yet another video on women's issues. This one is by Blush, Culture Machine's women and lifestyle channel, and has ITC's Vivel soaps brand as a sponsor.
While in the letter, Bachchan spoke about not paying attention what society asks women to do, in this one, he talks about the various restriction society puts on women. And how women themselves curtail their own freedoms at time in fear of disturbing the dubious status quo decided by patriarchal forces.
You can say, it's an extension of the now famous letter.
The video has Amitabh Bachchan voicing the insecurities, the judgements, the moral policing, the gender stereotyping that a woman braves everyday. It ends with the tagline of Vivel's new promotional campaign #AbSamjhautaNahin
All in all, this video is promotion nicely done.