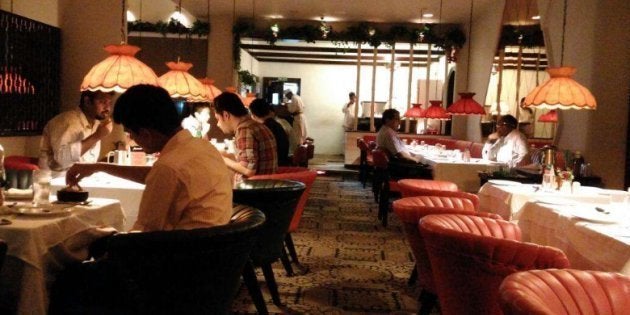 It's perhaps incredibly tempting to cock an eyebrow and snigger at the squall of heartbreak echoing across Facebook walls right now. You know, the wail of disowning Mocambo's devilled crabs and the whimper of swearing off its lobster thermidor. But before we rustle up every drop of snark left in our blood and chortle 'bitch please' at this social media epidemic, let's take a step back and try to perhaps understand why the restaurant's disgusting behaviour felt like a stab of betrayal for so many Kolkatans.
Nestled in a bylane off Park Street, Mocambo for several decades had come to be a symbol of the middle-class genteel. It's china is scrubbed squeaky clean but smattered with scratches from overuse. The French-sounding steaks are served by waiters clad in ill-fitting long shirts secured with a cummerbund and pagdis with gold zari trimmings. With its burgundy carpets and red upholstered sofas, Mocambo, for years, peddled an idea of luxury that both soothed the middle-class ego and flattered it.
A couple of hundred metres away from the aloof gates of the Oberoi Grand and a shout away from the vigilant exclusivity of the Bengal Club, Mocambo was the middle class Kolkatan's oasis - with its 'foreign' food, its waiters who nodded and smiled abundantly and the general air of Park Street's affluence. Mocambo came with the reassurance of not being an arrogant, colonial-era club -- its gates and memberships forever closed to PLUs. It was assumed to be the ant-thesis of five stars, considered the refuge of new money and wasteful excesses. Mocambo, in Kolkata's subconscious, was exactly what the city's middle class prides itself for being -- collected, tasteful, un-pompous, practical and sophisticated. No wonder then, the Facebook post accusing Mocambo of distasteful classist discrimination felt like a sudden jab in the eye for generations of Kolkatans.
Now if we can take a moment from being heartbroken, let us first admit that, in its heart, Mocambo, like most other restaurants, always operated on the unwritten assumptions of class. In fact, the entire Mocambo experience is designed to make you feel affluent and hence deserving of luxuries. And what exactly makes these services 'luxuries'? Face it, it's the fact that not everyone can afford them.
That the restaurant was never quite the paragon of inclusiveness could always be made out from the little crowd of people waiting outside its gates on weekends. As street children fluttered around the mob of patrons waiting outside -- some of who loudly tch-tched at being bothered -- the guard at the gate would occasionally shoo them away. Often, the patrons themselves snapped at the kids and asked them to scoot. Arguably, its an extremely common sight outside Mocambo and every other restaurant dotting Park Street for that matter. It's also not a sight that's exclusive to Calcutta. Replace Mocambo with any Bombay, Delhi, Bangalore restaurant on a busy thoroughfare on a weekend, the same picture floats before your eyes.
Now if everyone outraging on social media had bothered to protest at these digressions of fellow patrons or ticked off the management for trying to uphold a fatuous standard of 'luxurious fine dining', Mocambo may have known better than behaving like a prick. However, thanks to our deeply internalised classism, we have often overlooked such behavioural patterns as minor digressions. We have probably shaken our heads and turned our faces away in irritation. Have we actively tried to correct it? Least likely.
If this indignation is real and long-lasting, we should perhaps first stop pretending that we haven't been party to any classist practice ever. Then, tell members of our families, who we deeply love and respect, that having separate utensils for the domestic helps is a terrible, terrible idea. Or tell them that when domestic helps, drivers, mechanics and gardeners plonk down on the floor like that's where they belong, we should ask them to use our chairs and sofas. Or when we turn up at a brunch with a friend who has made an ayah sit at a separate table to mind the children, with no food or drink, tell him/her that it's quite pathetic. Or consider how we have compromised our bristling liberal conscience for privileges in clubs like Delhi Gymkhana -- which have boards declaring 'ayahs and servants not allowed'.
It is absolutely right to drag Mocambo through the coals over their insolence. It's also extremely convenient. If we are as shattered as we sound on Facebook, lets start with first looking into the mirror.