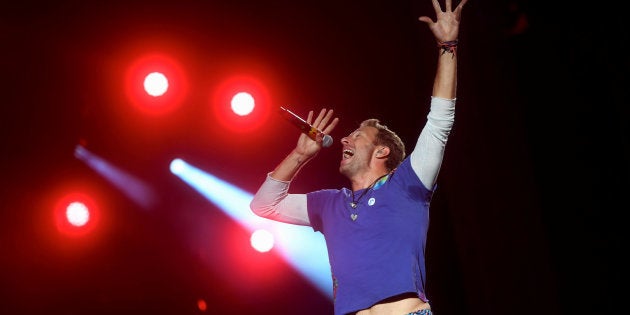 After a cycle of endless speculations, it was finally announced on Wednesday that British band Coldplay — along with American rapper Jay-Z and a host of Indian celebrities like Ranveer Singh, Katrina Kaif, Aamir Khan, Amitabh Bachchan, Kareena Kapoor, and AR Rahman (see full line-up below) — will indeed be performing in India on November 19.
Ahead of the press conference that took place yesterday at Taj Lands End in Bandra (sitting there, I felt a stabbing sense of irony, participating in conversations on alleviating extreme poverty from the comforts of a swanky five-star), HuffPost India caught up with Hugh Evans, the Australian humanitarian and founder of Global Citizen, a non-profit organization that is getting the band to perform in India.
While there was intense discussion around the astronomical prices of the tickets (rumoured to be between Rs 25,000-5,00,000), it was revealed that 80 percent of them will be free, provided you sign up for one of the social work initiatives by Global Citizen.
For Evans, getting Global Citizen to India comes from a personal space as it was while studying in India, at the age of 15, that he changed as a person.
"It was a very epiphanic year for me in many ways. I realised that doing charity is not enough. No amount of charity is going to solve the problem of extreme poverty that is ahead of us. The only way to handle it is by mobilising the youth and getting them engaged to support the cause."
Evans says the genesis of the idea came when he met Indian Prime Minister Narendra Modi in September 2014 during a Global Citizen concert held in New York (where Modi gave the infamous speech in which he referenced a Star Wars quote). Evans discussed the idea and, sensing Modi's interest, got Chris Martin of Coldplay involved to chart out the plans for the Indian chapter.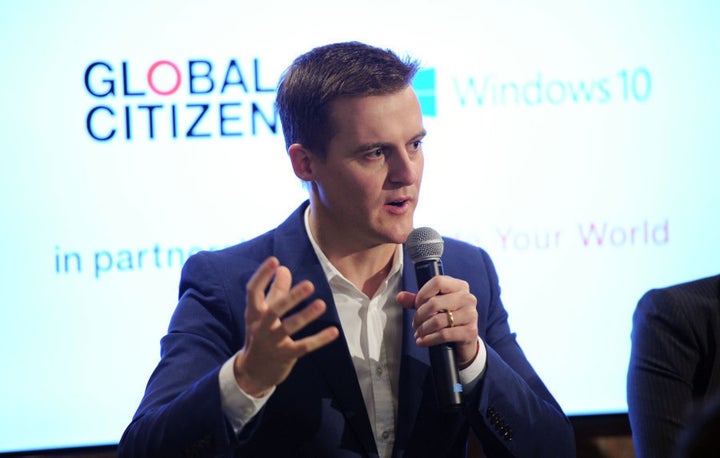 Then in July 2015, both Martin and Evans flew down to New Delhi and had meetings with Chief Minister Arvind Kejriwal and Modi, in which the PMO promised 'complete support' to Global Citizen's Indian chapter.
This was around the same time when Martin surprised Delhites by doing an impromptu gig at Haus Khaz village with music composer Vishal Dadlani.
"Chris is incredibly passionate about India, as am I," Evans says, adding that once the support from key government offices was secured, things moved at a galloping pace, cutting through bureaucracy and red-tapism.
The next step was to ensure local tie-ups to identify the causes to support and a collaboration with Shiv Khemka's The Global Education and Leadership Foundation was put in place. "All the ingredients came together, from political support to local channel partners. If it wasn't for the Khemka foundation, there won't be Global Citizen in India. And for us, this is a 15-year commitment so that we can achieve all our goals."
Also on the Advisory Board of Global Citizen is Kweku Mandela, the grandson of legendary South African president, Nelson Mandela. When I ask Kweku about his participation, he says that India, by challenging the acute poverty that it faces, can set an example for the world. The cause also has a deep personal resonance for Kweku, whose grandfather was deeply involved in the cause of alleviating poverty.
When I ask what specifically the India chapter aims to achieve, Bhavya Bishnoi, spokesperson for Global Citizen India, offers a comment. "One of the things on our agenda is to build public toilets across the highways, for which we're garnering support. Open defecation, as you know, is a big problem in India and leads to a lot of health hazards. We will then write to the Transport Ministry to see through this project."
He adds that the three main goals they are focussing on this year are — Education, Gender Equality, and Clean Water and Sanitation. They will also be mobilising support and get the President of the World Bank, Jim Yong Kim, to raise more money on fecal management while a plan to get the Prime Minister of Singapore, Lee Hsein Loong, to champion the cause of clean water and sanitation here, is also underway.
My next query to Evans is about how efficient these "support statements" are. Often you hear politicians and key individuals from various powerful organisation publicly declare their support for a variety of causes. How do we know if that isn't mere lip-service and that the money doesn't get stuck in complex channels?
Evans has a fitting response. "We have a very detailed policy analysis team. They do thorough analysis of the commitments made by various organisations, every six months. And yes, there are instances (very few) when a commitment hasn't gone through. For that, we maintain a transparent system. We release reports that detail the names of organisations whose support has come through and highlight those too who've failed to deliver," Evans says, pausing for a sip of water.
"Without accountability and transparency, there's no point of doing what we do."
The conversation would remain incomplete without asking a key question. Just how does Evans manage to get the best line-up of top celebrities to endorse his cause? Surely, there isn't a monetary transaction involved? Or is there?
"It's just our pitch. And it's our cause. And it's because of that core conviction Global Citizen has grown exponentially. I don't think it's about celebrity per se — they're just lending their voice — but I believe all humanity is driven by the mission to make living a little easier, to alleviate suffering."
And in case you were still wondering, they all do it for free.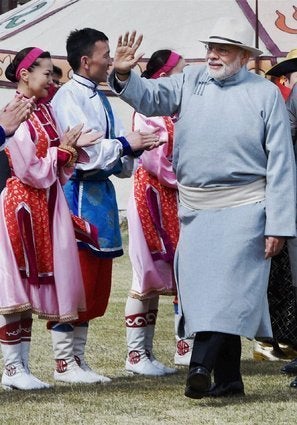 Modi Colourful Mongolia Visit