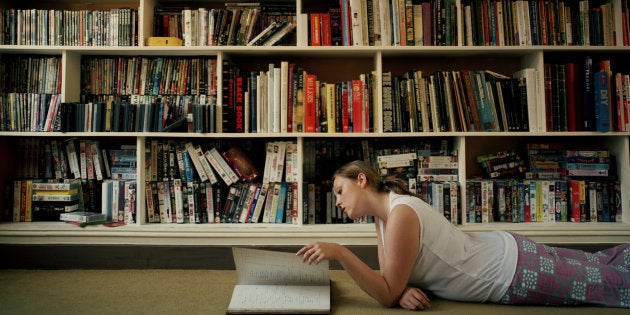 In the age of social media, reading is no longer a solitary pursuit. Being a bibliophile is as much about browsing bookstores, coming home with stacks of books from the library and spending hours with your nose buried in a book (or an e-reader) as it is about letting the world know what you are reading, if there's a particular reason for your doing so, and your reactions to it.
There is scarcely a better social media platform than Instagram to celebrate #booklove. But running a bookish handle comes with its own challenges. How many times can you possibly flaunt your well-stocked bookshelves, a newly acquired title lying next to a steaming cup of coffee, or the to-read pile on your bedside table without worrying about being unfollowed? Putting up beautifully styled photographs of books, with little more than the title, name of the author and the #iamreading hashtag, is also unlikely to score you hundreds of followers.
What makes a bookstagrammer special then? To my mind, it's all about being able to strike that delicate balance between erudition and entertainment — to be able to wear, ever so lightly, the mantle of a connoisseur of good taste and also reveal your vulnerabilities, likes and dislikes, confess to the failure of finishing Finnegans Wake or an immense love for Gone With the Wind. A visually sophisticated eye, a sense of composition and the gift of infusing charm into the most mundane of things could be added bonuses.
Here are nine bookstagrammers we love — not run by magazines, publishers of bookshops, but just crazy bookpeople.
Bon Dimanche, which literally means "Have a good Sunday", is run by Janet, who is as interested in the arts as she is in books. So she takes you into bookshops, museums and art galleries. She keeps an open mind to every book she picks up. She's not afraid to confess to have given up on a classic or gone back to another she had abandoned a while ago. She will even tell you she does not mind Ayn Rand's Atlas Shrugged.
Based in London, Sophia is a scholarly reader in the final year of her PhD. Her posts, whether they are about a novel by Akhil Sharma or a treatise by Susan Sontag, are mini-reviews, which open your eyes to dimensions you had not quite anticipated.
Online magazine Brown Paper Bag has a lovely handle where one of its editors recommends a book each day. The surprise of what you'll find on your feed every morning is charming in itself, but the lovely concepts and bit comments add to the appeal.
Faroukh is the guy with the book, "currently not reading," as his bio will tell you, but travelling in Malaysia and Saudi Arabia. But he's never without a book — and boy he can make them look good! His adventures in reading are punctuated with autobiographical anecdotes — such as his struggle to give up smoking.
Resh Susan, who runs this handle, makes any book, new or old, look gorgeous. She's a curious reader with an open mind, interactive with her followers, as quick to give reading advice as to seek some. Perks of following her: contests and giveaways.
"Baz Ozturk" is a cool dude stuck to a book. Witty and passionate with his responses, he almost always rates every book he reads, be it classic or contemporary fiction. Sometimes, he wears light blue pajama bottoms with stars.
Hosted by Jude from Vancouver, this handle is the Elle and the Vogue of the book world. Apart from recommending stellar reads, he posts some stunning photographs.
Alyssa is an English and Publishing graduate who devours historical, New Adult, Young Adult and literary fiction. Her photographs are like potted diary entries into which personal information trickle in, though she almost always brings it back to the book she's reading at any moment.
Based in Los Angeles, "H. Kim" loves books and coffee. She also organises frequent giveaways, in association with Riverhead Books for instance, and her enthusiasm for a good read is infectious.