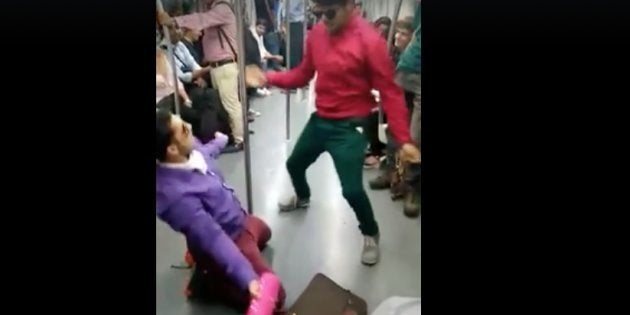 The Internet is full of prank videos. The reactions caught in them is what makes these videos go viral. While some of them are staged because of the complexity of the prank involved, others are quite genuine and so are the reactions of those who have been pranked.
On 8 September, commuters of Delhi Metro were caught off guard and how. Harsh Beniwal and his friend stepped into a Delhi Metro coach armed with a portable speaker and began dancing to "Cheap Thrills", internationally known musicians Sia and Sean Paul's current big hit. The song's popularity in India is such that there exists a Tabla version and several mashups around it.
The performance took place on Delhi Metro's Yellow line from the Vishwa Vidyalaya Metro station to Vidhan Sabha.
"We were shooting a prank there -- 'Dancing in Delhi's public places'," Beniwal told HuffPost India. "We chose the Metro because dancing in the Metro is not easy. That's the reason it went viral. People were enjoying it. They were literally shouting, 'once more.' They loved it,"
The performance was recorded and uploaded by a Facebook user Abhishek Dhoundiyal who happened to be in the same coach at the same time. The video has gone viral with half a million views and 5k+ shares on Facebook.