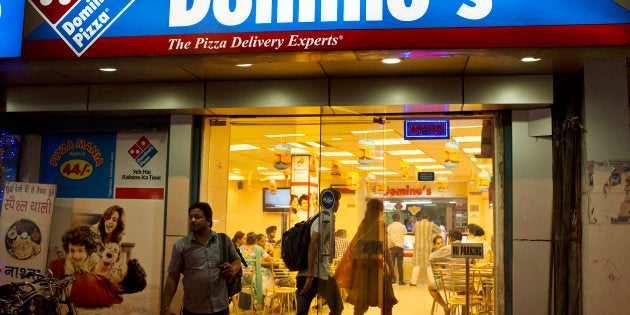 Global fast food giant Domino's Pizza is planning to turn nearly half of its 1,000-plus stores in India vegetarian during the nine-day Navratri period in October. The move is expected to draw more customers to its pizza outlets during a period which conventionally sees slow sales in certain regions due to fasting and dietary restrictions.
According to The Economic Times, the promotion will run in 500 stores in north, central and west India from October 1 to 10. The menu will not include garlic, onion and grains that aren't consumed during the Navratri, instead opting for pizzas bases made from singhara atta (water chestnut flour), cheese and sauces prepared with rock salt and sabudana (tapioca sago) snacks.
"Consumption of non-vegetarian food reduces significantly during this time. This move is an acknowledgement that though we are a global brand, we are conscious about consumer needs. It's about making a statement to consumers," Domino's Pizza India president Dev Amritesh said. HuffPost India has reached out to Domino's Pizza for further comments.
Domino's Pizza had first rolled out this initiative in 2015, when it announced a vegetarian menu in 164 restaurants, in states such as Maharashtra, Delhi, Gujarat, Madhya Pradesh, Uttar Pradesh, Rajasthan and Haryana. Jubilant Foodworks, which runs Domino's Pizza and Dunkin' Donuts outlets in the country, had said that it introduced the "100% vegetarian menu to give consumers the freedom to enjoy their pizzas without any inhibitions", after observing that consumers postponed their eating out plans during the period "following certain traditional beliefs."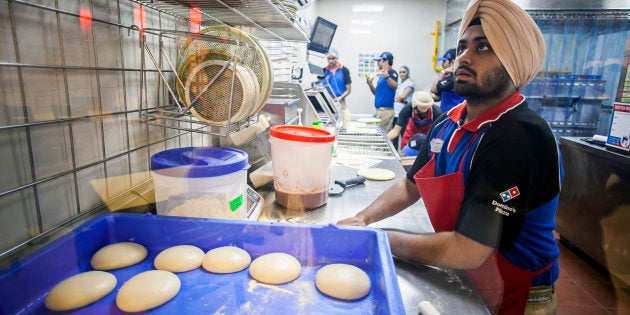 Dominos's already has an all-vegetarian menu at all several restaurants in Gujarat. Earlier this year, it also served customised butter bread without garlic during the Puri Rath Yatra festival in Odisha in July. Other global fast food chains have followed also a policy of introducing more vegetarian offerings in order to increase their market share in India. McDonald's opened its first vegetarian restaurant in the pilgrimage town of Vaishno Devi in 2012.
Domino's is India's largest pizza chain and claims to have 72% of the market share in the country and operates 1,062 restaurants in 248 cities. The country is also the largest global market for Domino's Pizza after the USA. However, it saw its slowest same-stores sales growth in the last seven quarters, partly due to a slowdown in the country's market.