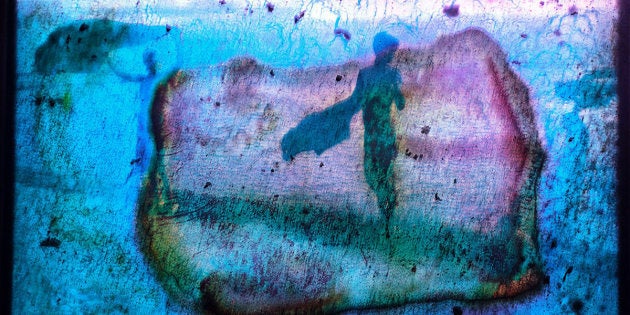 Pablo Bartholomew has been a photographer for 40 years now, largely working in India. His work as a photojournalist has been featured in publications across the world and he has had many solo exhibitions of his photographs. The strength of his oeuvre makes it definitive. Many of the images he has shot have become, or are in the process of becoming, iconic -- such as that of a child being buried in Bhopal in the aftermath of the gas-leak disaster, or young collegians dancing to a live band in a Delhi campus.
His solo shows over the past decade – including one at the National Museum in New Delhi – have showcased black and white photos taken by Bartholomew in the 1970s and 80s covering diverse subjects such as morphine addicts; Bombay's opium dens; the Bombay film world; Satyajit Ray at work late in life; Calcutta's Chinese district; as well as domestic, intimate and bohemian scenes that capture the lives of his family and friends.
These photos taken by Bartholomew when he was in his 20s and 30s, evoke a country that still feels young and fresh in the wake of its independence from colonial rule just a couple of decades earlier. From today's vantage they seem to capture a more carefree and insouciant time.
It is against this backdrop that his newest show, titled Memento Mori, and currently ongoing at the Nature Morte gallery in New Delhi, comes as a radical departure, with hazy, blurred, scarred and obscured colour images that look less like photos and more like abstract artworks challenging the viewer to make some sense of them.
The show's genesis goes back to 1985, when the National Geographic magazine commissioned Bartholomew to photograph 15,000 workers in Bangladesh while they worked to close the mouth of the Feni River as part of a mammoth irrigation and flood control project. In 2014, he wanted to look at the stored Kodachrome slides of the photographs again but, to his dismay, found them largely destroyed by termites, dampness and heat.
Memento Mori is his attempt to salvage and resuscitate what he could of the ruined photos.
HuffPost spoke with Bartholomew about the show and his work. Edited excerpts from the interview:
You are most closely associated with the black and white photographs you took in the 1970s and 80s. But the images in your current show, 'Memento Mori', look more like a blend of photography and abstract art. That's a big change for you.
From 2005 onwards, I started to go into the archive of my photos from 1972 to 1983 that lay unseen. All my exhibitions of black and white photos were from that period. Simultaneously, I looked at my father's photos. This show is very different because it has to do with destruction. The abstraction is part of the destruction. Nothing has been created to make the work. This is my own material that was destroyed and found. I have only re-photographed and digitally printed it with very minor Photoshop corrections.
Creatively, is this show showing a new side of you?
The idea was to regain something out of what was lost. This was a National Geographic shoot and the photos had been published. When I found out that the slides had been destroyed, I was emotionally devastated. So, you try and recoup something and this was my way of recouping something from that destruction.
What made you want to salvage slides eaten by termites? Why not just throw them away?
I have always been an archivist at heart. Very little in my house gets thrown away. No camera I have used gets thrown away. Though this changed with digital cameras; I have been giving them away. But none of the analogue cameras.
You can't make out the human figures in these images. They are obscured.
This is about the recognition of how material changes. What it becomes. I am not a great photographer when it comes to setting things up -- placing people or things in the studio. I am a photographer who captures the moment. So the same thinking [is at work here] -- how the form, colour, and design has changed [in these destroyed slides] to form something new. There can be great beauty in obscurity too.
And what else besides beauty?
There is memory. What was -- the ferries, the agricultural scene, people at the dam.
What would you have done had you found the slides intact?
I went to look for the slides [assuming they were intact], to look for material on agriculture in Bangladesh. But I found that nothing had survived, nothing but destruction.
Memento Mori refers to an object that serves as a reminder of death, such as a human skull. Why is it the show's title?
Because it is the death of material. There is mortality in everything, including photographic material. There is a finality.
As a photographer your work is hundred percent yours. But here the images feel like a collaboration between you and termites.
It is an unintended collaboration. The recognition of an accident. Somebody else might have chucked everything out. But you can find beautiful things in trash and junk. It is always in the eye of the beholder. Like at Chor Bazaar, what is worthless to somebody might hold great value for you. In Chandigarh, they sold old furniture designed by Le Corbusier as junk. But for others their aesthetics, and the value they held as reminders of a time and period, made them priceless. So here termites, humidity, and the heat turned the slides into an object of beauty. Many artists work in a format where they deliberately age and decay things for effect. Here, it happened by accident.
This reminds one of Instagram filters.
In the digital age, algorithms are written to create a certain effect. Here the effect was created by natural agents. One image has a dead spider embedded on it.
Your major shows have featured photos that you took earlier in life. Do you have this urge to keep looking into the past?
You are in the present. It is the past that propels you into the future. I have been going into archives but also actively photographing simultaneously.
All your shows have focused on the 1970s and 80s.
People knew me as a photojournalist. So, I took it upon myself to evangelise my other work and my father [the art critic and photographer Richard Bartholomew's] work. So that they don't remain unknown. You have to do it yourself; there is no one else who will do it for you.
These photos were shot in Bangladesh? How is shooting images outside India different from shooting in India?
Bangladesh has pretty much the same cultural nuances. I am a quarter Bengali on my mother's side. I have relatives in Bangladesh. Drawing of political boundaries does not make anything foreign. East of Iraq, there is a continuity to certain things, extending right up to the Sino-Tibetan region. You get kababs from Turkey to Indonesia.
You have shot images surrounded by tragedy and turmoil, in Bhopal and during the Babri Masjid demolition for instance. And you have shot people indoors in everyday settings. Does your approach remain the same in both cases?
When you shoot conflict, there is much more pressure stimuli. There is a different kind of adrenaline than when you are working on something quiet and passive. But often the approach remains the same. Usually you have to maintain a distance when shooting conflict; quieter situations can be more intimate.
'Memento Mori' will be showing at the Nature Morte gallery, A - 1, Neeti Bagh, New Delhi, until 24 September.