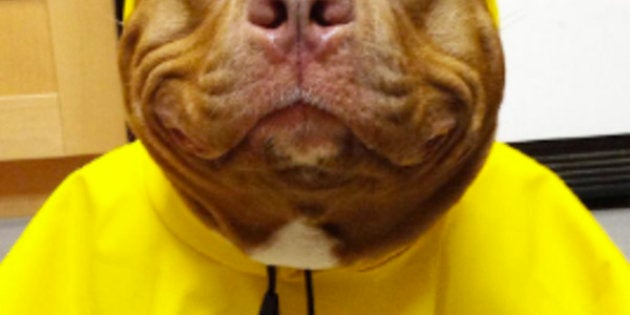 From the moment Meatball the pit bull met his forever family, he's been grinning from ear to ear. The near-permanent grin has won him a dedicated Instagram following ― and it's no wonder his fans have fallen in love.
Just look at this face.
This "smiling" expression is common in pit bulls, who often appear to be grinning because of their head and facial structure. "Since their cheeks are so wide, they almost all appear to smile," Cynthia Polite, vice president of Pit Bull Rescue Central, told The Huffington Post.
But even with their joyful faces, pit bulls who don't have homes face a tough road to adoption. Potential adopters still show bias against pit bulls and see them as potentially aggressive and violent, in spite of scores of studies that show otherwise.
That's why Meatball's adoption story is so special: He found a forever home despite the odds that pit bulls in shelters face. But even with the prejudices that exist against these dogs, pit bull lovers know how goofy and lovable they can be.
"I think his huge cheeky grin resonates with what a lot of people say about this breed without having to say anything at all," Reilly told HuffPost. "He's just pure joy."
As for Meatball's internet fame, Reilly says she didn't realize how widespread it had become until recently. "It didn't seem too real until a very elderly woman using a cane stopped me last week and asked if he is the dog she sees on Facebook," she told HuffPost. "I about died!"
These days, Meatball lives in bliss with his loving family, playing dress up and hanging out with the other dogs the Reilly family has adopted.
And, by the looks of his smiling face, he's loving every second of it.