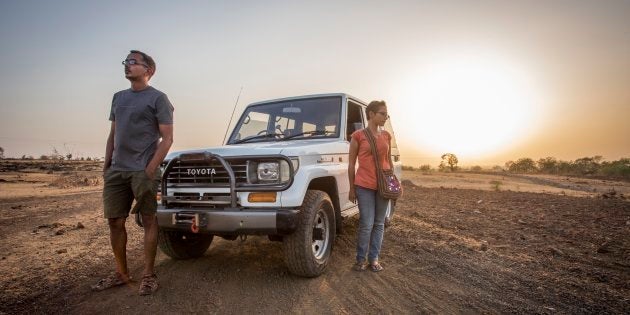 On December 23, 1964, a cyclone ravaged the shores of Pamban Island and Dhanushkodi in Tamil Nadu. The waves are said to have risen to a staggering 20 feet, making a ferocious wall of water that engulfed everything in sight.
A train travelling from Chennai to Rameshwaram, caught in the middle of the cyclone at the dead of night, drowned in the waters.
Around 5,000 houses were washed away and 2,000 people lost their lives. The government, henceforth declared the area unfit for habitation and almost instantaneously Dhanushkodi turned from a flourishing hub to a ghost town.
Of all the passengers in the train that night, only two persons survived. "He was fondly known as Neechal Kali and was one of the survivors of the cyclone. He swam in the dark for two hours to save his life. That night, waves rose from both Bay of Bengal and Indian Ocean, and crashed onto the shores. And, everyone he knew ceased to exist," says Akshatha, co-founder of the initiative called Rest Of My Family.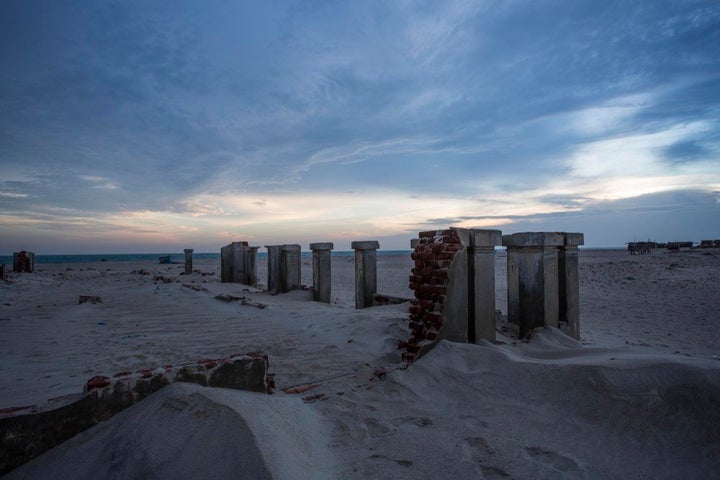 Running the initiative are Akshatha Shetty, 29, and Piyush Goswami, 31, who are currently in Orissa, documenting the lives of the rural folk in an attempt to bring out their struggles and issues. They had gone to Dhanushkodi some time earlier to document the lives of the fishermen there.
"We quit our jobs in 2010 and gave up our home back then to live a life on the road for 'Rest Of My Family' in 2013. Since then we have been slowly nurturing our ideas and our vision that has finally manifested as ROMF in its current form," they say.
Neechal Kali, who survived that fateful night of '64 refused to leave the ghost town. "He started a family in an abandoned coastland despite the government offering him alternate housing in neighbouring areas. In 1984, people from distant lands started migrating to Dhanushkodi for they had heard rumours of a brave man living by the shore who once fought the ocean, and against all odds survived. Till he breathed his last, Kali stood outside the stall now run by his son narrating stories of a lost town," says Piyush.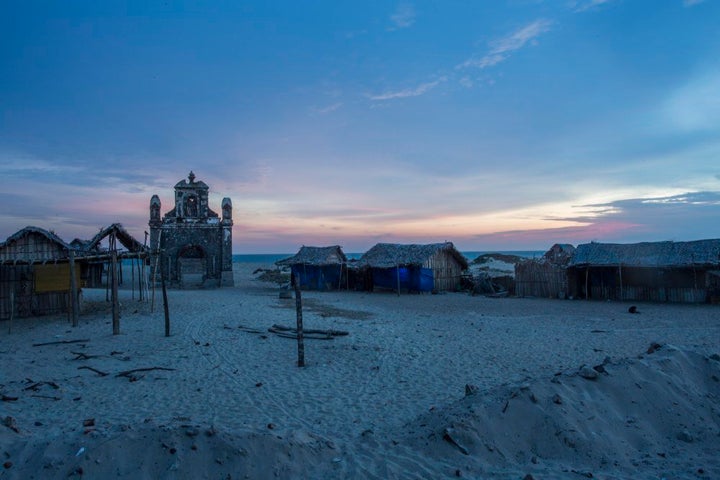 The cyclone changed the terrain of Dhanushkodi. It brought in heaps of sand and buried everything that the people there knew. Kumar Kali, son of Neechal Kali, who still lives there hopes that the government would help them put posters around the ruins so that people would know about the history of Dhanushkodi.
Even now, walking in the sandy terrain, one might even stumble upon human bones -- remains of the harrowing night. But the fishermen there are used to such occurrences.
The people of Dhanushkodi were sanctioned solar lighting by the government but a lot of the families refused them. The locals who were transporting these equipment to the houses demanded a hefty fee of Rs 2,000 for setting up and maintenance.
They still engage in the barter system to some extent as that is the only effective and quick way to address any sort of emergency.
"The community has no public infrastructure like hospitals, post office, schools etc. They have to travel to Rameswaram. Yet the locals are content with their lives and didn't feel need for any of this. However they had expressed their need for a community vehicle that can help them travel to nearby towns to buy supplies, send their kids to school and use the vehicle for any medical emergencies," Akshatha and Piyush tell HuffPost India. The nearest hospital is 12 km away.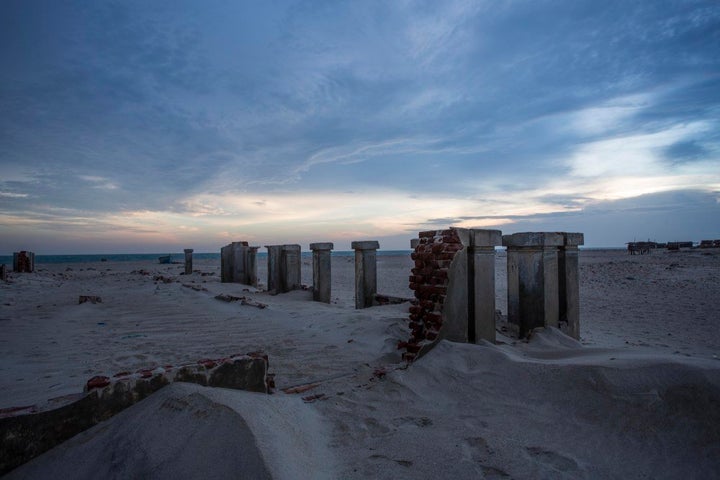 So, the duo decided to do something to help them.
In an attempt to explain their venture, Rest Of My Family, Akshatha says that it is a social-work-through-art project. "Through this we want to not just document lives and struggles of individuals and communities but also play an active role in supporting and empowering them," she adds.
The duo from Bengaluru have been on the road since 2013. As they reveal, they travel for seven to eight months a year and return to Bengaluru and plan their future projects. "And, this year, will be the longest leg of our journey. We are on a one year drive through rural and tribal belts which commenced in February 2016 and will end in March 2017," says Piyush.
Their research into the lifestyle of the communities make them stay in a place for periods between twenty days to three months. "How long we stay in a place is entirely dependent on how well our understanding of a particular community's culture, tradition, social issues and prevalent social scenarios is after a certain point," say Akshatha and Piyush. They have stayed in Neliyampathy for a few days whereas they spent around a month in Attapadi. They have spent four months in Rajasthan, three in Nagaland and a lot of time in eastern Tamil Nadu.
Akshatha and Piyush crowdsource for most of their social work, which not only enables them to help the rural communities but also funds their travel to remote corners of the country. Last year they raised funds through a Drive For Change campaign, the resources from which is still helping them. They also make documentaries and write, which helps them further. An article on their efforts on a daily newspaper from Dubai met the eye of Indian businessman, Gautam Kulkarni, who decided to help the initiative and became their primary sponsor.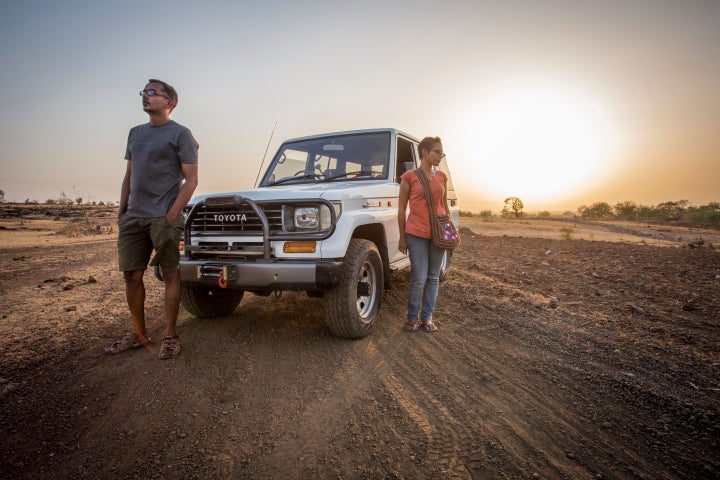 "We were really trying to find ways to provide a community bus to the settlement as the locals had mentioned that was their biggest challenge," says Piyush. "The community bus for Dhanushkodi was also bought with funds donated by Gautam and Kanchan Kulkarni, through their Kara foundation," he adds. They finally managed to get the community bus recently and gave it to the people of Dhanushkodi.
"We have entered into an agreement with them wherein they have appointed someone from the community to drive the bus. Apart from taking villagers to nearby town, it is used to take kids to school and used in case of medical emergencies. The running expenses will be managed by them," Akshatha explains.
Their initiative, Rest Of My Family, seeks the rest of one's human family and to reconnect people from different walks of life. "ROMF is something we will be doing for the rest of our lives. Our faith has gotten us so far and we have no doubt that new doors and avenues will keep coming our way as and when needed. We try not to think too much about our future and instead try to focus our energy on doing what we have to do here and now. Everything else falls in place," they say.
When I ask them how do they prioritise what a community needs, they said, "Whatever is required by the community will be expressed to us clearly by the people themselves and we will try everything in our power to provide them with a solution come what may. We never enforce a solution that we think is necessary as opposed to what they think is necessary upon them. It is an organic process."
If they are buying a bus for a community in Dhanushkodi, they are also fighting to get the land back to the Malasar Tribe of Nelliyampathy in Kerala and trying to help the farmers in crisis in Karnataka's Devangare. They have sponsored the education of many children from families of farmers, are in the process of initiating mobile medical units in remote tribal areas and are also currently working to finalise a solar project for the Malasar Tribe. There is no issue too small or no issue too big for them. Rest of My Family is an initiative that is not only addressing issues affecting India's rural community, but also fighting along with them.
You can read about their journey here.