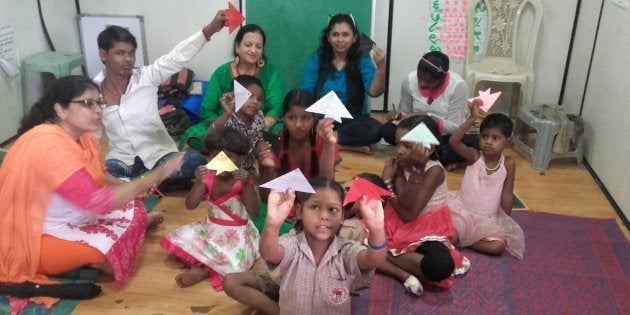 "What is a smart city?", asks Bhatu Sawant. "Everyone, even the government is talking about a smart city. What is it exactly? Bridges and infrastructure do not make a city smart. People make it smart. When people are economically and socially smart, it makes the city smart. It makes the country smart," Sawant declares.
Bhatu Sawant is the CEO of Samarth Bharat Vyaspeeth (SBV) an NGO which is the brain behind Signal Shala, a school dedicated to children who beg on the streets near the Teen Haat signal flyover in Thane, Maharashtra.
Teen Haat Naka is the busiest signal in Maharashtra that connects 32 roads. The signal, therefore is not just witness to immense traffic, its also home to several of pavement dwellers who make a living by selling odds and ends to people passing by. Most of these pavement dwellers are often accompanied by toddlers and babies--a common sight in all Indian metros.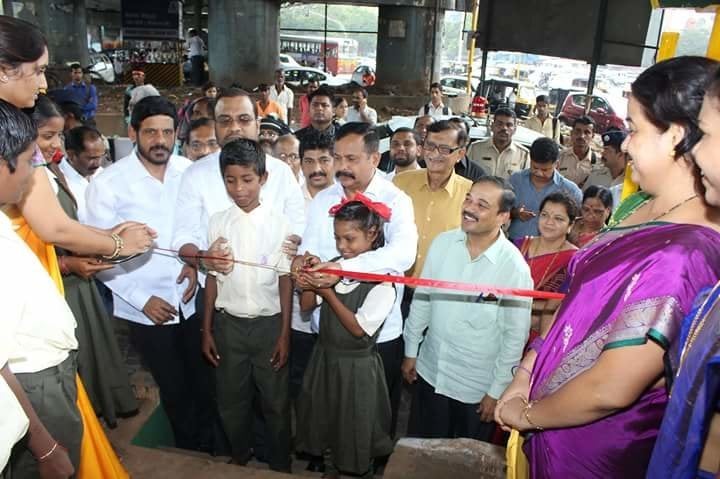 Sawant tells HuffPost India, "The parents sell stuff and do their business during rush hour. But you know what they do the rest of the time? They send their kids to beg. That is the side business. Although, I have to tell you that making them beg is mostly the fathers' doing. These tiny kids earn 70 to 80 rupees per day and the father spends most of it on alcohol. The mother has control on the remaining money since she runs the family."
These tiny kids earn 70 to 80 rupees per day at the end of which the father spends it on alcohol.
Sawant's organisation had first tried to take the children to school. They didn't succeed, the few who went also dropped out. Meanwhile, the Thane Municipal Corporation was also trying to come up with a plan to help this kids get a shot at a better life. At the same time, SBV carried on multiple surveys and figured out that there are 22 children who live there permanently with their families and beg during the day.
So then SBV and the municipal corporation joined hands to help these kids.
"The parents do not allow the kids to move away from the signals. So, we decided that if the kids cannot go to school then school must come to them. We, then, got a shipping container and started showing films to kids and made them play games. They liked it and came back. Gradually we introduced the alphabet to them. After that we got a projector and a software that allows audio visual classes. The kids really began to enjoy it." Signal Shala has 22 students as of now, from ages 4 to 14.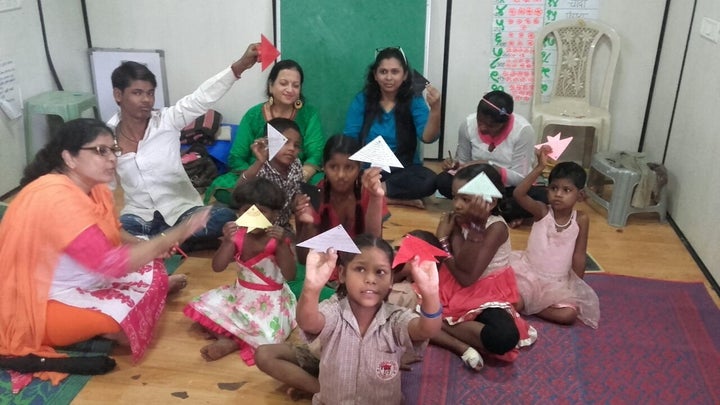 Inaugurated on June 15 this year, the school currently has four permanent teachers and an eclectic group of people who drop in for an hour every week to teach these kids anything from yoga to music and from crafts to drawing. The agenda of the Signal Shala, which is now a registered school, is simple -- to educate these kids till the 10th standard. The students are put in a class according to their education level and a timetable is henceforth prepared.
Initially the school hours were from 11 am to 1 pm. "It was difficult for them to hold attention for any longer," says Sawant. After a few days the hours were stretched to 2 pm and then to 3 pm after a few more days. Now, after 3 months, the school runs till 4 pm. Although it took some coaxing and efforts, the kids are attending school for 5 hours now.
However, soon after their schooling began, Sawant and his team realised that the children could not keep themselves awake during the classes. Sawant says that they also had skin infection. SBV then got a child specialist who provided the kids with vitamins and a skin ointment. The next obstacle was clothing, that Sawant and his team realised were thrown away on the day the children would take a shower. "They don't even have water to take a bath, how will they wash clothes? So they throw them away," says Sawant.
We, as a society cannot be proud of a signal school. Don't be proud of it. We should be ashamed that this is even a thing.
So, Sawant and his team appealed to the people who would donate clothes to these kids in the signals, to instead send them these clothes. "We provided the children with water, made them take showers before school and gave them new clothes. We cut their hair and nails and even washed their old clothes and let them out to dry," mentions Sawant to me.
Sawant enthusiastically says, "Now that so many aspects were taken care of, we wanted to provide them with food. On a usual day, they would eat what a normal child would have for snacks. So, we gave them a full meal at 1 pm." "Not only that we taught them not to stretch hands. We made them understand that we will take care of their food and their parents will take care of themselves. The idea was to prevent them from begging," Sawant points out.
But some of the kids still go out in the streets to beg, he confesses. However, now the other kids report to the teachers if they see someone going out to beg.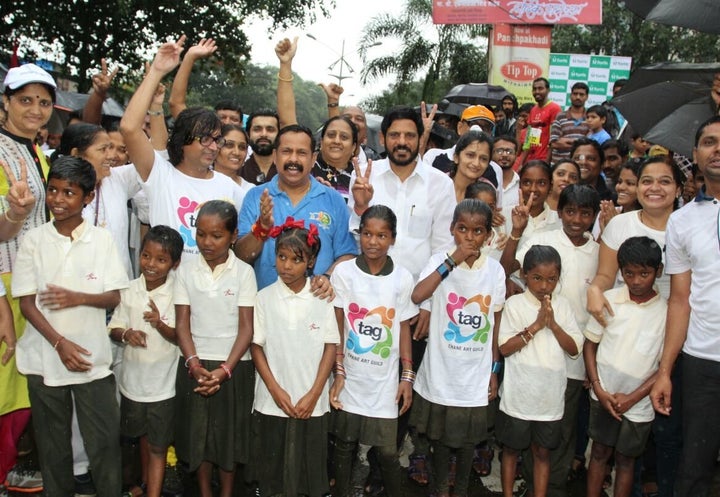 They are also trying to get more kids from the other signals close by and make them join the school. There are 17 such children right now.
However, Sawant hopes to shut down the school soon --- and that will happen when the children get a proper permanent school. "We need to close the school. I want this to wrap up fast. A society where a signal school exists is one that has let its people down. We, as a society cannot be proud of a signal school. Don't be proud of it. We should be ashamed that this is even a thing. Our aim is that there should be no signal school in India in the future."
You can donate for this school and its kids here.