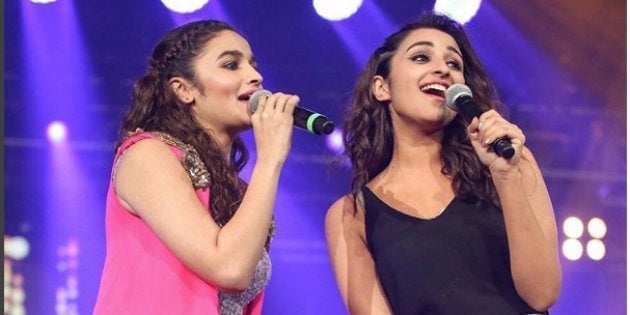 Alia Bhatt and Parineeti Chopra, who were on a professional US tour (Dream Team) along with a bunch of other Bollywood actors (Katrina Kaif, Aditya Roy Kapur, Sidharth Malhotra) and filmmaker Karan Johar, did something absolutely spellbinding in the Chicago leg of their trip.
The actors decided to spontaneously sing the title track from Johar's debut film, Kuch Kuch Hota Hai (1998)and predictably, the crowd lost it.
While the tour itself is over, a video has now emerged on Instagram that shows the two actresses effortlessly crooning the chartbuster that featured Kajol, Shah Rukh Khan and Rani Mukerji and one that earned singer Alka Yagnik a National Award.
Released in 1998, Kuch Kuch Hota Hai remains an enduring romantic drama, a film that instantly hits millennials with a strong bout of nostalgia.