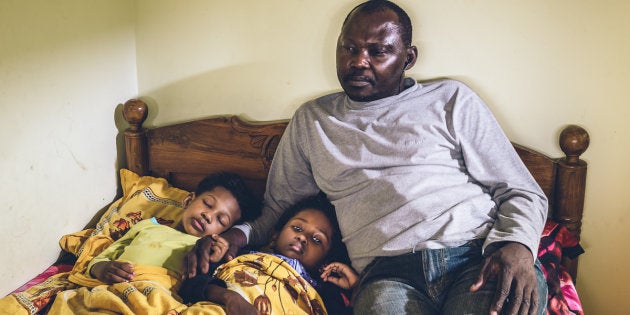 A middle-aged man watches over his two young kids at bedtime, his hand holding theirs with assurance as they nod off. One of them is already asleep, while the other looks at the camera with droopy eyes.
This image is part of Bengaluru-based photographer Mahesh Shantaram's ongoing series called 'The African Portraits', which focuses on the everyday lives of Africans living in India. The man in the photograph is Wandoh, a single father who is originally from Chad but has been living in India for over a decade. This languid scene of fatherhood and domesticity is one that is rarely seen in mainstream reportage on Africans in India.
Shantaram began the series when a Tanzanian woman was stripped and assaulted earlier this year, after a Sudanese man's car accidentally hit and killed a local woman in Bengaluru, the photographer's home city. The incident prompted him to find out more about Africans in the city, and that investigation then took him to Jaipur, Delhi and Manipal.
"Xenophobia begins when you have no understanding of the other," Shantaram told HuffPost India, in the midst of a shoot in Rajpur Khurd, an urban village in South Delhi where a group of Africans was attacked in June. "The portraits are a way of saying that they live like we do. Rather than making them victims, it is to humanise them. They are just average people who we share our city and country with."
"The portraits are a way of saying that they live like we do. Rather than making victims, it is to humanise them."
The contemplative portraits steer clear of stereotypes, instead highlighting individual identities and plural cultural backgrounds. Primarily shot at night, they have been taken inside the subjects' homes or in the neighbourhoods where they live, indicating a certain level of intimacy and comfort between the photographer and the subject. Their posed and formal nature is in contrast to the candid documentary-style wedding and political photographs that Shantaram is known for, but they are also rooted in real-life stories.
After the attack on the Tanzanian woman, Shantaram began reading news reports of Africans living in India, and discovered that they were mostly written about in the aftermath of racially-motivated attacks. He began contacting individuals mentioned in these reports through Facebook, emails, reporters, and friends who could provide an introduction. While some had shifted or moved back to Africa, others wrote back and agreed to speak.
"The attack on the Tanzanian student was in the news for a week, and then the Kanhaiya Kumar episode broke out and we forgot all about it," Shantaram recalled. "I wondered if there was a resolution. I just wanted to meet people and understand what was happening. Then, it became a natural response to photograph them."
When someone agreed to meet for an interview, the photographer spent a few hours just talking to them about their lives in India, their studies and what they had left behind in their home countries. "Nobody has shown much concern for them and they are surprised when someone wants to listen," Shantaram said.
The vibrant portraits are also full of colour, and have been all shot at night using long exposures. The nocturnal setting evokes a picture of isolation and exclusion, that speaks of their real-life experiences in colleges and their locations in the outskirts of the city where the rents are cheaper.
"These are not just portraits of Africans you're looking at, but India, Indians and Indian behaviour."
Many African students who spoke to Shantaram revealed that they had trouble making friends in India in colleges and schools. Other talked of being charged more than Indians by local shopkeepers or being abused by people on the streets for no reason. "Indian students don't want to sit with them and just move away. Colleges want African dollars but don't want Africans themselves. Rarely do they make African students feel welcome," Shantaram recalled. "So racism is not only when someone gets beaten or killed. It can be an untold, invisible, social violence that they face everyday."
The photographer has focused mostly on African students, and plans to work on the project until March, through the duration of one academic year. "Students are an extremely vulnerable group," Shantaram said. "They seem to have no agency in India. It is difficult for them to deal with the government, shopkeepers and police. It seems like a life of everyday racism and injustice everywhere."
During the meetings, Shantaram also discovered what had happened to them in the aftermath of racially-provoked attacks. Wandoh, who Shantaram photographed with his kids at bedtime, was beaten up and verbally abused after asking two bikers to drive properly in 2013. He had lived in the locality for over a decade, but no one had helped him. Since the attack, he has struggled to bring up his kids as a single father, after his wife died in 2014.
"As an artist, my role is not to provide solutions but to hold mirror up to society," Shantaram said. "These are not just portraits of Africans you're looking at, but India, Indians and Indian behaviour."
Mahesh Shantaram's The African Portraits is on display at Tasveer Gallery in Bengaluru until September 23. The entire series can be viewed here.