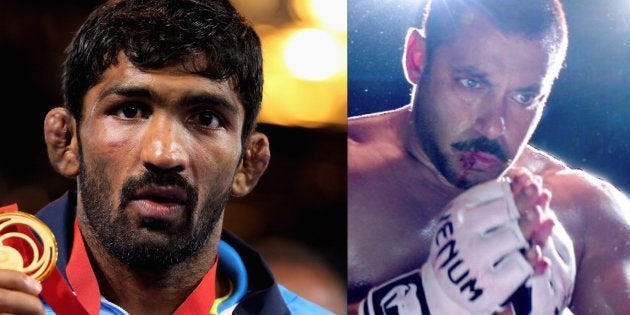 Earlier this year, Bollywood star Salman Khan was appointed as India's Goodwill Ambassador for the Rio Olympics.
While some were not very enthusiastic about Bhai's new role, the likes of Abhinav Bindra and Mary Kom backed the Indian Olympic Association's decision.
Bindra congratulated Khan on being appointed.
Dear @BeingSalmanKhan , am sure you will use your tremendous goodwill to help Indian Olympic Sport and Olympic athletes (cont..)

— Abhinav Bindra (@Abhinav_Bindra) April 24, 2016
But ace Indian wrestler and London Olympics bronze medallist, Yogeshwar Dutt, wasn't too impressed and made his feelings clear by posting a series of tweets on his Twitter account.
PT Usha,Milkha Singh jaise bade sports star hai jinhone kathin samay me desh ke liye mehnat ki. Khel ke kshetra me Es ambassador ne Kya kiya

— Yogeshwar Dutt (@DuttYogi) April 23, 2016
So, when Dutt suffered a shock exit in the first round of the 65kg freestyle category at Rio, the opportunity was perfect for the Salman Khan Twitter Fan Army to unleash its pent up fury on him.
dont be surprised if #YogeshwarDutt comes back india and says i lost because of salman khan. 😒

— two 300cr+ films (@Salmankabhakt_) August 21, 2016
#YogeshwarDutt had become more famous by criticising Salman Khan on brand ambassador than his Olympic performance.

— Person of interest (@IdolSalmanKhan) August 21, 2016
Those who r saying don't criticise #YogeshwarDutt so where were they when he was criticizing Rio for appointing Salman as ambassador..

— D (@oneNnlyD) August 21, 2016
I'm so pissed by #YogeshwarDutt wasn't even prepared for this !? Din bhar twitter pe SALMAN SALMAN karega ab medal kaun tera baap layega?

— Sad! (@SmilingAmira) August 21, 2016
While Dutt's supporters stood by his side.
Salman fans accusing #YogeshwarDutt after his defeat. They r thinking that winning a Gold Medal in Olympics is very easy like Sultan.

— Sunil- The Cricketer (@1sInto2s) August 21, 2016
There should be a separate nation for Salman Khan fans. For them Salman is above India's pride.

— Lame Monk (@oldschoolmonk) August 21, 2016
On Tuesday, Dutt got back at the trolls in a Facebook Live video that he posted on his official page. He apologised to his fans for performing poorly. Then, addressing Salman Khan fans, he said, "Kutton ko bhaunkne ka pura haq hai hamare Hindustan mein." Translation: "Dogs have the full right to bark in India."
Watch the entire video here: