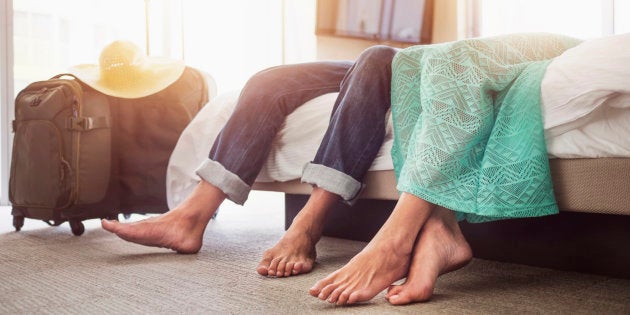 Across India, it isn't uncommon for conservative hotel owners to deny a room to couples who cannot or don't want to furnish proof of marriage. However, there is no law making such checks mandatory. On Quora, Reddit and Twitter, it isn't uncommon to find questions about hotels that take in unmarried couples and are safe.
But there are signs of change on the horizon. After the launch of the startup StayUncle, which rose to fame because of its tagline "couples need a room, not a judgement", OYO, is now letting guests search for hotels that welcome unmarried couples.
The company defines a couple-friendly hotel as one that does not demand proof of marriage, photo ID specifying the name of the spouse and documents that attest the fact that the residential address of the customer is in a different city than where the hotel is located.
OYO says that according to a rough estimate, 60% of the 6,000 hotels in 100 cities they have tie-ups with have been found to be couple-friendly. A customer can search for a couple-friendly hotel by logging into their account, clicking on the relationship mode in search preferences and then proceed to searching. They can also search for all the hotels in a city and filter the results by selecting the OYO for Couples option.
"While there is no law in India barring a hotel from hosting unmarried couples, some hoteliers do not allow unmarried guests to check-in," Kavikrut, chief growth officer at OYO, said. "Others have found creative ways to avoid this situation by refusing to host guests who are residents of the same city... Often these policies are communicated to the guest only at the time of check-in, leading to further inconvenience of having to look for a new stay option as the last minute."
According to OYO, Bengaluru, Gurgaon, Goa and Delhi have the highest number of 'couple-friendly' hotels. Tourist destinations such as Manali, Shimla and Mussoorie also rank high in the list. A casual search reveals that there are 146 such hotels in Bengaluru, 113 in Delhi and 217 in Goa. Surprisingly, metropolises such as Chennai (27), Kolkata (54) and Mumbai (12) have lesser couple-friendly hotels than Jaipur (170), Chandigarh (141), and Pune (73).
"OYO is a young and modern brand that was created to change the way travellers stay away from home," OYO's 22-year-old CEO Ritesh Agarwal said. "We have launched this new feature to convey that all guests are welcome at OYO."
The introduction of the feature is in keeping with the age group of OYO's customers, 35% of whom are between 20 and 30 years and 25% between 30 and 40 years. "Our whole point is – we will ensure you feel welcome, and we will respect your privacy and freedom," Kavikrut said.
OYO will be competing with StayUncle through which guests can rent rooms in hotels in 11 cities in 12-hour morning and evening slots. They are priced between Rs 1,400 and Rs 5,000. Zostel, which runs a chain of 16 backpacker hostels across india, also does not bar unmarried couples from staying as guests.