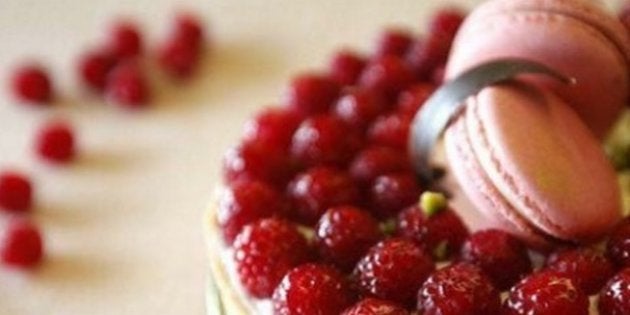 If you've got a sweet tooth, then there's nothing quite as satisfying as scrolling through pictures and videos of pretty macarons, dainty pastries and decadent cakes on Instagram. Trained pastry chefs, bloggers and self-taught bakers offer the perfect way to fill your Instagram feed with sweet nothings. From fancy French pastries to easy-to-make desserts, there are plenty of enticing pictures here for aspiring bakers and dessert lovers alike.
The executive chef at Delhi's L'Opéra, Sinha is a pâtissier and chocolatier adept at both modern European and French classical pastry techniques. Sinha's feed has pictures of artfully-constructed desserts and beautifully-glazed chocolates that L'Opéra is famous for.
Owner of the successful Le 15 chain of patisseries in Mumbai, Pooja Dhingra is a graduate of Le Cordon Bleu, Paris. She is most famous for introducing the city to Parisian macarons. On Instagram, she often gives glimpses of her kitchen, ongoing culinary experiments and new menus. Her all-time favourite dessert is the molten chocolate cake, which she says can be "whipped up in minutes".
Patel's Instagram feed offers a behind-the-scenes look at her popular Mumbai patisserie, La Folie. The French-trained chef was also crowned the Pastry Queen of India in 2015. Apart from signature chocolate treats, watch out for her mind-bending dessert-inspired savouries.
Self-taught baker and food blogger Shivesh Bhatia is all of 20, but already has 75,000 followers on Instagram. Look him up for delicious images of baking experiments with cakes, ice-creams, cookies, pies, tarts and more. His latest favourite is the French shortcrust pastry, sablée tart.
Mehra owns the dessert catering service, Parfait, in Mumbai, and shares pictures of her elaborately-decorated cakes, especially those topped with colourful fondant roses.
Food blogger Deeba Rajpal's Instagram feed combines her love of baking, food styling and photography. Rajpal shares unique recipes such as the mishti doi cheesecake, but says that her favourite remains the layered cake. She also focuses on working on healthy, seasonal and sustainable recipes using local ingredients.
Having trained at Le Cordon Bleu in Sydney, Rama Chadha runs the Sugarama bakery in Delhi. His focus is on fun modern pastry, with signature creations that include the pina colada cake with a white chocolate crown and textures of chocolate cake with a multi-coloured glaze.
Trained at Le Cordon Bleu and Alain Ducasse Education, Peerbhai runs the popular blog, Purple Foodie, conducts pastry classes in London and India, and shares her love for baking on Instagram. Her current favourite dessert is the A chocolat, a decadent combination of pecan and cocoa dacquoise, chocolate mousse, salted caramel and dark chocolate ganache, and pecan nougatine.
Food blogger and dessert lover Gayatri often whips up desserts with dark chocolate, raspberries, coffee, bourbon and sea salt. Her favourite recipe? Blackberry ice cream.
Food blogger, photographer and self-taught baker Radhika Malhotra's Instagram account features mouth-watering goodies like fruit popsicles and the no-bake Nutella cheesecake.