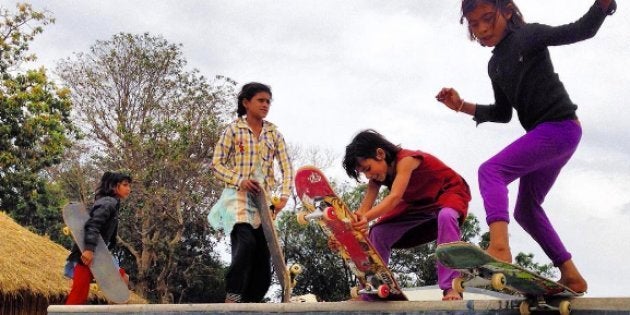 If 'Janwaar Castle' evokes a vision of an old fort or a medieval palace, cast it aside. It is not bluebloods who inhabit this 'castle' but the children of Janwaar village.
Janwaar is situated in Madhya Pradesh's Panna district, and the 'castle' that it boasts of is the local playground where children are learning how to skateboard.
Set up by Ulrike Reinhard, a German who has lived and worked in the US, Janwaar Castle is rural India's first skate-park for children, where they are also taught languages, music, dance, painting, 3D modelling, and general life-skills.
Reinhard established the park in 2015.
In a Reddit AMA, that she did on Saturday, Reinhard explained why she decided to build a skate-park and spoke about the obstacles she faced in making it a success.
The first hurdle was bringing the children from the Adivasi and Yadav communities together.
"In the village we have Adivasis and Yadavs -- they are strictly separated in their houses. First the Yadav kids came to the skatepark, they were 'pushing out' the Adivasis," she said.
The Adivasi and the Yadav children wouldn't skate together. They had different timings.
But, slowly, things changed. "Now the skatepark has a mix of Adivasi and Yadav, boys and girls, and all age groups," she said.
Recalling an incident, she said, "A key moment in this was in one of our morning sessions. There was a little Adivasi girl standing in the middle of our circle. She was dirty like hell, no one wanted to give her the hand and include her in the circle. So, I did. A few seconds later a Yadav boy took the other hand and she was included."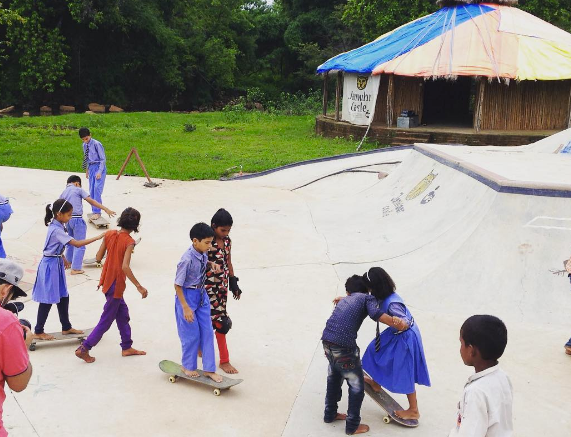 The skatepark has a few rules. The two most important, according to Reinhard, are: "No school, no skateboarding!" and "girls first!"
Reinhard and her team at Janwaar Castle work closely with government schools. "We provided them computer and tablets for their own classes," she explained.
Born in Heidelberg in Germany, 55-year-old Reinhard lives in a village located near the Panna National Tiger Park and the Ken River. After settling in India, she has learnt to ride the motorcycle and is the proud owner of a Royal Enfield Bullet.
With the help of the government, Reinhard and her team has arranged 12 used skateboards, helmets and safety pads for the children.
Now, they are looking for artists from around the world to turn skateboards into 'art-boards'.
"The invitation has been taken up not just by 'hotshot' artists but also by the local kids," Reinhard said.
She is gratified that the children love skateboarding and find it "cool". "To skate and hang out there and participate in our activities, they would do anything -- even going to school," she said.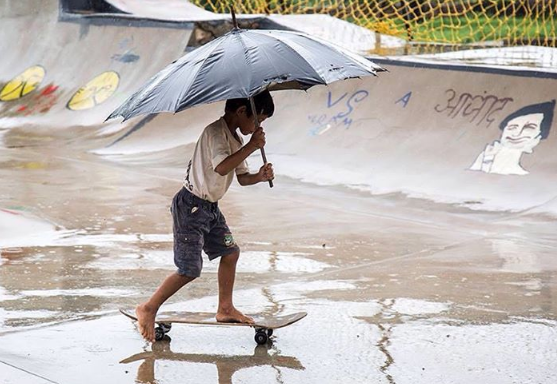 As a result, school attendance has gone up significantly.
Avadh Dahayat, principal of the government school in Janwaar, vouched for the change. "The children now follow a routine, are conscious about hygiene and are better behaved," he told the Times Of India.
The skate-park attracts 50 to 60 children every day. They skateboard and, while awaiting their turn, learn English right next to the park.
Reinhard chose India for the project because of her love of the land. "I like India a lot -- for me it is like the Internet, with all its complexity and dynamics," she said. "There is always a good way forward."
When she first came to India in 2012 to attend a conference, she visited Madhya Pradesh and fell in love with Khajuraho. Not long after she decided to make India her home.
She set up Janwaar Castle after coming to know about the children in Janwaar village and after discussions with government school teachers.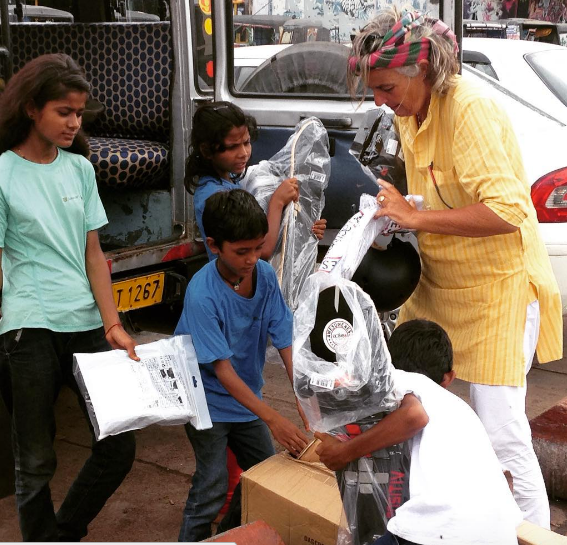 She has been living in India for nearly 5 years now.
She admits that there are things about India that she doesn't like. "I hate the male chauvinism, the waste, and guys chewing the horrible brown tobacco and spitting it out wherever they are," she said.
Reinhard revealed that she was inspired by the Skateistan project in Afghanistan, as part of which, a couple of years ago, a charity organisation in Afghanistan built a skating park for street children.
She figured if it was was working in Afghanistan, it could work in India too. And, then she went ahead with her plan.
Speaking of skate-boarding, she said, "It teaches you to fall and rise, take risks and most importantly, maintain balance."