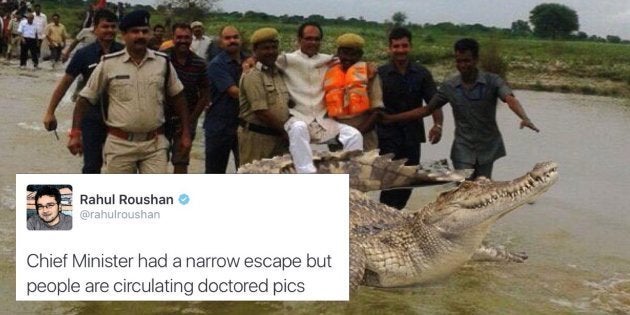 Shivraj Singh Chouhan, the Chief Minister of Madhya Pradesh, visited flood-affected families in Satna on Saturday evening and continued with his tour to Rewa and Panna on Sunday.
On Sunday, Chouhan took to Twitter to share photographs of himself visiting the flood-hit families.
Photos of Chouhan braving floodwaters to visit those in distress were meant to project him as a hardworking CM who takes the trouble to assess a situation at the ground level. What could possibly go wrong?
Well, what triggered the social media avalanche was a photo, shared by ANI, that showed two security personnel carrying Chouhan across the ankle-deep water.
According to an NDTV report, government officials said that Chouhan had to opt for this unusual mode of transport because they could not risk the CM getting hurt or being bitten by snakes.
Meanwhile, the Hindustan Times reported that another government officer had claimed that Chouhan was carried because he had hit his foot on a hard object in the mud and was having trouble walking.
Naturally, Chouhan received a lot of flak on social media.
@ANI_news Its not good for a CM to travel on the shoulders of the security/police people. Please show humanity.If you walk in water, good.

— KUPPACHI RAVI (@KUPPACHIRAVI) August 21, 2016
Aaaand, he became a never-ending meme.
दिल्ली, गोवा, पंजाब, गुजरात के बाद मध्यप्रदेश का बोझ उठाते श्री अरविंद केजरीवाल ।

— PhD in Bak*****☔ (@Atheist_Krishna) August 21, 2016