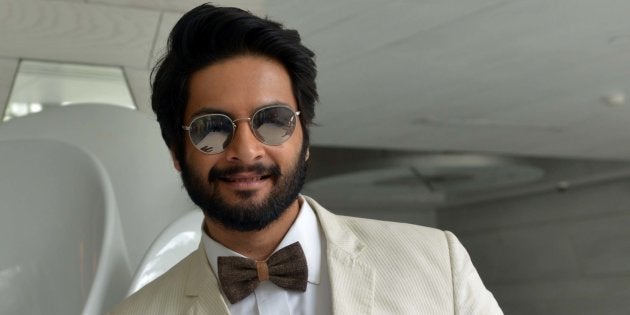 The director of an upcoming film Ali Fazal is acting in recently complained to him: "I don't know what to tell my distributors [about you]. You're not a commercial hero, nor indie/arthouse favourite, nor a Hollywood export."
Fazal almost feels guilty about it. "Sometimes I feel like I should've just stuck to one genre or one kind of film all these years," he says, in a phone conversation with HuffPost India a day after the release of his latest film, Happy Bhag Jayegi. The film has opened fairly well, with largely positive reviews and encouraging box-office numbers.
One could say that the conundrum faced by his director (Fazal refuses to name him or the movie's title, but says it's slated for next year) is similar to the impression viewers have about the 29-year-old actor. Now in his seventh year as an actor in the film industry, he has been in everything from an all-time Bollywood blockbuster (3 Idiots, where he was first noticed for his brief-but-pivotal role as Joy Lobo) to a sleeper hit like Fukrey (2013) to playing the lead in a Vikram Bhatt film (Khamoshiyan). In all his films, he has been noticed by critics, usually for the right reasons, and held his own against much more seasoned actors (see, for instance, 2014's Bobby Jasoos).
Earlier, you got the opportunity to grow over time. Today, you have two flops in a row and you're done. You're just written off. It's crazy.
He has also made the now-increasingly-customary cross-over to Hollywood fairly early in his career. Last year, he had a bit role in the blockbuster Furious 7, starring Vin Diesel and the late Paul Walker. Now, for the next two and a half months, he will be in the United Kingdom, shooting for acclaimed British director Stephen Frears' latest, Victoria And Abdul. The film is based on Shrabani Basu's book Victoria & Abdul: The True Story of the Queen's Closet Confidant. Fazal plays the male lead, Abdul Karim, the young Indian servant who becomes an unlikely confidant and friend of Queen Victoria (Dame Judi Dench, no less).
Understandably, he is ecstatic about the development. An industry acquaintance ("I'd like to reveal that person's name and thank them publicly at some point," he says) tipped him off about an audition for the part about two and a half months ago. It didn't exactly fall into his lap straightaway. Fazal had to record audition videos, then do a series of readings over Skype, followed by another series of readings in London before he bagged the role. "At one point, I was like 'They'd better give me the role now, man!'," he laughs, "because I was pretty much living the character."
The prospect of working with Dench, an actress he is in awe of, and Frears, the director of acclaimed films such as My Beautiful Laundrette (1985), Dangerous Liasions (1988), High Fidelity (2000), and The Queen (2006) is, naturally, exciting to him. It has also lent his career — which technically began with Saeed Akhtar Mirza's Ek Tho Chance (2009), a film that never made it to theatres, and a string of forgettable movies — the appearance of stability.
While this may mark a new chapter for him, Fazal has, up till now, had no qualms about doing different kinds of work, regardless of 'status'. After a string of movie roles, late last year, he played the lead in Y Films' web series Bang Baaja Baaraat. Recently, he was spotted in a raunchy T-Series music video — a rearranged version of Kishore Kumar's 'Pyaar Manga Hai', with vocals by Amaal Malik and Neeti Mohan — alongside Zareen Khan.
"I got a fair amount of flak for that one, which I totally anticipated, but only on the first few days — after that the numbers shot up" he says. "But honestly, I find that [the negative reaction] a little hypocritical. It's hard for me to do intimate scenes and even when I have to do them [like in Khamoshiyan], I'll always have issues and play 20 questions with the director. But I feel that this video depicted something that was totally normal — a couple on honeymoon doing what couples on honeymoon do. It was shot aesthetically too, I feel."
Either way, Fazal often feels that he has gotten "more than he deserves" in his seven years in the film industry, despite the lack of a mentor or a 'filmi' family background. "It's harder now than it was earlier," he says, referring to the '90s, which saw the rise of actors like Shah Rukh Khan and Akshay Kumar. "Earlier, you got the opportunity to grow over time. Today, you have two flops in a row and you're done. You're just written off. It's crazy."
It certainly seems like he has nothing to worry about at the moment, with one film running reasonably well in theatres, a few others in the pipeline (including the much-awaited sequel to Fukrey, which he shall begin shooting for once he returns), and a potentially career-transforming international project. "You know, two years ago if you'd asked me whether I want to be a superstar, I'd have said yes," he says. "But now, I'm not so sure. I feel like I'm lucky to be part of this bandwagon of change, bridging the gap between world cinema and the way our films and our content is changing for the better.
He pauses, and adds, "I don't know what I have to or want to be, but one thing's for sure: I won't let myself get stuck in a rut."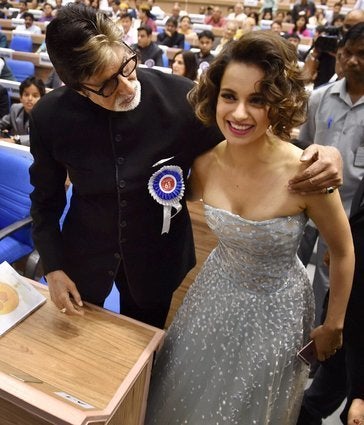 Bollywood Dominates 63rd National Awards Ceremony