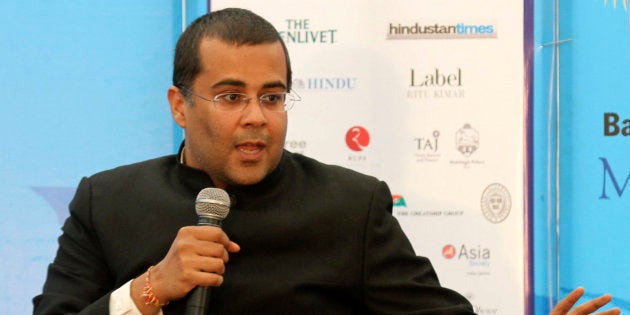 On Friday, novelist Chetan Bhagat announced that his new book, titled One Indian Girl, was available for pre-order and would be in stores by October 1.
On his Twitter account, the author teased fans through the week with an image that, somewhat unfortunately, proclaimed: "Chetan Bhagat is back! This time as a girl."
This peculiar sounding statement refers to the fact that One Indian Girl, Bhagat's sixth English-language fiction novel, will mark the first time the author writes in first-person from the perspective of a woman. All the book's official teaser has revealed so far is that the protagonist is a young investment banker named Radhika Mehta who is about to get married, but warns readers that she may not be very "likeable" as she doesn't conform to majoritarian social norms.
"I have been wanting to write a novel from the female perspective for at least seven years," he said, in a phone conversation with HuffPost India. "I'd say I got the courage to do it only about two and a half years ago because I finally felt like I had the experience to do it."
He realised soon enough that this new venture would have to be a 'feminist novel' i.e. it would have to address women's issues directly. Over the past few years, he'd written a number of columns (including one for the US edition of The Huffington Post) on women's issues that had been "appreciated and shared a lot". "I also wanted to deviate from my typical stories that usually involve a small town boy falling in love etc," he said. "So the idea was to try and formulate a story that would be engaging, yet simple, but also bring out the real message."
It [the book] might unsettle some male readers, but that's the whole point."
Bhagat spent many months "researching the female mind" and trying to understand what women go through on a daily basis. He spent many months interviewing about 100 women — ranging from his own wife, ex-girlfriend, and friends to flight attendants, hotel staff, and strangers he would meet at events — as part of his research. "I even spoke to women I met abroad," he said, "because I wanted it to be as universal as possible."
What surprised him was the revelation that not all women self-identified as feminists. "There are many who are very okay with the idea of the world being unfair," he said. "And perhaps that is far too culturally ingrained. But we have to accept the fact that feminism in India cannot be the same as feminism in New York or San Francisco."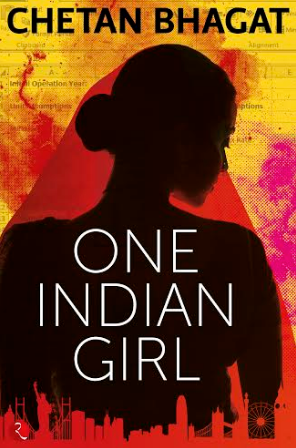 The author is fully aware of the less-than-warm reception that awaits his latest offering. Many have already expressed dismay at the prospect of the novelist, known to stick his foot in his mouth with alarming regularity, writing a novel from the point-of-view of a woman.
"Well, yes, I'm handing them [his detractors] kerosene here, with this novel," he said, with a laugh. "And I'm definitely nervous about this one, because it's a tough one. But I have taken a lot of criticism in the past, about my writing,into account and have tried to improve myself. Moreover, about 50 people have already read the novel — people I trust to be honest — and have had no complaints."
To him, this is a great opportunity to get conversations about gender out in the open. "It [the book] might unsettle some male readers, but that's the whole point," he said. "Perhaps the very fact that a mainstream author is writing from a female POV might make a much larger point than one would think."
'One Indian Girl' is available for pre-order here.