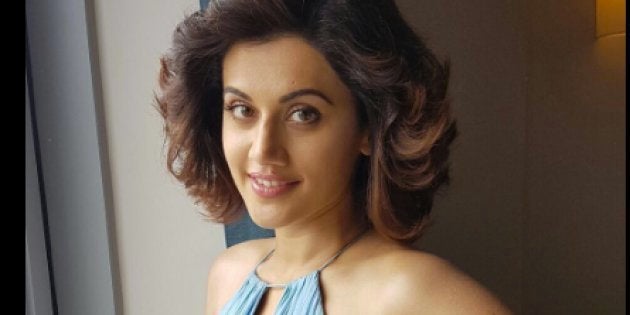 On August 16, the Mumbai-based daily Afternoon Despatch and Courier published an interview with Bollywood actress Taapsee Pannu with the headline 'Taapsee Pannu plays a rape victim in Pink.'
The byline belonged to a journalist called Sandeep Hattangadi, a staffer for the paper, and the article in question was a fairly long Q&A with Taapsee. It included questions ranging from her role in the upcoming Shoojit Sircar production to her plans of doing films in the South.
The interview was carried with a brief introduction that implied that a one-on-one interview had taken place between the reporter and the actress.
However, early morning today, the actress tweeted a snapshot of the published interview and blatantly denied having a conversation with the journalist at all. What's more, she claimed that the report erroneously states that she plays a rape victim in the film.
While HuffPost India couldn't get in touch with Taapsee as she was on a flight from London to Mumbai, her publicist confirmed that the interview never took place.
The spokesperson said, "The journalist is now saying that he took the quotes from the press conference but these are portions that were never said by her in the first place, even at the conference. As for a one-on-one conversation, it never ever happened."
When HuffPost got in touch with the journalist, he said, "I've already rendered an apology to Taapsee and our paper will also be carrying a corrigendum. I took portions from the press conference that took place after Pink's trailer launch (a claim Taapsee and team have denied) and the rest of it, I got it wrong. I once again apologise for the same."
Pink, which also stars Amitabh Bachchan, is set to release theatrically on September 16.