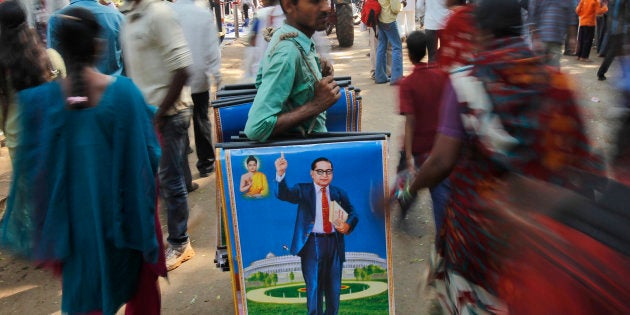 An unending stream of stories of injustice towards Dalits floods our consciousness every day — appearing on TV screens, social media platforms, online portals and pages of newspapers. While media reports can make us aware of the scale of these atrocities, the impunity of their perpetrators, and the backlash of the sufferers, it takes fiction to hit us where we least expect, to move us to rage or, more potently, to make us question our own lives, choices, politics and prejudices.
While literature on Dalit lives, by writers who may or may not belong to the community, are extensively available in the Indian languages, there is not enough to choose from in English, be it in translations from existing writing or original work, especially if one is interested in non-academic books.
Here is a list of five books, mostly fiction or writing that tends to move in that direction, that help us look at, and understand, Dalit lives better. The selection is, by no means, exhaustive or authoritative, but rather, entirely subjective, offered as personal recommendations.
Untouchable, Mulk Raj Anand
In a preface to Anand's iconic novel, which was a mishmash of fact and fiction, E.M. Forster claimed the book "could only have been written by an Indian, and by an Indian who observed from the outside". Even though Anand wasn't a Dalit, he looked at the inhuman practice of manual scavenging with scathing eyes. As a young boy, he played with children of sweepers, which gave him access to their lives, enough "to understand a tragedy which he did not share", as Forster put it.
The story traces the life of Bakha, a proud and handsome young man born into an "untouchable" caste, over the course of a day. Excited by the prospect of the arrival of M.K. Gandhi, the hope of the Harijans, to his village, he goes to listen to the Mahatma so that he might find a way out of his miseries. But at the end of it all, he comes back confused and cynical, but with embers of hope burning deep inside him.
Unclaimed Terrain, Ajay Navaria
Contemporary Hindi writer Ajay Navaria's stories in this collection (in Laura Brueck's translation) are mostly set in urban situations. A man in swanky trainers working out in a posh Delhi gym, a security guard in front of a building or a worker who has left his ancestral village to make a life in the big city — these are characters who run in and out of our lives every day. While they may appear to be a seamless part of our mundane existence, their own lives, hiding histories of abuse and tyranny, may be profoundly scarred.
Delving deep into these seemingly ordinary stories, Navaria reveals the insidious knot of caste and individuality — the power of money to act as a social leveller, if only for an instance, before stigma rears its ugly head, even in the most unexpected of settings.
Samskara, U.R. Ananthamurthy
A classic from one of the most acclaimed Kannada writers of our times, this is a novel of immense ironic potential, later turned into a movie, exposing the sham that is the caste system and its in-built rituals of hypocrisy and injustice.
When a disreputable man in a close-knit Brahmin village dies, a crisis brews around the disposal of his dead body and the conduct of the last rites. Though he wasn't excommunicated for his blighted lifestyle, he finds no one willing to accord him dignity in death. Matters are made worse when, in a fit of despair, his concubine offers her gold jewellery to anyone humane enough to embrace the duty. Reluctant to be seen as greedy, people still hesitate, leaving it all up to the village guru to bring about a resolution. And until the scriptures are consulted and the corpse is dealt with, no one must touch even a morsel.
Father May Be an Elephant and Mother Only a Small Basket, But..., Gogu Shyamala
Telugu writer and activist Gogu Shyamala's fascinating collection of stories looks at the lives of the people of the Madiga community, one of the most deprived among the Dalits. Lyrical poetry is mixed with brutal realism in her prose. Her descriptions of the everyday village practices, like the beating of drums or the right to wear slippers in the presence of the upper castes, are touched with pathos and a grim sense of humour.
If the fictional edifice of her world does not seem accomplished, it is because her style trespasses on other territories, mostly of ethnography and sociology. Shyamala's singular gift is her ability to look at the world and its Big Problems — water crisis, irrigation, gender violence — that besiege the poorest of the poor and, yet, be able to put human faces to these social evils, making them real and poignant to her readers.
Bhimayana: Experiences of Untouchability, Art: Durgabai Vyam,
Subash Vyam, Text: Srividya Natarajan, S. Anand
Although not strictly a fictional narrative or a text-only book, this graphic biography of B.R. Ambedkar has become iconic in its own right since its publication in 2011. Created by four outstanding minds, it pieces together the story of the pioneer of India's Dalit movement using his autobiographical notes and mind-blowing artwork.
In spite of his origins and early years as an untouchable, Ambedkar battled poverty and institutional discrimination with incredible gusto and fortitude, going up to Columbia University in New York for higher education and travelling across the world. A fierce campaigner for the rights of Dalit people, Ambedkar went on to draft the Constitution of India. This book is a must-read for our tumultuous times.
Also see on HuffPost India: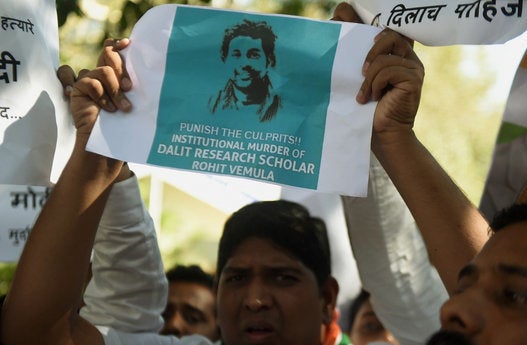 Students Protest Dalit Suicide