Shemaroo
With over 1.2 billion people - their languages, customs, food, music, art etc - India can be a mind-boggling experience for people visiting from other countries. While some take a while to deal with the culture shock and the chillies in the food, others go back with desi habits they just can't get rid off, long after their trip to the country has ended.
Quora user Sommer Shiels, who had toured India a while back had fantastic anecdotes to offer on the subject when she responded to the question -- 'what habits did you learn in India that have stuck?'
Besides Shields, a host of other people who have travelled to India responded with details of every Indian habit they have failed to get over till now.
1. Cooling tea in a saucer!
Why waste time staring at your tea and waiting endlessly for it to cool down?
"I would never, ever have considered this until India! I love it! While the rest of the world gets a burnt tongue I'm pouring my tea and cooling it in my saucer- I learned this in Gujarat from locals ( along with smoking bidis (local cigarette)..bidis haven't become a habit I had to try them in secret)!!
Back to my hot tea, I don't always use my saucer! Indians have the ingenious little metal design a little cup with a bowl-type utensil. No on else cools their tea like this! Such a simple yet clever little design," Shiels answered.
2. Eating with hands.
Using hands while eating = cleaner plate and happier stomach.
"I got the strangest looks and even people turning away in disgust. I ate politely, using my hands properly and washed my hands and left.
As I left I didn't feel embarrassed but happy in the knowledge that they were missing out!
The point is, as I have continued to use my hands out of habit and because I enjoy it, I have received judgement from others..," Shiels added.
3. Answering people by moving head from side to side instead of nodding.
You want to say 'yes' and you want to say 'no' too? We have the best solution for responding when you don't want to or don't know how to.
"I spent time with children at the end of my last India trip and I always end up copying actions of who I'm with so I've adopted this movement permanently. I think it's incredibly endearing.. maybe not when I do it, however I like when others do this!", Shiels added.
Ben A. Wise, another Quora user chipped in with his experiences.
4. Taking shoes off whenever you are entering someone's house.
Who doesn't love guests who care about keeping your house clean?
"I find this to be a wonderful habit. Not only because of cleanliness—who knows what I might have stepped on in the street—but also because it feels right. Some people find this strange, "You don't have to take your shoes off!" says Wise.
5. Jugaad.
Because, India's got talent!
"I try to have things fixed. Jugaad, anybody? India has taught me that many times, when we believe something must be replaced, it can be fixed."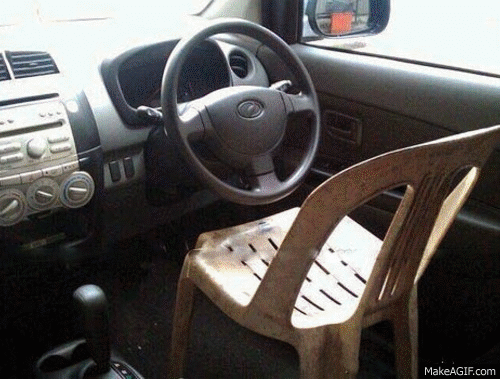 6. You can "adjust".
The word which is also a way of life in India.
"It's okay if the subway is packed. It's alright if there's an unusual power cut. It's fine if I have to wait for something that should work. India has taught me to "adjust". I don't always remember, and I do find myself complaining at times, but, after years of living there, the ability is inside of me."
7. Toilet, the best way known to humans - the 'Indian' way.
One word: hygiene.
"Okay. Speaking of intimate. I sit in the "Indian" fashion no matter where I am. Yes, even if it's a Western-style toilet. Even if it's in the US or Europe. I also secretly wish that the whole world adopted the "hygiene faucet" but alas, they are not ready yet... Toilet paper has everyone in its soft, papery grip..."
8. Words like appadiya? or acchaa?
Because there is no greater expression of curiosity than 'acchaa'.
"I do this almost exclusively with my significant other and kids, but I say things like appadiya? or acchaa? when they say something interesting to me. Or sari or thiikhai. Or I say aiaiyooo! when something unfortunate happens."
9. Conscious about where the sole of our shoe or foot faces.
Because, sanskaar.
"I'm now self-conscious about where the sole of my shoe or foot faces, especially if I sit with my ankle resting on my opposite knee. That's because it's considered very rude and disrespectful in India (and other nearby nations) to let one's sole face another person," Julie Kelemen said on the thread.
10. Drinking water from water bottles without touching the bottle to the mouth.
Swachh Bharat, y'all.
"This is one that stuck with me: I now always drink water from water bottles without touching my mouth to the bottle, even if it is my own bottle which no one else will use, lol," Jeff Daniels said.
You can read all the answers on the Quora threadhere.
See more at HuffPost: