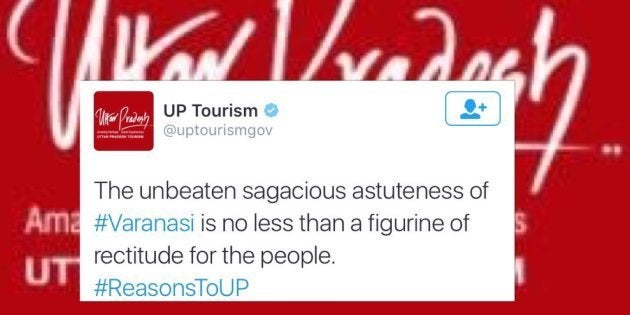 Every state government in India tries to boost tourism and attract more tourists. All very laudable, naturally. After all, tourism brings in money and supports livelihoods. Of course, instead of tedious things like improving infrastructure and, law and order, it is so much simpler to put out ads in the print and electronic media, singing praises of the local people, traditions, culture, architecture and all the rest.
In this constructive spirit, @uptourismgov handle took to Twitter with its campaign "#ReasonsToUp" marketing the ancient and holy city of Varanasi with this line --"The unbeatable sagacious astuteness of #Varanasi is no less than a figurine of rectitude for the people." But wait! Before this lexical assault leaves you reeling with vertigo, there is more. "Seizure the quietude engraved in the transcendent aura of Varanasi." Okay, now you can run and get those seizure pills.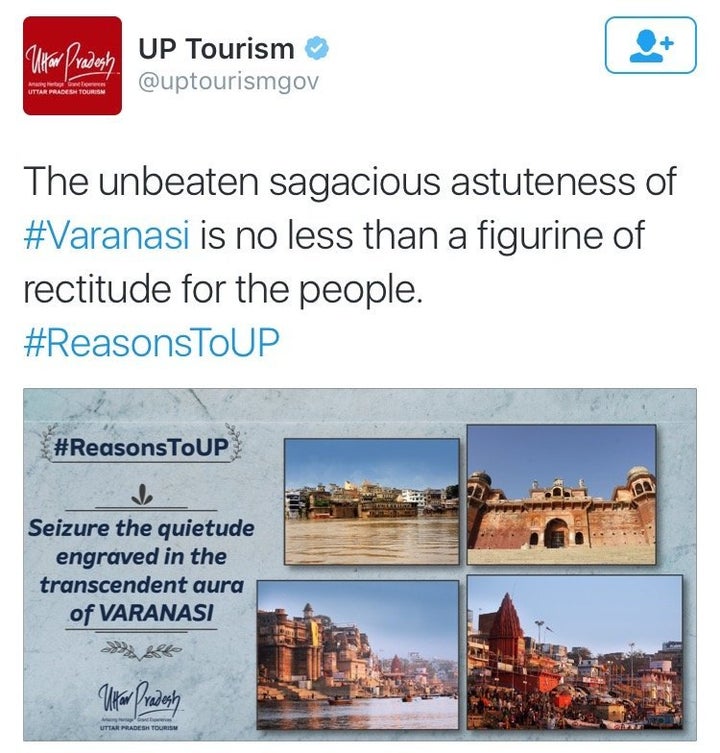 Don't worry, we have got you covered.



Fortunately this Babu-goes-bananas-with-thesauraus style ad was rescinded shortly thereafter. But not before Twitter lost it with this bonanza from the banks of the Ganga.
UP Tourism account is run by a thesaurus.

— Mr. K (@krazyfrog) August 11, 2016