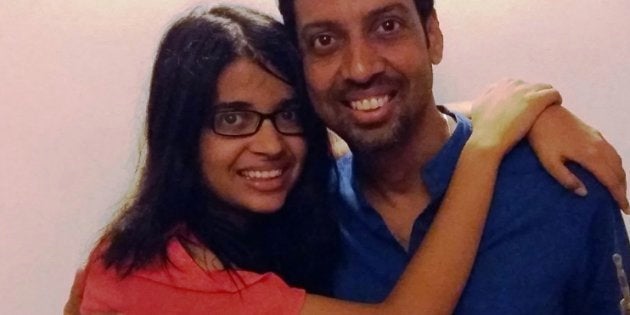 Kaavya Rajesh is 14 years old and studies in the 9th standard in the American School in Dhaka. Her father, Rajesh Ramakrishnan, is the Managing Director in an Italian firm. They both love taking photographs. So they decided to turn their hobby into a project to spread the message that daughters deserve to be loved and cherished.
In the process, they are also raising money for the education of young girls in India and Bangladesh whose parents can't afford to put them in school.
In April this year, they launched 'My Daughter Is Precious' where they take Polaroid photos of fathers and daughters belonging to society's more underprivileged sections.
"We realized that most people who live in these areas can't even afford a photograph. So we give each father and daughter pair a Polaroid picture of themselves as a memento to cherish. The joy on all their faces when sharing their photograph with them reinstills the faith in what we stand for," says their post on the crowdfunding platform.
Their effort comes in the wake of Prime Minister Narendra Modi's #SelfieWithDaughter campaign. The duo hopes that the photographs will be a constant reminder that daughters are precious and deserve to be educated.
Rajesh first came up with the idea when he read about a woman on the Internet who carried a Polaroid camera and travelled across slums in India so that she could click photos of the residents and give it to them.
"I was shocked to find out the number of girls in India and Bangladesh who don't go to school because they don't have the resources or their parents don't find it necessary," he said.
Here are some of the stories they have shared on their Facebook page:
The father-daughter duo visit an underprivileged area every Friday or Saturday in Dhaka. They have also visited slum neighbourhoods in Kolkata and Chennai as part of their project.
On daughter's day, they shared a video highlighting their efforts on the NGO, Nanhi Kali's Facebook page. Nanhi Kali provides primary education to underprivileged girl children across India.
Through their photography campaign, the father-daughter duo are trying to raise enough to be able to fund the school education for at least 100 girls.
Towards this end, they have managed to raise a sum of ₹1,63,114, and over the next 20 days, their goal is to raise a total of ₹3,36,886.