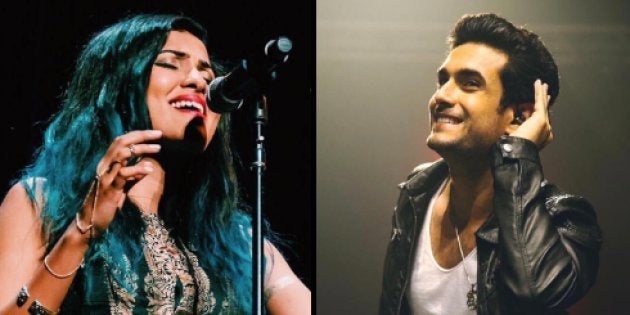 If you are anything like me, you must have realised by now how easy it is to pass time on YouTube. Be it cat or DIY videos, it has the answer to all your woes.
Taking cue from our obsession with YouTube some very, very talented musicians have used that platform to make their fabulous work known. From pop to Carnatic to a cappella, if you are a struggling or even a famous musician, the best way to get your work recognised is through YouTube.
We have compiled a list of such very talented musicians who will keep you glued on to YouTube.
Started by brothers Sanam and Samar Puri, the band Sanam also has Venkat Subramaniyam and Keshav Dhanraj as members. Even though they have original compositions, their renditions of old Hindi songs often take the cake.
Formed by Anish Parikh and Rishi Jain, Chai Town started as an act for a talent competition. When the duo was successful in their act, they decided to form an a cappella group. Chai Town is based out of the University of Illinois. They mix Indian and Western music and perform original songs as well as covers.
A finalist on Sa Re Ga Ma Pa L'il Champs, Armaan Malik comes from a family with a strong musical connection. He has sang for a number of commercials as well and has also performed as a playback singer for numerous movies. Malik has sang in Telugu, Kannada, Marathi, Bengali and Gujarati, apart from Hindi. His covers of Western songs are very popular amongst his fans.
Vidya Iyer is trained in Carnatic Classical music and started performing with Shankar Tucker on his channel. Iyer started her own YouTube channel, Vidya Vox, in 2015 and has since gathered millions of subscribers. Known for her mash-ups, Iyer sings in English, Malayalam, Telugu, Hindi, Tamil and even French.
This musician from Auckland shot to fame overnight when she took part in a competition by T-Series. She was one of the winners of that competition and started her own YouTube channel. Setia has millions of views and subscribers on her channel. Her Hindi original compositions are to watch out for.
Covers do not get better than this. Siddharth Slathia aspires to become a playback singer in Bollywood. He is a trained classical singer who not only performs covers of Hindi songs but has original compositions as well.
Shraddha Sharma is a musician from Dehradun who has been trained in classical music by her mother. Sharma's first album was released in 2014. Her YouTube channel, where she uploads all her covers and originals, has gradually garnered a lot of subscribers.
Not only is Gandhi a YouTube sensation, she is also a playback singer in Bollywood. This Indo-Canadian singer performs covers, originals and mash-ups in English, Tamil, Telugu and Hindi. Her melodious renditions have made sure that millions subscribe to her channel.
This ace violinist has played for musicians like A.R.Rahman, Shankar-Ehsaan-Loy, Salim Suleiman and Amit Trivedi amongst others. He has also been a core violinist for ensembles with Jagjit Singh.
Trained in Carnatic and Hindustani Classical music, Moidutty has sang for Bollywood movies as well. Apart from singing covers, she has collaborated with Sanam, sang for Vishal and Shekhar and has even rendered her voice for ads. Moidutty has been been singing since she was seven and sings in Bengali, Marathi, Tamil, Gujarati, Malyalam, Telugu, Punjabi, Kannada, English and Hindi.