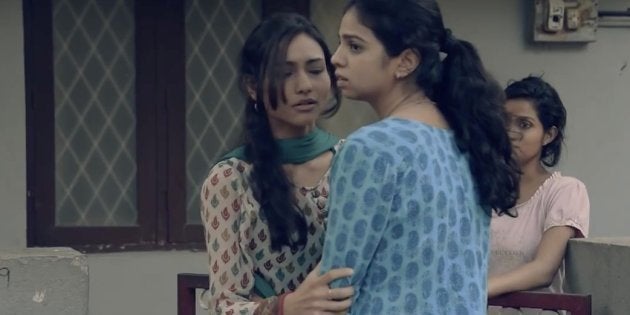 Amidst a number of Indian web-series on the Internet right now, there is one that looks promising.
The 'Other' Love Story, directed by Roopa Rao, is an upcoming web-series that shall be online by the end of August. Its teasers, which were released recently, depict the blossoming of a relationship between Aadya (Shweta Gupta) and Aanchal (Spoorthi Gumaste).
In a phone conversation, Rao says the idea behind the web series, which began as a story she wrote nearly 10 years ago, is simply to depict the kind of "earth-shattering love" we've all experienced at some point or the other. "The point is not that they're lesbians — they're just two neighbours who fall in love with each other," she says. "It's the kind of story that anyone could relate with."
While another series, All About Section 377, introduced gay characters and same-sex relationships in the space a few months ago, The 'Other' Love Story looks more realistic and humane.
The series, which was shot in and around Bangalore earlier this year in 37 days, is Rao's first independent directorial venture. Funding for the series, which cost roughly Rs 12 lakh to make, was secured partially through loans from friends and partially through a crowd-funding campaign on Wishberry.
The original idea was to make this as a feature film. However, Rao says that when she approached producers — even those she thought would be supportive — they baulked at the subject matter and backed away from the project, saying the audience wasn't ready for such kind of content.
Undeterred, she decided to turn it into a web-series and release it on the Internet. "I felt the time was perfect, to do something like this in India," she says, "and the web is the perfect place to do it. There's no censorship on the web and it can reach a potentially larger number of people.
The 'Other' Love Story should be out by the end of August, with a first season comprising 12 episodes.