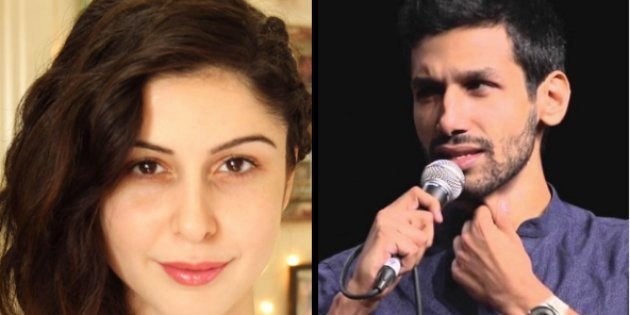 YouTube is a lifeline -- for amateurs, for the struggling, the bored, the confused. The doer and the viewer, basically, for practically everyone. From learning a craft to acquiring new skills to making a career -- so much is possible on YouTube, a platform like no other. Considering that almost every person with access to Internet uses YouTube, it should not come as a surprise that people are making a decent career on this popular platform.
And here are some who are thriving on YouTube. Meet some of the most popular and hottest YouTubers in India.
Madhulika began her career with a blog, where she wrote about food. The blog became widely read and her readers requested her to put up videos. Today, Nisha Madhulika's is among the most popular Indian YouTube channels, featuring over 1,100 videos till date.
Making every clueless woman's life easier with her makeup and hairstyle tips is Scherezade Shroff. Not just tips, she has had a few collaborations with fellow YouTube stars such as Kanan Gill. Watch her fun videos on her channel.
Not sure which mobile phone you should purchase and whether you should get that laptop? GeekyRanjit is here to answer all your queries and some more that you didn't know you needed answers to. Catch his reviews of every gadget under the sun on his channel, GeekyRanjit.
If you are having a bad day, then watch an AIB video for instant relief. They have an absolutely brilliant way of addressing serious issues and not-so-serious ones too with sharp wit and humour. The biting wit and satire lands comedians Rohan Joshi, Tanmay Bhat, Gursimran Khamba, Ashish Shakya and Abish Mathew in serious trouble at times, but it is all treated as part of the day's work. Watch their videos on their channel.
You are stuck at home craving homemade food but of course you are not exactly the world's greatest cook. Been there, done that. So, restaurateur-turned-YouTube star Thumma, brings easy recipes to your screen that you can follow without too many hassles. Check out his recipes on his channel, VahChef.
Anand brings you tutorials twice every week that will help you battle all your makeup and hairstyle woes. Follow her very helpful videos on her channel, ShrutiArjunAnand.
Another YouTuber who makes technology easy, iGyaan reviews everything from mobile phones to power banks. Check his reviews on his channel to understand gadgets better.
From his street interviews and skits, to stand-up comedy and the famed Pretentious Movie Reviews with Biswa Kalyan Rath, Kanan Gill never fails to keep his audience entertained. You can watch all his videos on his channel.
Kanan Gill's partner-in-crime in Pretentious Movie Reviews and stand-up comic extraordinaire, Rath is as hilarious as they come. Watch his stand-up acts on his channel.
This gang of comedians have done everything from parodies and parody interviews to original acts and web series, like Permanent Roommates and Pitchers. In fact, they are leading the web series revolution and have a very loyal fan following. Watch their awesome work on TheViralFeverVideos.
You can never have enough of good food. So, here is another chef whipping up culinary delights on your screen. Watch this popular chef prepare some delectable dishes on his channel.
From how to increase your positive energy to effective time management, Sandeep Maheshwari seems to have some good answers. If you have a problem, chances are that this motivational speaker will have an answer. Watch his enlightening videos on his channel.