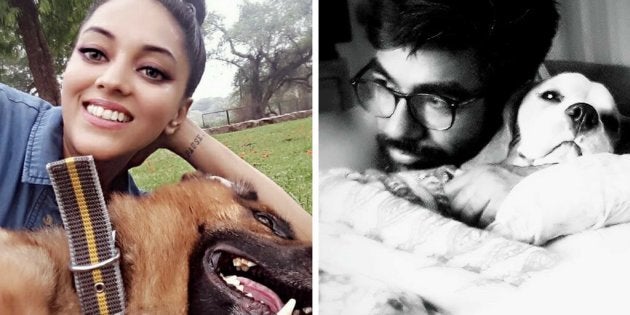 Delhi-based Alpana Mittal is well known for the ensembles she creates with her husband Neeraj under their brand, Alpana&Neeraj. However, only few know about her second job -- rescuing strays that have been given up on for good.
"I have always dreamt of having a farm with all kinds of animals but the dream got lost amongst the chaos and demands of a regular professional and personal life," she told HuffPost India. "Even after having settled down professionally and personally, my life had become all about myself -- my work, shopping, travel."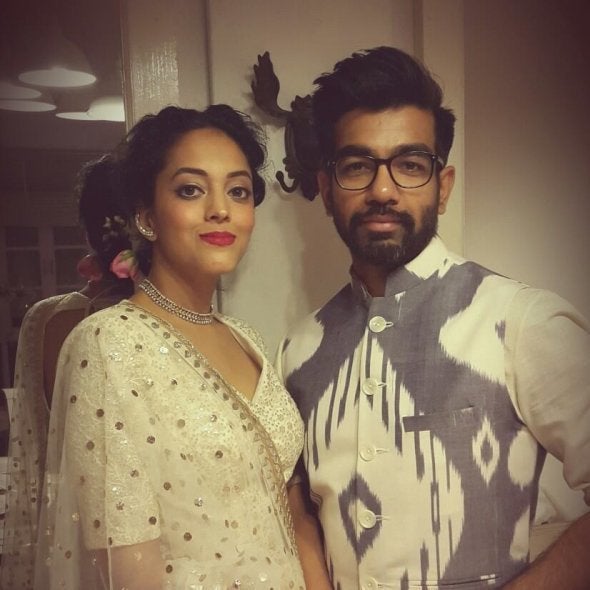 A few personal setbacks came as a wake-up call. Mittal visited a Buddhist retreat and the experience rekindled her love for animals. "I thought I'd buy a dog. I'd never even give strays a second look, and was blissfully oblivious to the tortures and pains that dogs undergo at breeding farms."
Even though her husband was against it, Mittal decided to give in when she received a call from a breeder about a puppy who was not being picked because of a slight abnormality in one eye. "I rushed there expecting to see a bunch of happy dogs, but what I saw killed me," says Mittal. "This little puppy was all alone, and had been discarded because he had one gray and cloudy eye. He was also not being looked after, and was covered in tics and red ants."
Mittal felt something snap inside her and she whisked away the puppy. Little did she and her husband realise that this act would open up an entirely new world for them. After a few months, they started feeding and treating a few stray dogs around the house. "When we saw how they recovered, and repaid us with unconditional love, we knew we had to take this forward," says Mittal. She began contacting animal rights activists, veterinary clinics, and shelters to volunteer and pick up the ropes on basic treatments. "My husband who had till then been scared of dogs gave up one entire floor of our office and his own room for animals that needed rest and recovery."
The designers who have clothed celebrities such as Lady Gaga and Nicole Scherzinger, and designed the wardrobe for a multitude of movies and shows such as Step Up All In, America's Next Top Model, and The Voice, now have a family of 15 animals. While they plan to open a shelter, for now they manage by sleeping on the couch in their living room, and host the "furballs" as Mittal lovingly calls them, in their bedrooms and office. Instead of random strays, they are committed to picking up animals that have been left for dead.
Here are five incredible stories from their repertoire.
Emerald, a victim of acid attack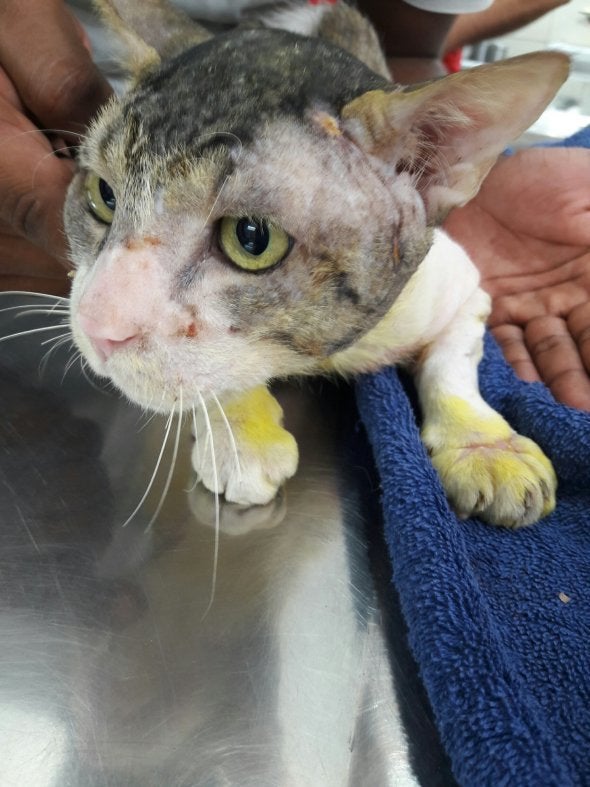 I found Emerald at a shelter. He was the only cat among some very sick dogs, and crying in pain. I discovered that he had been burnt by acid. My initial intention was to put him to sleep. He was a mangled mass of rotting flesh and bones with hardly any skin. And there was a strong stench of putrid meat that made it difficult for us to breath near him. There were deep holes all over him, his insides were exposed, and he was infested with maggots. But his beautiful emerald green eyes were fierce, and told us he didn't want to die.
In spite of his condition, he was a ferocious cat -- so much so that the staff were scared to handle him when he was being transferred to our car. I took him to my vet, and although he was extremely hard to handle at first, he miraculously mellowed down on the second day. It's like he knew we were trying to help him. He ate heartily and underwent the most painful procedures without any resistance.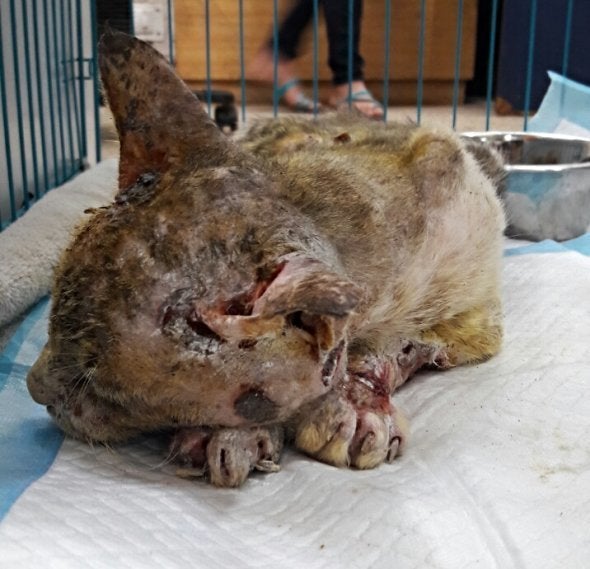 His recovery has been the most challenging and fulfilling for me and I admire his strength and will to survive. I have experienced a profound transformation, not only of his physical body but even his soul and his attitude towards human beings during this process. His eyes have become gentler and he has started to let us pet him as well.
I needed funds for Emerald's long and arduous treatment, and help poured in from everywhere in the form of money, healing prayers, and encouragement.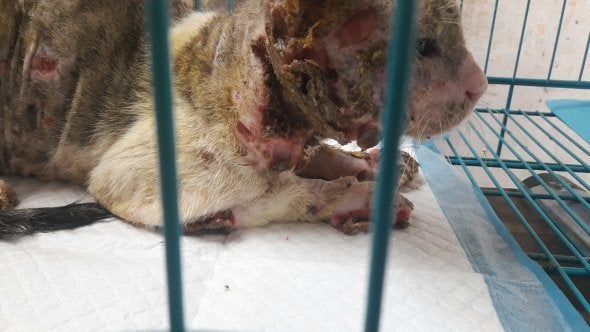 Today Emerald looks like a different cat. Pudgy paws have replaced the exposed bones and dangling claws on his feet. His once battered skull is now covered with fresh skin and fur, and we can identify his colour which is a beautiful mix of grey and white. A diet of collagen rich nutritious bone soup and omegas has helped a lot with regeneration.
Ken, a 2-year-old German Shepherd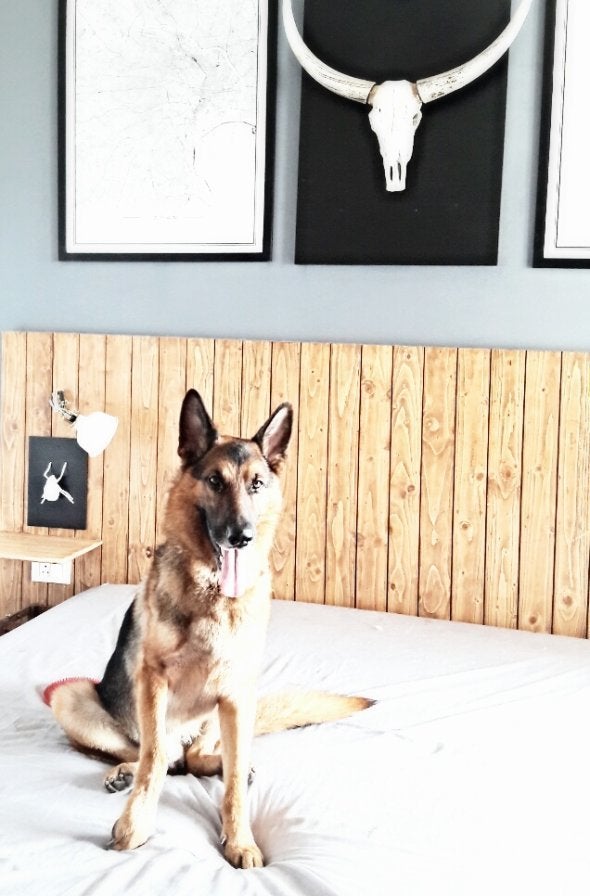 Ken was picked up from a breeding farm by an animal rescue team, and I offered to treat and foster him. Ken had been locked up in a cage since he was a puppy -- typical treatment at a breeding farm -- and had never run free. He was beaten by an irresponsible staff member for no reason, leaving him with a broken front leg that was detached from his shoulder bone. The irresponsible behaviour continued and he was rushed to surgery to fix his leg but that only left him in a worse condition -- he now had to suffer a dislodged rod, maggots had infested the area, and there was a deep abscess.
I was a scared to take Ken home as he is such a large dog. But there was an instant connection when we first met, and he ran up and into my car almost as if he knew I was there for him. He displayed the same sense of familiarity in my office, and sat quietly when we started removing the maggots even though it must have been very painful. His blood tests showed high levels of infection, anemia and fever. His hair was falling off in bunches.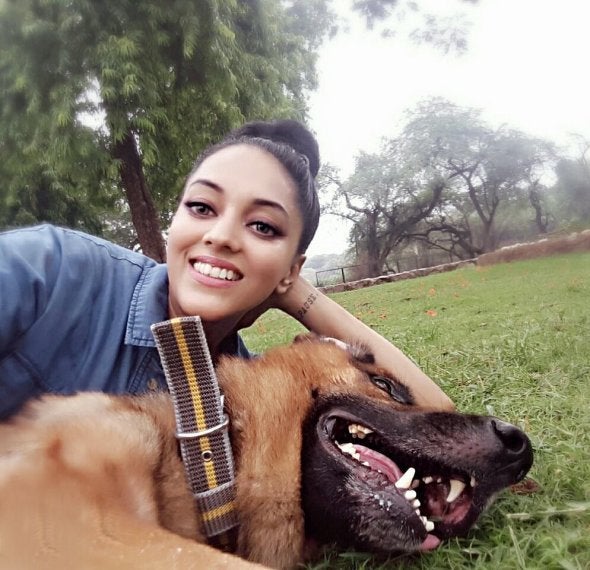 But his recovery was miraculous. Within a week of being put on an omega-rich diet, his hair had stopped falling, and his bony frame started to fill out. We dismissed another surgery to set his bone as there was only a slim chance of recovery, and instead focussed on making him comfortable. He has his own room with an air conditioner and is the gentlest soul. He has the most expressive eyes, and I share everything with him -- our bond is inexplicable and absolute. He has this peculiar habit of wagging his tail in circles and his security spot is in my arms when he is scared. He lets me give him the most horrid tasting medicines and painful dressings as long as he is treated to an occasional ice cream on the way back from the vet.
Today, Ken is happy and healthy and has started using his injured leg a little bit. Hopefully after a couple of months of therapy he will be completely cured.
Fooboo, the ginger baby cat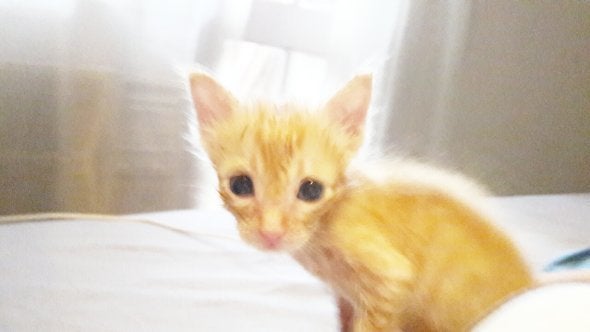 I came across Fooboo on a Facebook community for animals. Someone had seen her crossing the road all alone when she was just 20 days old, and contacted the group. She was the size of my palm, like a small mouse. Heavily infested with ticks and fleas, and the lone survivor of a cat fight in which her mother and siblings perished, she was also suffering from trauma. She would cry every night.
She would have intense seizures every 10 minutes after which she would go comatose, then wake up blind and scared. The vet, who has proved his weight in gold by helping us each time, told us she was suffering from meningitis.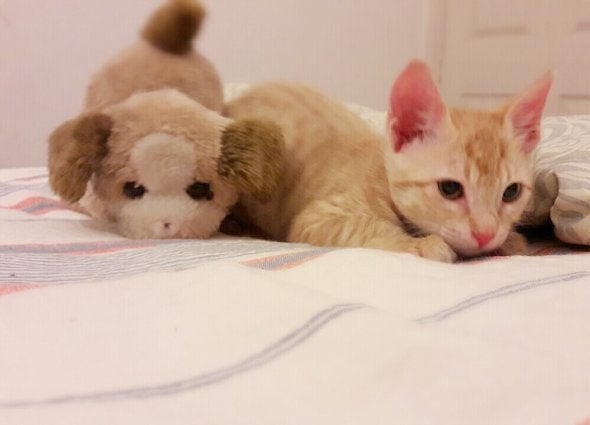 The first night she was scared and crying. She had not been weaned and did not know how to use a litter box. We bought her a stuffed toy leopard that she started cuddling with, and fed her kitten milk replacement formula through drips twice a day.
Any loud movements or bright light would send her into these fits, and we literally brought her back from the dead three times. Once in the middle of the night, I had to hold an electric eyebrow shaper that had a strong vibrator against her heart that had almost stopped beating.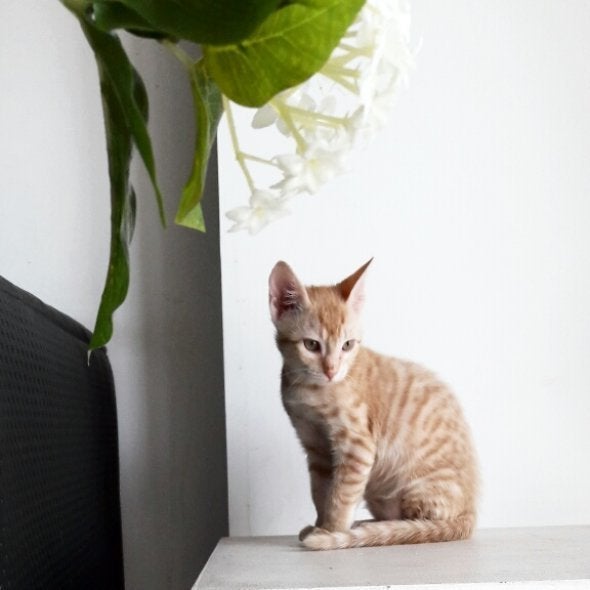 Today, she is a naughty and playful kitten. She will need lifelong medications for epilepsy, but has transformed into a beautiful young lady.
Angel, a Lhasa Apso with a tumour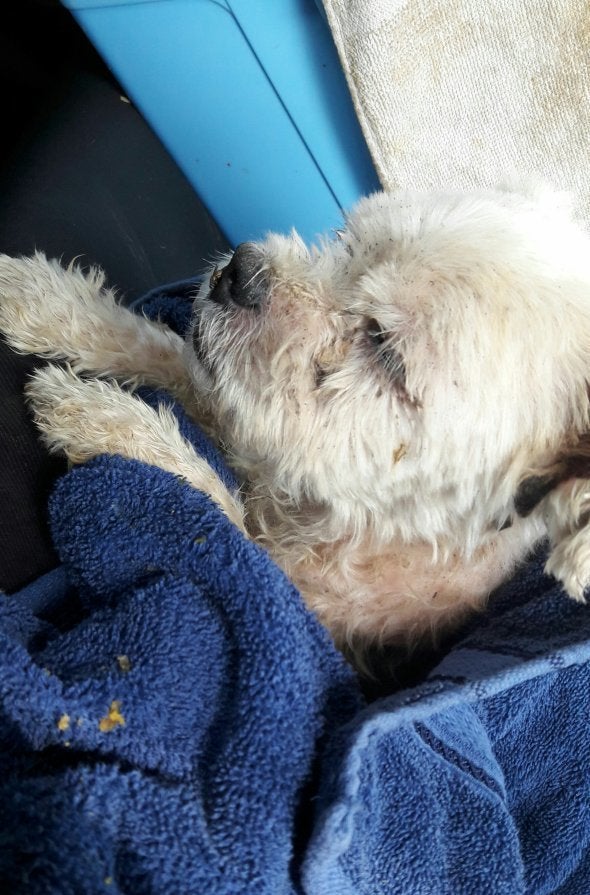 I came across Angel in an animal shelter that was in a deplorable condition. She was caged along with three other dogs and it was very hot. She was nearly blind -- her eyes were white and cloudy from a severe bacterial infection -- and bleeding from her behind. Her white fur was covered with dust ticks and flea eggs, and she was lying there listlessly.
I picked her up, and with the help of a friend bathed her and gave her anti-tick medication. Initially she would not eat, but after some patient persuasion lapped up some freshly-made chicken soup. We found she had a tumour in her cervix. This meant that she had either been abandoned by owners who did not want to pay for her treatment or was a victim of irresponsible or unethical breeding, and had been left to die.
We immediately started her on chemotherapy, and some eye treatment.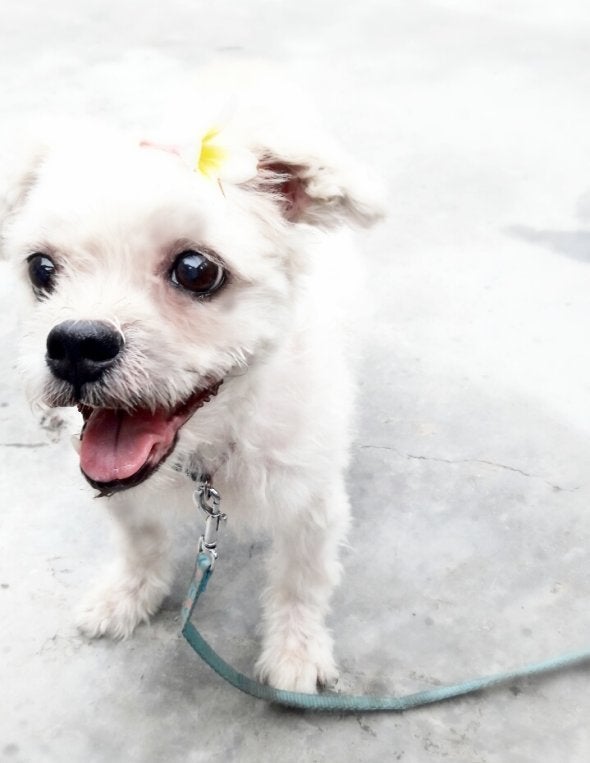 My husband named her Angel, and she really is one. Today, she can see pretty well, and we're waiting for some test results to remove her tumour surgically and have her neutered.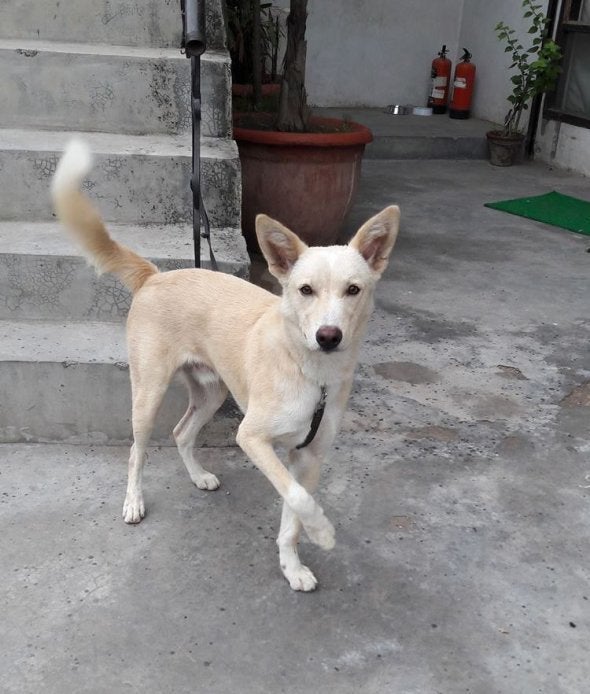 I found Raja, renamed Shiro, outside a slum area. He was ill and restless, and after asking a few people, I found out he had not eaten in a week, and was vomiting blood. After taking him in, we discovered his intestines and stomach lining had started to rot and corrode due to severe infection. We didn't think he would make it. It took us two week of intense treatment to get him to just stand on his feet.
I hired my first dedicated staff for animals after rescuing Shiro. He was put on a homemade diet of chicken and vegetable soup, and would go for drips twice a day. Finally, after four weeks he regained his strength, and it was amazing how he communicated his gratitude. Shiro would sit in my husband's room at office all day watching him drape and sketch, and occasionally come over for a cuddle or a belly rub. He'd also bark at my staff if he observed that my husband appeared upset with them. He continues to have this funny habit of latching onto our feet when he senses we're about to leave for home!