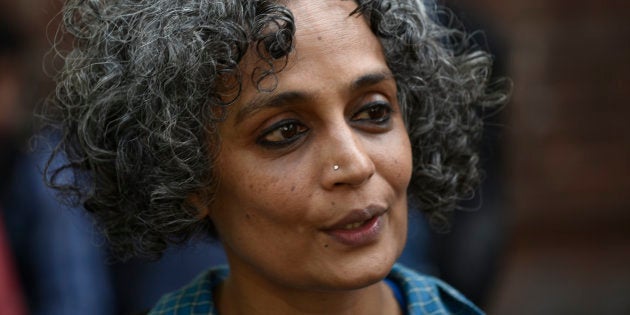 In December 2014, a famous novelist, a Hollywood movie star and an American whistleblower caught a plane from Stockholm to Moscow. They were Arundhati Roy, John Cusack and Daniel Ellsberg and they had come to meet the world's most wanted man — Edward Snowden.
In a suite in the Ritz Hotel facing the Red Square, in the cold Russian winter, the four spent the next two days talking and arguing and laughing and sometimes getting emotional. It was a free-flowing conversation, not an interview — touching on spies, surveillance, history, war and politics.
Cusack and Roy have now published a book of this extraordinary meeting using some of the material, called Things that Can and Cannot be Said... but there could have been another book — a bigger one. But as one of them says, "Maybe there were too many laughs in it. The world is a serious place."
Here's the contents page of the book that could have been...
Fugitive Pieces From Somewhere Near the Kremlin
Rescued, Redacted and Drip-dried
Arundhati Roy & John Cusack
Characters (in order of Appearance):
1. In Which One Of Us Has An Idea
2. In Which Another Of Us Gets A Phone Call
3. In Which the Swedish Parliament Must Be Avoided at All Cost
4. The Ritz is a Dangerous District
5. "When they ask me is it NSA proof—I ask them if it's physics proof."
(i.) Who Owns the Street?
6. Sleepwalking Into the Surveillance State
8. The Stellarwind Comes Blowing In...
(i.) "When You're Searching the Ocean"
(ii.) Operation Squirrel Cake (In Which Dan and Ed Occasionally Break into Language that Nobody Else Can Understand and John, Roy and Ole are Lost)
(iii.) How D'you Get Recruited into the Hell's Angels?
(v.) "Yes Virginia, There is a Missile Gap."
(vi.) Charnel Monologues and Murder Rites
9. How To Use Your Cellphone
11. Soulless, Corrupt, Hateful Bastards
12. Who Can Know From the Word Goodbye What Kind of Parting is in Store For Us?
13. The Nouveau Sane or In Which Dan Gets a Hat
Things that Can and Cannot be Said is published by Juggernaut Books.