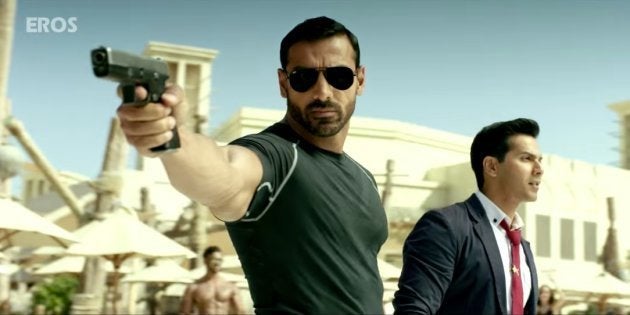 You know a movie doesn't know what's good for it when its best actor gets one token scene and its worst is, well, one of its two male leads.
That's right, the inimitable and often-flawless Vijay Raaz appears in merely one scene in Rohit Dhawan's Dishoom, a buddy-cop actioner and this week's big Bollywood offering. Meanwhile, John Abraham, of House Woodenface, First of His Name, appears in scene after scene to show us what the opposite of acting looks like.
As Special Task Force officer Kabir Shergill (he has a penchant for addressing people the same way — "Customs officer Vikram Sinha", "Indian cricketer Viraj Sharma"), Abraham is an absolute bore. I understand that the character is supposed to be dour-faced and sullen, but that doesn't mean you simply stand in the frame, show off your protein-shake-manufactured body, and make walking and talking at the same time look like some sort of art form. This isn't a performance — this is Abraham showing up to office after a workout.
On the bright side, there's Varun Dhawan, the director's brother and one of Bollywood's most successful young stars. What he lacks in true acting chops, he makes up for in sincerity. As rookie cop Junaid Ansari, the Cash to Abraham's Tango, Dhawan is one of the best things about Dishoom, a by-the-numbers entertainer with perhaps enough 'masala' in it to satisfy the casual moviegoer.
The plot is intriguing enough: ace batsman Viraj Sharma (a well-cast Saqib Saleem; no prizes for guessing who he's based on), India's top match-winner, has mysteriously disappeared 36 hours before a key India-Pakistan final. Kabir is sent to "somewhere in the Middle East" (clearly the UAE), where the series is taking place, and is supposed to cooperate with the local police.
Surprise! Kabir, who is rarely seen without a cigarette in his mouth (although he never seems to finish one), doesn't give a damn about the rules and ends up teaming up with Junaid, who has thus far been unable to solve his one-and-only case: tracking down a missing dog named Bradman.
There are also the standard elements you'd expect from a film like this, in which machismo, nationalism, guns, and smoking are promoted aggressively.
The first half of the film whizzes by as though on Red Bull, with the posh locations and Abhijit Vaghani's serviceable background score setting the mood. Dhawan's directorial approach is clearly inspired by Michael Bay's Bad Boys movies, featuring Will Smith and Martin Lawrence as similarly mismatched cops; this is evident in Ayananka Bose's highly-graded camerawork, which uses stylish, smooth dollies and pretty much rips off this iconic low-angle, 360-degree trolley shot — both staple features of Bay's filmmaking. What it doesn't have, however, is the same technical finesse. Amidst all the slickness are CGI insertions so shoddy that, for a brief moment, a shot of an in-progress cricket match reminded me of the video game Cricket '97.
Amidst the breakneck pace, in which the cops desperately attempt to track down Sharma, there are moments of humour. Some are puerile (exhibit A: Dhawan unable to take his eyes off Nargis Fakhri's cleavage); others, aided by Hussain Dalal's dialogues and good comic timing, aren't bad at all. For instance, a hilarious running gag involves a recurring phone call (voiced by Satish Kaushik) that Junaid, who has put up a profile on a matrimonial site, keeps getting. As a self-aware tribute to the brand of cinema made by the Dhawan brothers' father (David Dhawan), this is one of the brighter moments in the screenplay (written by the director and Tushar Hiranandani).
At the other end of the spectrum, however, is a disappointingly awful cameo by a man-bunned Akshay Kumar, in which he plays a gay party animal who may have a lead to the abducted cricketer's whereabouts. This is '90s humour at its worst — a stereotypical portrayal of a token gay character as oversexed and shallow merely to generate cheap laughs. However, going by how the audience at my morning show at an Andheri multiplex tittered through the entire scene, I'm clearly in a minority for giving a shit about this.
There are also the standard elements you'd expect from a film like this, in which machismo, nationalism, guns, and smoking are promoted aggressively. Meanwhile, as Ishika, Jacqueline Fernandez plays the only female character with a second dimension — she's a drug-addict/kleptomaniac who ends up helping the heroes on their mission. However, in the second half, after she helps them get into the fictional land of Abudeen (throwback to the mediocrity of last year's Bangistan) she's back to being mostly eye-candy and damsel in distress. For the song 'Sau Tarah Ke', she descends into a lair full of lecherous men to dance for them 'Jumma Chumma'-style, and this, naturally, ends with her being abducted by one of the film's villains (a competent Rahul Dev in a familiar role), which is obviously an excuse for a derivative chase sequence.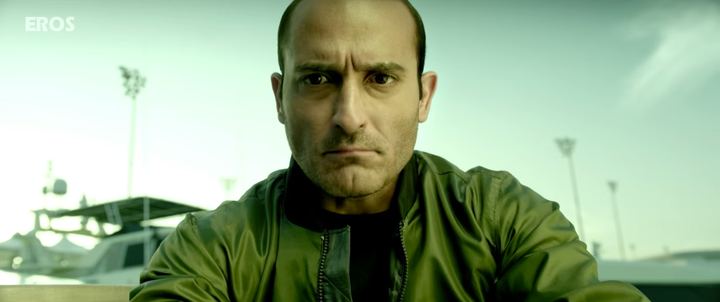 Mercifully, Dishoom redeems itself somewhat with the introduction of its antagonist: a stylish looking man named Wagah, played by Akshaye Khanna. To the screenplay's credit, it's an interesting role — Wagah isn't your typical baddie with an outlandish lair and dozens of hired gun-men; he's a bookie with a regular family, working mostly alone, trying to dig himself out of a Rs 450 crore hole. Displaying characteristic charm, Khanna owns every frame he's in. More of him, please.
The film hurtles towards a climax with a couple of mildly clever links to plot points introduced beforehand. Even so, by the time the end rolls around, Dishoom feels like a missed opportunity. All that budget, all these resources (read: stars), and the best Dhawan (whose previous directorial credit was the insufferable Desi Boyz) could make was a mildly amusing, templatised movie that couldn't go two hours without succumbing to mediocrity? What a waste.