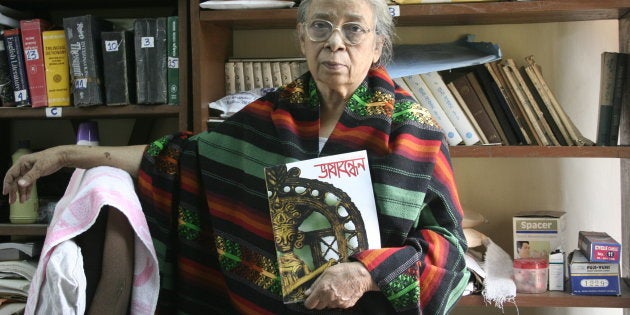 KOLKATA--Eminent writer Mahasweta Devi, who had penned hundreds of heartwarming tales about the downtrodden, could never finish her own story about the mental trauma she went through after her divorce.
Documentary filmmaker Joshy Joseph, who was associated with the Jnanipath and Sahitya Akademi award winning writer for a long time, said after the Nandigram violence during acquisition of land in 2007 she had started writing her autobiography.
"She finished half of the diary four years ago but while shifting her house and the trouble she had with her ex-aide it got lost. Now it remains unfinished and we don't even know where the priceless manuscript is lying," Joseph told PTI.
He said he had persuaded Mahasweta to finish writing it but it never happened. "She even read out some portions of the manuscript which was about her early life."
She was married to eminent playwright Bijon Bhattacharya, one of the founding members of the Indian People's Theatre Association (IPTA), but as things turned sour they separated in 1962 after having a son Nabarun, who also went to become a well-known poet.
People who were close to her say it was during this stage that she suffered a mental trauma and financial crisis, which made her to even sell dye powders.
Best known for works such as Hajar Churashir Ma(Mother of 1084), Rudali (which was made into a well-known movie by Kalpana Lajmi), and Chotti Munda Evam Tar Tir (Chotti Munda and His Arrow), died in Kolkata today at the age of 90.
She had a heart attack on 23 July and had been at the Belle Vue nursing home for the past two months. Her condition worsened as she developed a blood infection and her kidneys failed.