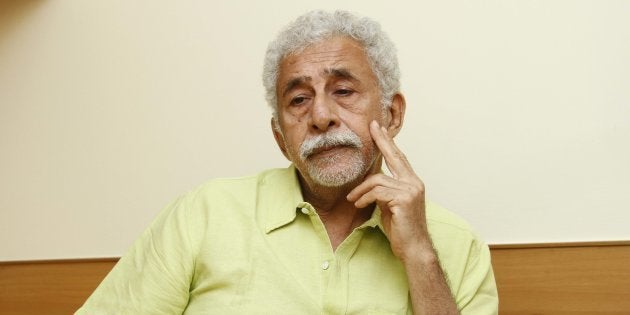 Naseeruddin Shah just turned 67 less than a week ago, which means he is officially well past the age where he needs to give a damn about what anyone thinks. This is an established, quasi-anthropological fact that can be reinforced by anecdotal evidence from all our lives.
However, it's not like Naseer saab, one of the finest Indian actors of stage and screen around today, has ever needed the hall-pass of age to say what's on his mind. He has never been one to mince words — whether it's about his love for marijuana (which he spoke about candidly in his autobiography And Then One Day) to his open dislike of commercial Bollywood films (although he still continues to act in some of them — mostly for the money, as he regularly admits).
It is this propensity that landed him in hot water over the weekend, when, in an interview to Hindustan Times, he aired his opinions on the late Rajesh Khanna, saying:
"In fact, it was the 70's when mediocrity came in Hindi films. That's when the actor called Rajesh Khanna joined the industry. For all his success, I think Mr Khanna was a very limited actor. In fact, he was a poor actor. Intellectually, he wasn't the most alert person I have ever met. His taste ruled the industry."
If you've been following this controversy, you'll know that some hell has broken loose over this. Actress-turned-celebrity-columnist Twinkle Khanna, the former superstar's daughter, has slammed him for his comments, remarking: "... mediocrity is attacking a man who can't respond".
Rajesh Khanna, who is often said to be Hindi cinema's first superstar, ruled the hearts of moviegoers in the early '70s, starring in blockbusters like Aradhana, Kati Patang, Amar Prem, Anand, and Haathi Mere Saathi.
Shah further went on to blame Khanna's star status and influence as being the reason Hindi films went on to, to this day, favour star-power and spectacle over good storytelling and proper plotting.
"The quality of script, acting, music and lyrics deteriorated. Colour came in. You could make a heroine wear a purple dress and hero a red shirt, go to Kashmir and make a movie. You didn't need a story. This trend continued and I certainly think Mr Khanna had something to do with it because he was God in those days."
Filmmaker and TV host Karan Johar wasn't happy with Shah's comment either. He tweeted: "I agree with you @mrsfunnybones [Twinkle's Twitter handle]...due respect to seniority but this was in exceptionally bad taste and not becoming of a fraternity member.."
It's interesting to see Johar's choice of words, which included 'bad taste', 'not becoming', and, most importantly, 'fraternity'. Bollywood, for all its pretensions at being a full-fledged industry (a status only conferred to it in 1998), often tends to function like a ragtag renegade army looking to pull off a coup, wherein loyalty and adherence to the status quo are more important than, say, actual talent and the truth.
I've heard so many instances of this from people connected to the film industry that it's almost become boring. I remember chatting with a friend, who has worked on movies big and small, about the Hrithik Roshan-Kangana Ranaut episode (TL;DR: Kangana claims they dated, Hrithik denied it and claimed instead that she was 'obsessed' with him, and shit has gotten ugly), and she said, "But you see what will happen now. She will be punished for speaking up in public. You're not supposed to do that, ever."
One doesn't even need to know people in the industry to realise how parochial it is. The support, both direct as well as implicit through silence, for someone like a Salman Khan, who is to many a repeat offender that deserves to be in jail for one of his many crimes, is there for all to see in the tweets and statements made by B-town's celebrities.
This explains why, more often than not, most celebrity interviews are — there's no other way to say this — boring as hell. Stars often grant substantial interviews only to publications and journalists they have good relations with, often monitored hawkishly by overbearing PR execs. Replies to pointed questions are often politically correct to the point of saccharine-induced nausea. Despite this, one can always count on many of our stars to screw up and say something dumb (especially when it comes to feminism).
To her credit, Khanna was also quite dignified in the manner of her disagreement. She could've easily brimmed with self-righteous anger and launched a counter-attack against Shah.
Shah, on the other hand, has been remarkably free of this baggage even as he continues to be prolific in films (he has given one of the best performances of the year in Anu Menon's Waiting). He has no qualms rubbishing Aamir Khan — also a star with enormous control over the industry, but by all accounts a much nicer human being than Salman — who famously sparked off a row late last year by saying that his wife and he had wondered whether they should move out of the country.
While the rest of the industry lauded the success of Rakeysh Omprakash Mehra's Bhaag Milkha Bhaag (2013), starring Farhan Akhtar as a juiced-up version of the Olympic sprinter Milkha Singh, Shah called it a "fake" film, ruing that what should have been an interesting "psychological study" was turned into a "potboiler" that ultimately resorts to Pakistan-bashing.
Hell, he has no problems taking digs even at himself. Earlier this year, at a preview screening of Waiting, he said: "... if I count the number of films I have overacted in, they'll have to start a film festival just to curate those."
I'm not saying that he's the only one in the industry who is honest and speaks about issues — younger stars like Deepika Padukone have been quite forthcoming about a number of things recently, for example. But Shah is more old-school — he won't exactly poke the bear, but he'll say what's on his mind if asked a question. Take, for instance, the time he said "Indians are being brainwashed into believing that Pakistan is an enemy country without being aware of the historical background" and further added: ""What can we possibly gain from this form of ragging that we practice against Pakistan? It is a bully's way of asserting himself. They are our next door neighbours."
At the same time, he'll be a gentleman about it, as he has been with Khanna. On Monday, India Today quoted him as saying, "I apologise to those who were personally offended, my intention was not to attack him but to talk about how a certain phase in history affected the course of Hindi cinema."
While there are some who, having supported his remarks, were disappointed at how he'd backtracked, to me this is the only sensible way to have resolved the matter. Did people expect that a 67-year-old man would remain defiant in the face of a daughter defending her deceased father, who, tragically, died an alcoholic and largely estranged from his loved ones?
To her credit, Khanna was also quite dignified in the manner of her disagreement. She could've easily brimmed with self-righteous anger and launched a counter-attack against Shah. She could've easily alleged that Shah, although celebrated largely by the intelligentsia, is perhaps jealous that his career hasn't impacted as many people as Rajesh Khanna's did. Instead, she ended it all by tweeting:
Shah, thankfully, had come up with the best kind of 'apology': one in which he soothed the frayed nerves of an understandably upset daughter without backtracking on what he'd said. Because, of course, objectively, there's nothing wrong with what he said. One may not agree with it, sure, but the argument that one shouldn't speak ill of the dead is somewhat ludicrous — if the life of Mahatma Gandhi can be dissected and criticised, what makes Rajesh Khanna special?
For once, there was an outrage that may have been a little pointless, but at least it ended on a reasonably amiable note, without its true intent diluted. We deify our stars too much and practice too much sycophancy in the guise of 'respect'. And for that, I'm thankful that someone like Shah — who can be honest, whose opinion carries some weight — exists in this industry.