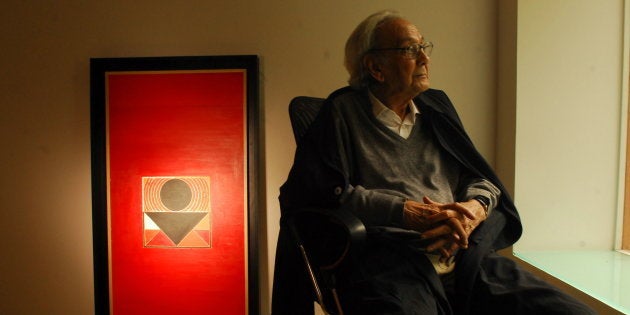 If you were to have any of S.H. Raza's iconic paintings in a quiz, chances are most people, even those with only a smattering knowledge of the arts, would guess the right answer.
Best known for his geometric shapes, Raza (1922-2016) was probably one of the greatest colourists in the history of modern Indian art. His signature style involved the use of the bindu, or dot, which signifies the One as well as the Infinite in Hindu philosophy.
At a glance, a typical Raza painting looks like a pattern of heady colours, often concentric circles on a canvas, which would brighten up any drawing-room wall. To own one, though, is a privilege of the rare few. In 2010, one of Raza's paintings sold for a record Rs 16 crore, setting him up among the most expensive contemporary Indian artists.
But decorative elegance is only one part of the appeal of a Raza painting.
When I met him for the first time, a couple of years ago on the occasion of his 92nd birthday, he was wheelchair-bound, as he had been for many years, sipping a glass of wine and chatting convivially with guests at his gallery. Sitting amidst a body of work he called Parikrama: Around Gandhi, Raza spoke of his childhood in the district of Mandla in Madhya Pradesh, where he was born, and of his fleeting encounter with the Mahatma as a young boy. He did not even manage to catch a proper glimpse the man, but the aura of greatness touched his young mind irrevocably.
More than 80 years later, almost 60 of which he had spent in France, Raza was still reading M.K. Gandhi's writings and trying to distill the man's philosophy into his visual idiom. The result was stunning: a mosaic of colours and words, many of which had been drawn from the Hindu scriptures or attributed to Gandhi, emerged on his canvases with a compelling vividness. For me, the most striking painting in this body of work was Hey Ram, a reference to Gandhi's supposed last words as he lay dying from the bullet fired by Nathuram Godse. The phrase, written in Devanagari, appeared against a sultry background, inches away from a red splash that looked like dried blood.
Educated mostly by upper-caste Hindus, Raza was immersed in the Ramayana and Bhagavad Gita as a young boy, from which he derived some of his most significant ideas and inspirations. Did that make him a more "Indian artist" than many others of his generation -- F.N. Souza, Tyeb Mehta and M.F. Husain, for example, of the Bombay Progressive group Raza was also a part of -- who were obviously influenced by waves of European modernism? Yes and no.
While Raza's obsession with the bindu gave his work an undeniably Indian flavour and authenticity, his interest in abstraction put him in a league with the masters of European modernism -- with Wassily Kandinsky or Kazimir Malevich, for instance. As a result Raza's paintings would always mean something special to people of all sorts: Indians, Europeans, spiritualists, traditionalists and even hedonists, who may very well enjoy the trippiness of his colours.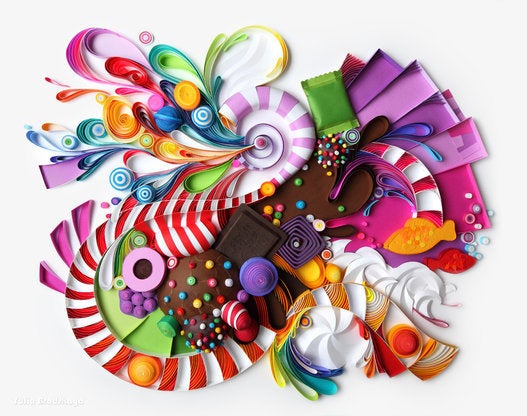 Amazing Art Illusions Prove Paper Can Be Anything But Basic